NEWS
SAMURAI BLUE(Japan National Team) finish 2014 with tactical training
01 January 2015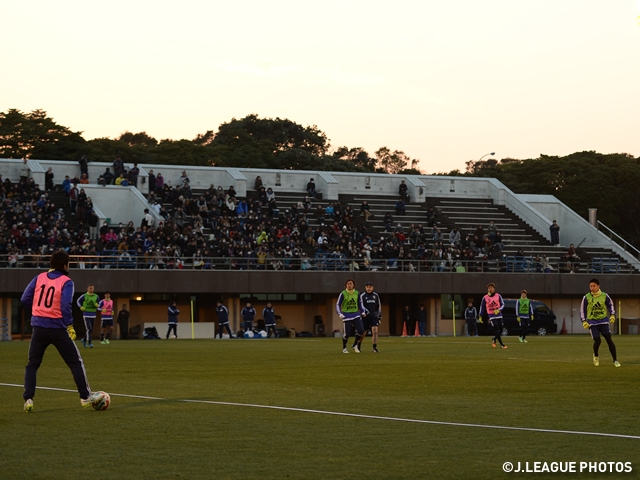 SAMURAI Blue (Japan National Team), aiming to win back-to-back AFC Asian Cup title at the AFC 2015 Australia, finished all the activities in 2014 after holding three day training camp in Chiba on 31 December.
They had training in groups by position four players each. They checked the players' offensive and defensive move while watching for pass and held tactical training in the 4-4-2 formation checking out the detail.
Head coach Javier AGUIRRE acted as a pass provider in the game-format training and gave his advice in a loud voice for keeping the plyers focused on their play.
KOBAYASHI Yu (Kawasaki Frontale) and KIYOTAKE Hiroshi (Hannover 96/Germany) who called up for the first time by Aguirre were on target and showed their good conditioning.
The squad is going to hold training on New Year's day and 2 January and head for hosting country Australia for the final tune-up.
The championship is to start on 9 January. Japan, a four-time winner is going to face Palestine (12th), Iraq (16th) and Jordan (20th) in the group stage. the first-placed and second-placed participating team in each group will be qualified for quarter-finals in the knockout atage. The final is scheduled on 31 January.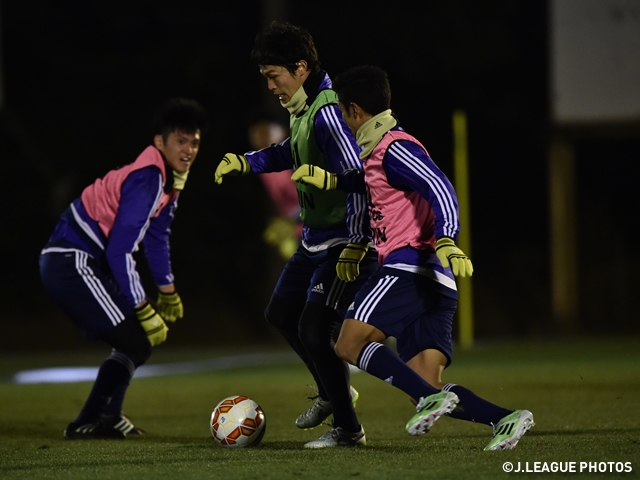 Players Comments
KIYOTAKE Hiroshi (Hannover 96/Germany)
This is my first training camp under Aguirre but I am enjoying it. I want to know other players' style. It gives me lesson and refreshing to play in the position different from I usually play. I have to play hard both in offence and defence when I play inside half and as it would not make the game if I disappear in the game and I want to increase numbers of times I get involved in pass from the training. I want to demonstrate what I've been doing in the first half season in Germany, in the national team as well. Middle Eastern countries are not an easy opponent to play against and I want to get ready as we've experienced tough matches before.
TOYODA Yohei (Sagan Tosu)
OKAZAKI is the player moving around a lot, focal point and good at break down the defence. When I play two tops along with OKAZAKI, I am going to make sure I will extract his strengths and make the situation favorable to me. There were many things both personally and as a team in 2014. There were good things and bad things but I believe I have got over them one by one. Tackling them as hard as I can, I suppose this is why I made one step ahead. I have to take advantage of these things in 2015 and I want to make progress every year, not satisfying with the current situation for ever.
SHOJI Gen (Kashima Antlers)
Playing in a different position (right sideback in training) gives me bigger experience. Probably it is no problem with defence but there is a room to improve when to build up and where to send a pass. UCHIDA Atsuto has an excellent knack of distinguishing the timing of going forward and that is something I need to learn more. Further to the training, I want to prepare more for myself.
SAKAI Gotoku (VfB Stuttgart/Germany)
It was not training of offence or rather defence training. I think it is important to hold this kind of training in the beginning of the camp and I reckon the players were really hard at getting the ball for the third day of training camp. I always feel the time flies like an arrow every year, so does this year. I suppose I made progress for regularly called up in national team. I was watching the previous Asian Cup games after I left the squad in the mid-course. The squad was kind enough to display my uniform in the bench but I was frustrated for not able to play together. I want to play in the pitch this time and want to extract good things of younger players.
JFA-TV (Japanese version only)
Interview with KONNO Yasuyuki

Interview with TOYODA Yohei

Interview with MORISHIGE Masato