NEWS
SAMURAI BLUE start their actions for 2nd straight Asian Cup title
30 December 2014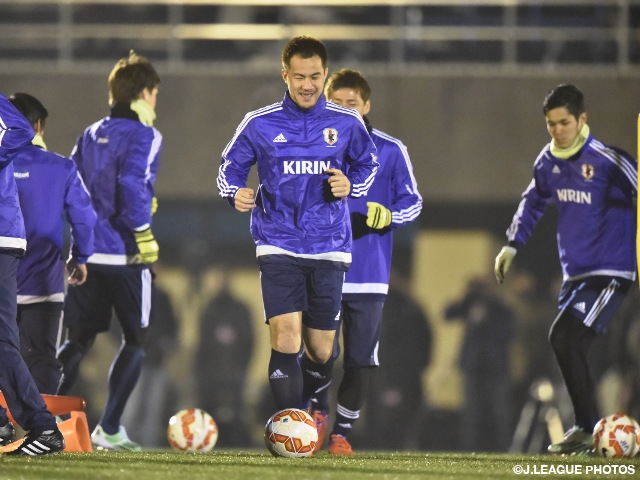 On 29 December, SAMURAI BLUE, Japan National Team, started their preparation camp in Chiba prefecture for the back-to-back championship at the AFC Asian Cup 2015 Australia to be held during 9 to 31 January next year.
All players except for Yoshida Maya (Southampoton FC), who could not make it to the camp due to the club matter and is scheduled to join the team in Australia, gathered and engaged in the first practice. With about 140 domestic and international media members and about 450 fans watching, the players such as forwards Honda Keisuke (AC Milan) and Okazaki Shinji (1.FSV Mainz 05) as well as new invitees midfielder Kiyotake Hiroshi (Hannover 96) and defender Ueda Naomichi (Kashima Antlers) took on a workout centred on conditioning drills.
With the help by two training partner players, the team worked on passing drills and foot volleyball game in a relaxed atmosphere. When the 80-minute session was over, the players stretching had been well warmed up with visible steaming.
The national team is scheduled to leave for Australia on 2 January and get into the final preparation phase in the suburb of Newcastle where the first match is to be played.
Japan is in the Group D and to play against Palestine on 12 January (Newcastle), against Iraq on 16 (Brisbane) and against Jordan on 20 (Melbourne). The final match is set on 31 January.
Japan have won the tournament in 1992, 2000, 2004 and 2011.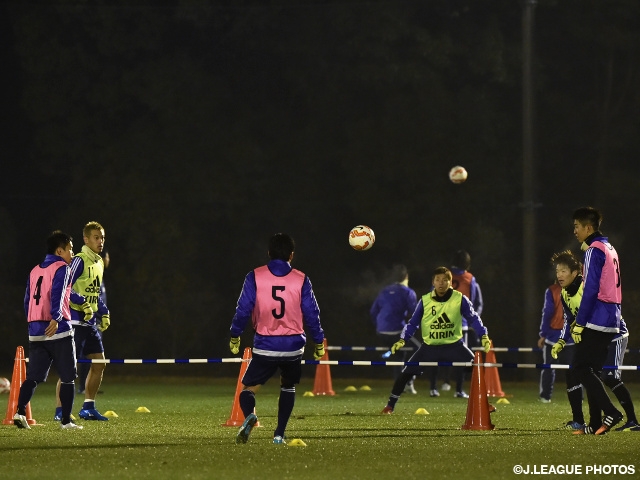 Comments
Javier AGUIRRE Head Coach
Conditioning is very important in playing through the tournament, so in this camp we want to get every player in the same good shape first. And then we want to try a few different tactics. In the meeting at the hotel before the practice, I gave the same explanation to the players about the match-fixing scandal as I explained in the press conference the other day, then I told them to focus on playing football once that meeting was over. Defending the AFC Asian Cup title is our goal, and we selected the 23 players we think are the best for that goal. Although there are good teams in Asia, but we have time to get prepared and quality players, so I think we have a chance to achieve our goal. We want to win against every team we play. We will take full advantage of the films to get prepared, and I hope we will continue to get better even after the tournament starts.
HASEBE Makoto (Eintracht Frankfurt)
I had only one week between the end of the league matches and this camp, but I worked out about twice. Today our coach talked to us (about the match-fixing scandal), but I think directly listening to him changed something about it. He said "I love football, and I never betrayed the game of football as a person who is involved in this sport." I am also a person who is involved in football, so I felt some empathy. I think this is a test of how much we can trust. In the AFC Asian Cup, we can't win it all if everyone on and around this Japan team isn't on the same page. I think this whole team is on the same page, so I want to show our supporters that we are united as a team. Getting in good shape is important in this camp in Japan. The conditioning level varies from a player to player, but we have two weeks before the first match, so we want to get everyone ready for it.
ENDO Yasuhito (Gamba Osaka)
In this camp, I want to get myself ready and I want this whole team to get ready for the tournament. About our head coach, reports have been around for some time, so I don't have anything special to say. President Daini explained the progress and said to us that "I want you to do well in the Asian Cup." All we have to do is to focus on playing football, so we want to improve this team for the AFC Asian Cup and we want to do that as a united team.
SAKAI Gotoku (VfB Stuttgart)
It doesn't change anything about us playing football, so I personally don't pay much attention to it. All I have to do is to concentrate on defending the AFC Asian Cup title.
KAGAWA Shinji (Borussia Dortmund)
I want to make necessary adjustments for the first match. Our coach talked to us (about the match-fixing scandal), but all we need to do is to trust our coach and keep moving forward to the AFC Asian Cup. All we can do is to get our mind-set straight and try to get our job done. (In Dortmund) I personally have been struggling and my team haven't had a good result. But I believe this is a good learning experience for me and I try to take advantage of it to play better. I have a lot to improve both in Dortmund and on this national team, so I have to show successful results on the pitch. This AFC Asian Cup is like a new beginning for me.
JFA-TV
Javier AGUIRRE Head Coach Interview

HASEBE Makoto Interview

OKAZAKI Shinji Interview