NEWS
【Scouting report】A silver lining in the generational shift from the golden age - Spain National Team (FIFA World Cup Qatar 2022™ Group Stage)
04 April 2022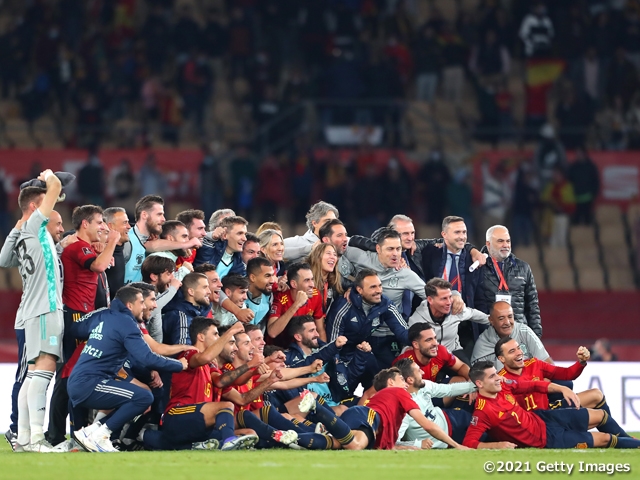 Despite their tradition of being one of the original members of FIFA, which was founded in 1904, the Spain National Team have long failed to achieve any notable successes on the international stage. During the 20th century, despite the success of their club teams, the only big title won by the national team was the European Nations' Cup (currently known as UEFA EURO) in 1964. However, the situation changed drastically in the 21st century. Three consecutive victories in major international competitions, UEFA EURO 2008, 2010 FIFA World Cup South Africa™, and UEFA EURO 2012, marked the golden age for Spain.
However, XAVI (current coach of FC Barcelona), Andres INIESTA (Vissel Kobe), and others who supported the team during this glorious period gradually retired from the national team and a generational change took place. Since the 2014 FIFA World Cup Brazil™ Spain have not made it past the round of 16 in major tournaments, but there are positive signs that the transitional period may finally come to an end. This was proved by their fourth-place finish at UEFA EURO 2020. Despite losing in the semi-finals to the eventual winners Italy in a penalty shoot-out, they demonstrated their ability to pin their opponents down with their signature passing football.
Another encouraging sign is the emergence of players in their early 20s. Alongside players like Unai SIMON, Eric GARCIA, Ferran TORRES, and Dani OLMO, PEDRI, a highly regarded player at the EURO, was only 18 at the time. It is still fresh in our memories that Pedri and six other players joined the team following the EURO to compete in the Tokyo Olympics (F.Torres did not participate), where they won the semi-final match against Japan 1-0 after extra time, before losing to Brazil 1-2 in another extra time thriller in the final and returning home with the silver medal.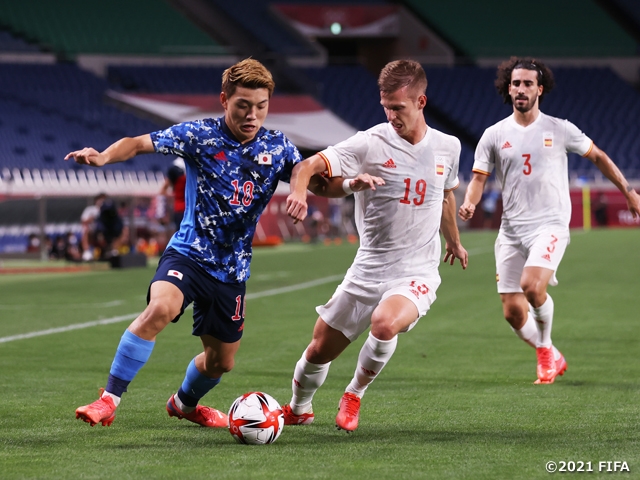 Led by coach Luis ENRIQUE, who has played in three World Cups as a player, including the 2002 FIFA World Cup Korea/Japan™, the team missed out on some points during the first half of the qualifiers, drawing 1-1 with Greece and losing 1-2 to Sweden, but managed to win all four matches in the second half to reclaim the lead in their group to clinch the World Cup.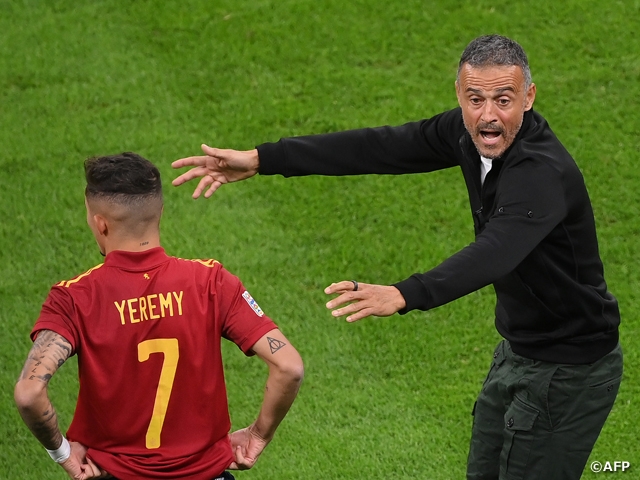 Japan and Spain have only played each other once before, in an international friendly match played in Cordoba, Spain, in April 2001, which saw Spain break the deadlock just before the final whistle to claim a 1-0 victory. Led by French coach Philippe TROUSSIER, Japan were in the process of strengthening their squad for the World Cup, which was coming up the following year. In this match RAUL, Josep GUARDIOLA ( current coach of Manchester City), and others were among the Spanish squad.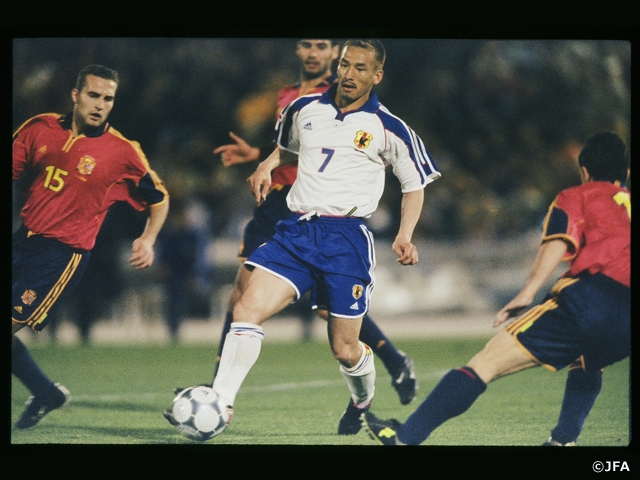 FIFA Ranking: 7th *As of 31 March 2022
FIFA World Cup™ Appearance: 15 times, 1934 (Quarterfinals), 1950 (Fourth place), 1962, 1966, 1978, 1982 (Second group stage, Best 12), 1986 (Quarterfinals), 1990 (Round of 16), 1994 (Quarterfinals), 1998, 2002 (Quarterfinals), 2006 (Round of 16), 2010 (Champions), 2014, 2018 (Round of 16)
Japan's Head-to-head Record: 1 loss (0 goals, 1 conceded)
FIFA World Cup Qatar 2022™
Tournament Dates: Mon. 21 November - Sun. 18 December 2022
[Group Stage]
1st Match: Wed. 23 November 16:00 [Local Time] vs Germany National Team
2nd Match: Sun. 27 November 13:00 [Local Time] vs Winner of Inter-confederation Play-offs
(New Zealand National Team/Costa Rica National Team)
3rd Match: Thu. 1 December 22:00 [Local Time] vs Spain National Team