NEWS
【Match Report】SAMURAI BLUE defeat Australia to earn second win in the AFC Asian qualifiers (Road to Qatar)
13 October 2021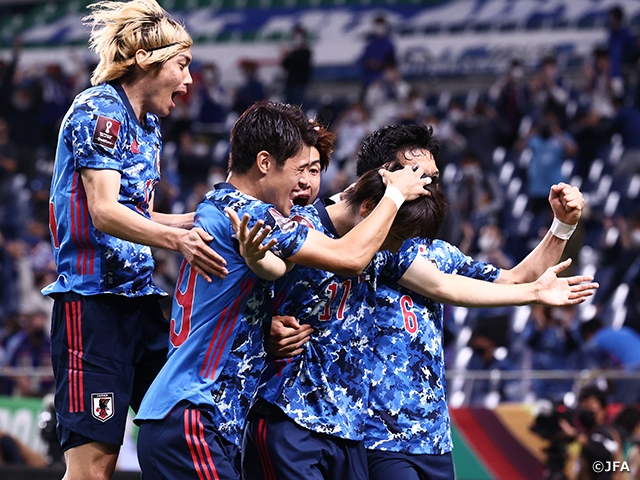 On Tuesday 12 October, the SAMURAI BLUE (Japan National Team) played their fourth match of the FIFA World Cup Qatar 2022™ Asian qualifiers (Road to Qatar) against the Australia National Team at Saitama Stadium 2002, where the team won 2-1 after the shot taken by ASANO Takuma (VfL Bochum 1848) induced an own goal in the closing minutes of the match.
Japan had lost two of their previous three matches and were now six points behind Australia and Saudi Arabia, who had won three matches in a row. The team desperately needed to win this match in order to finish in the top two spots of their group, which would automatically qualify them into the FIFA World Cup Qatar 2022™.
Entering this critical match, Japan rotated three players from their line-up against Saudi Arabia, in which they lost 0-1 on Thursday 7 October. With the team shifting their system to 4-3-3, ITO Junya (KRC Genk) made his return from suspension to start as the right winger, while MORITA Hidemasa (CD Santa Clara) and TANAKA Ao (Fortuna Dusseldorf) made their first start as central midfielders in this qualifier, with ENDO Wataru (VfB Stuttgart) anchoring the midfield as the defensive midfielder.
The match started with Japan taking the initiative, as Ito and SAKAI Hiroki (Urawa Red Diamonds) penetrated the right flank to create opportunities.
The opening goal came in the eighth minute, when MINAMINO Takumi (Liverpool FC) delivered a cross from the left side, allowing Tanaka to control the ball inside the box and strike a right footed shot into the Australian goal.
Australia entered the match riding an 11 game winning streak carrying over from the second round, and built their offence around Martin BOYLE, who has scored two goals in three matches. In the 13th minute Tomas ROGIC drove inside to take a shot, but the Japanese defenders showcased great composure to deny Australia from scoring the equaliser.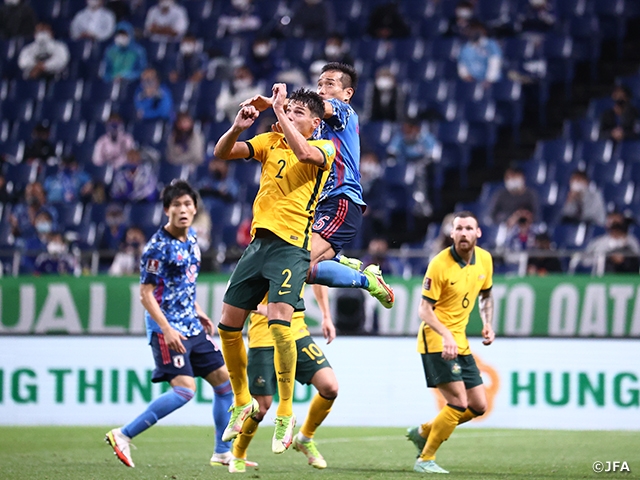 With the one goal lead, Japan possessed the ball through their quick transitions between offence and defence, while using the width of the field to build their offence. Ito struck a shot from the right side in the 23rd minute, while NAGATOMO Yuto (FC Tokyo) delivered number of crosses in attempts to create opportunities for Japan.
OSAKO Yuya (Vissel Kobe) and Minamino each tried their luck in the 35th and 44th minute respectively but fell short from finding the back of the net.
Looking to maintain their lead with a win, Australia came close to equalising in the 41st minute, when Adam TAGGART, who plays for Cerezo Osaka, played a one-two pass into the penalty area, and tried to score with his right foot, but his shot struck the post. In the early minutes of the second half, Aaron MOOY drove inside to fire a sharp shot that threatened the Japanese goal.
In the 61st minute, Boyle took advantage of the space opened after Nagatomo's overlap and passed the ball towards the edge of the box. As Ajdin HRUSTIC responded to this ball, he collided with Morita who tried to clear the ball, and a penalty kick was given to Australia. Although the ruling on the pitch was changed to a free kick after it was reviewed by VAR (video assistant referee), Hrustic struck a spectacular shot to convert the free kick to level the match.
In efforts to add layers to their offence, coach MORIYASU Hajime introduced FURUHASHI Kyogo (Celtic FC) and Asano in the 61st and 78th minute respectively. In the 80th minute, Furuhashi struck a shot to force a deflection, in which Asano responded to, but his attempt was blocked by the opposing goalkeeper.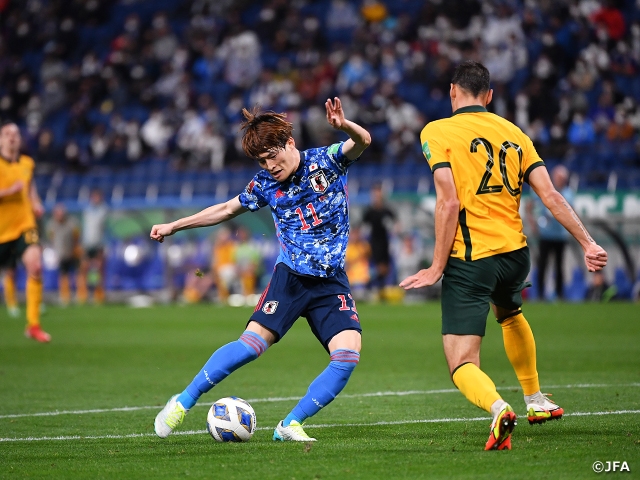 The golden moment came in the 86th minute, just a minute after SHIBASAKI Gaku (CD Leganes) and NAKAYAMA Yuta (PEC Zwolle) were brought onto the pitch. Asano responded to a long-feed delivered by YOSHIDA Maya (UC Sampdoria), controlled the ball superbly and struck a lobbing shot that sailed over the Australian goalkeeper, who was able to get a hand on the ball, but ended up deflecting off Aziz BEHICH and into the goal.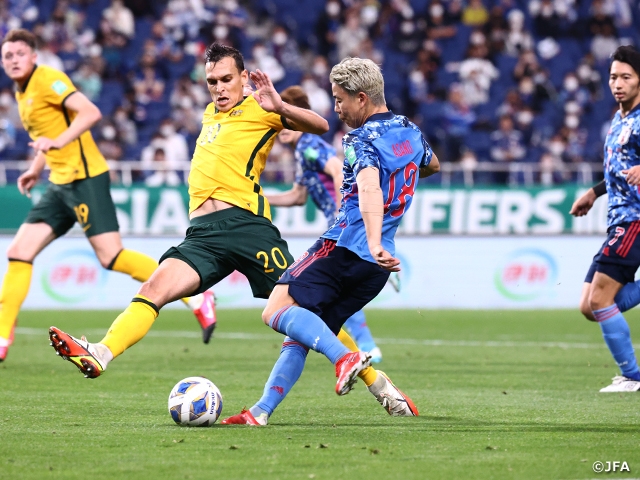 Japan finished the match 2-1 to level their record to two wins and two losses, while Australia suffered their first loss.
Elsewhere, Oman won 3-1 at home against Vietnam, and moved up from fourth to third place with six points, tied with Japan in points but ahead in total goals scored. Although Japan has dropped one place to fourth place, they managed to close down the gap to three points against Australia, who dropped to second place with 3 wins and 1 loss. With their 3-2 win at home, Saudi Arabia now leads the group with 12 points. China is in fifth place with one win and three losses, while Vietnam is in sixth place with four consecutive losses.
Japan is now scheduled to play back to back away matches against Vietnam and Oman in November.
In Group A, Iran drew 1-1 with Korea Republic at home, but still remain in first place with 10 points. Korea Republic also stayed in second place with eight points, followed by Lebanon in third place with five points after beating Syria 3-2 on the road. UAE and Iraq are in fourth and fifth place respectively after they drew 2-2 in Dubai. Syria, who suffered their third loss, is in sixth place.
Coaches and Players' Comments
MORIYASU Hajime, Coach of SAMURAI BLUE (Japan National Team)
While we had not been able to achieve the results we wanted so far, we entered this match knowing that it would be an uphill battle against Australia, who is leading the group, in a must win situation. It was a tough match, but the players believed in their abilities, and with the help of our supporters, they did not give up until the end, and fought with a strong determination to make it to the World Cup. I think that led to the decisive goal at the end. It was a great victory, but there is still a lot of work to be done. We will continue to fight together as a team to make today's victory lead to the next victory. We are still in a tough situation with two wins and two losses, but I think the team has been able to improve their performance while raising the overall level. However, the two losses came from the first matches of the respective series, so for the upcoming series in November, we need to analyse the past losses and strive to win the first match so that we can gain momentum for the second match.
We decided to change the formation to give us the best chance to show our strength, to use players who are in good form based on our activities so far, and to maximise our advantage over the opponent. Both Morita and Tanaka had shown great performances with a strong presence so far, so we decided to use them as starters so that they could play to our strengths while also eliminating the strengths of our opponent. It was a match we could not afford to lose, and we were able gain courage and energy from our home supporters. I think the players were able to fight with courage until the end because of the supporters. Thank you so much.
GK #12 GONDA Shuichi (Shimizu S-Pulse)
We were in a must win situation today, so I am glad we were able to win, but nothing has changed yet. We were not able to showcase our best performance today, and I am sure that Vietnam and other countries will come up with game plans based on today's match, so we need to constantly update our game. We had just two days to prepare ourselves after learning that we were going to play with this formation, but I was amazed at how prepared everyone was. Even after the game was over, everyone was talking about how we could improve ourselves, so I believe that this team has a lot of room to grow. We have six more matches to go. It will be difficult if we maintain a rhythm of one win and one loss, so we must find ways to win back to back matches in our next series.
DF #5 NAGATOMO Yuto (FC Tokyo)
I feel like I was able to take a high position to break down the sides and get involved in our attacks. I was also able to position myself where the opponents had a difficult time deciding who was going to cover me at the flank. With Morita and Tanaka coming in, we were able to possess the ball more in the midfield, which allowed me to take a higher position, free up Minamino, and allow him to play close to Osako. The substituted players made great use of their speed to exploit the open space, which was very effective when the opponents were getting tired. The fact that we were able to understand each other's strengths helped us score that final goal. I am sure everyone was praying for the ball to get in, and I believe that the team's determination led to that goal.
MF #6 ENDO Wataru (VfB Stuttgart/Germany)
We were trying a new system, so I kept talking with Morita and Tanaka to maintain a good balance in the midfield and to keep the ball moving. In terms of defence, I was focused on winning all the loose balls in front of our defence line. I think it was good that our roles were clearly defined. I have been playing as the only defensive midfielder at my club for a while now, so I've always been confident in my ability to cover a wide range. Compared to a formation with two defensive midfielders, it is so much easier to move from side to side. The fact that the team is now capable of playing 4-3-3 is a huge advantage. We can make our opponent wonder which way we are going to play. It was great that we were able to win while also testing a new formation.
MF #13 MORITA Hidemasa (CD Santa Clara/Portugal)
As a player, I felt frustrated because I have not been able to participate in any matches while the team was struggling. When I found out that I was starting this match, I was determined to help the team win at all costs, and since it was a home game, I wanted to showcase a performance that can live up to our supporters' expectations. In the scene where I conceded the free kick, I wish I could have taken the first step quicker, as it reminded me that a single step can cost the team the entire match. I knew the foul was outside the box, but strong opponents can capitalise from those ranges, so I need to be more careful in those areas. We played the 4-3-3 system for the first time, but we were able to mix in some quick attacks and slow attacks depending on how our opponent approached us. I think we were able to express the kind of football we wanted to play and showcase an exciting match for our fans.
MF #17 TANAKA Ao (Fortuna Dusseldorf/Germany)
From the time I was called up, I was eager to showcase a strong performance when I was given the opportunity. I was feeling the responsibility to start in a match under the current team situation, so I was fully determined to help the team win the match by scoring a goal. I was more nervous than I have ever been in my life. With all the responsibility and the future of Japanese football at stake, I was committed to leave everything on the pitch, as if it was my final match of my career. Although I was able to play with confidence, I am not satisfied with my performance. I felt that I needed to do more, but this win gives us hope for the future. Qualifying for the World Cup is our obligation, so we must not take for granted of each of these matches. I am just relieved that we were able to win today.
FW #18 ASANO Takuma (VfL Bochum 1848/Germany)
I entered the match fully determined to score the decisive goal, so I was overwhelmed by relief and joy when the ball went into the goal that I forgot to do my jaguar pose. By the time I came in as a substitute, the score was tied, but I knew we still had a chance to pull ahead. We all know that we are in a tough situation, but none of us are giving up. Despite today's win, we are not out of the woods yet. I will continue to play each match with the intention of contributing to the team's victory by scoring a goal.
Graham ARNOLD, Coach of Australia National Team
I am satisfied with the way the players played, despite the result. We conceded two sloppy goals and the second one was off of a deflection. Japan gave us a hard time, but I think we dominated the match. However, I think the presence of the home crowd made a difference, as the Japanese players seemed to gain energy from them in the closing minutes of the match. We hope to play in front of our fans at our real home next time. Our winning streak has ended, but we can now focus on the matches without worrying about the record.

AFC Asian Qualifiers (Road to Qatar)
Tue. 12 October 2021 [19:10]
SAMURAI BLUE vs Australia National Team
Venue: Saitama Stadium 2002 (Saitama)