NEWS
SAMURAI BLUE's Coach Moriyasu looking to "Clinch the final round" in match against Myanmar National Team
28 May 2021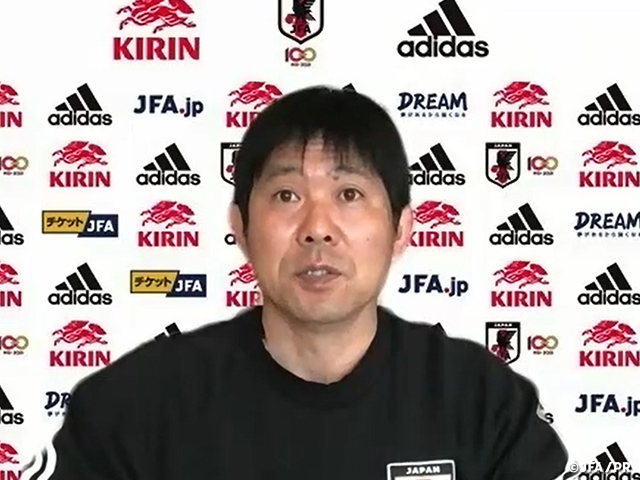 On Thursday 27 May, one day ahead of their match against the Myanmar National Team at the second round of the Asian qualifiers for the FIFA World Cup Qatar 2022™, coach MORIYASU Hajime of the SAMURAI BLUE (Japan National Team) appeared in an online press conference where he shared his aspiration to "clinch the final round tomorrow."
Japan currently leads their group with a perfect 5-0 record in Group F. With the team holding a five point lead over second place Tajikistan, a win over Myanmar on Friday 28 May will clinch them into the final round (scheduled for September), despite having two more matches left to play in the second round.
While Japan is ranked 28th, Myanmar currently ranks 139th in the FIFA ranking. The Southeast Asian side has started the second round with three consecutive losses including a 0-2 loss to Japan but collected back to back victories against Tajikistan (4-3) and Mongolia (1-0) since naming Antoine HEY as their new coach in October 2019. Led by the German coach who has previously managed the team in 2018, Myanmar currently sits in fourth place in the group with a 2-3 record.
Following their match against Japan at Fukuda Denshi Arena (Chiba), Myanmar is scheduled for two more matches in Osaka, and the team has been training in Japan for about a week now.
Regarding Myanmar, coach Moriyasu mentioned, "Each player is assigned with a responsibility and they are capable of building their offence through tenacious defence." The Japanese coach went onto share his plans for the match, "We will prepare ourselves in the best way possible, regardless of who we face."
Coach Hey of the Myanmar National Team also shared his take of the match, "Our players are well focused, and there is no weird tension. We are fully prepared for tomorrow's match."
On this day, the SAMURAI BLUE held a training session behind closed doors to go through their strategies. TOMIYASU Takehiro (Bologna FC 1909) and DOAN Ritsu (DSC Arminia Bielefeld) trained separately from the team for precautionary reasons.
MIYOSHI Koji (Royal Antwerp FC), who was behind schedule due to his commitment with his club, tested negative for COVID-19 and joined the team on this day.
After scoring six goals in five matches in the second round, MINAMINO Takumi (Southampton FC) shared his thoughts regarding his chance of scoring in six straight qualification matches, "I am not thinking about that. It doesn't mean a thing if the team doesn't win, so I am more focused on helping the team win." The Japanese striker who plays in the Premier League continued to share his aspiration ahead of the match, "What is important is that we advance through as quickly as possible."
With the team coming off a 14-0 victory over Mongolia in March, team captain YOSHIDA Maya (U.C. Sampdoria) mentioned, "It is easy to lose our focus following a match like that, so it is extremely important that keep our focus."
The match against Myanmar will be played outside of the International Match Day set by FIFA, so the squad consists only those play for clubs abroad. Players belonging to clubs from the J.League will join the squad in June when the team face Tajikistan (Mon. 7) and Kyrgyz Republic (Wed. 15). In addition, the three players selected into the Olympic squad as the "Over-age" players will join the U-24 Japan National Team in June.
The match between the SAMURAI BLUE and the Myanmar National Team will take place on Friday 28 June at Fukuda Denshi Arena with a kick-off time of 19:20. In measures to prevent the spread of COVID-19, the match will be played behind closed doors.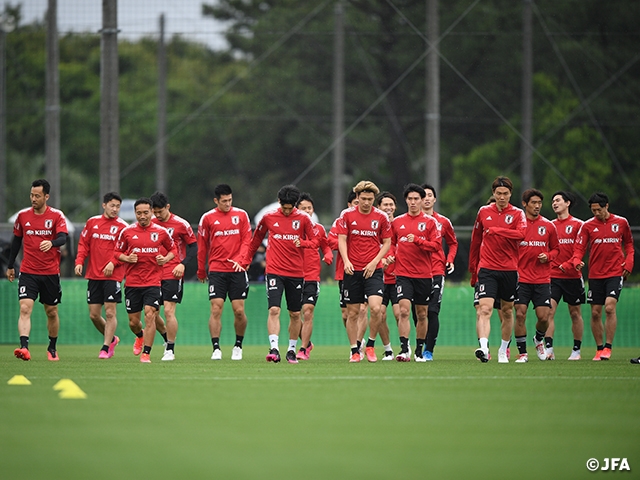 Comments
MORIYASU Hajime, Coach of SAMURAI BLUE (Japan National Team)
With our eyes set on the final round and the World Cup, we are hoping to advance through the second round tomorrow. A win in tomorrow's match will give us the opportunity to test out new strategies and try to improve the team in the remaining fixtures. We will prepare ourselves in the best way possible to raise the overall level and the individual level of the team. To begin with, we will face Myanmar with the utmost respect and try to win the match by showcasing a strong performance. We will give our best efforts to reach our full potential and try to stay alerted so that we don't get tripped up.
In March, our players showcased a strong performance against Mongolia. Although the squad has changed since, we need to keep the same attitude and try to build on that performance. Our players played well against Myanmar in the first leg where we won 2-0. It may be different from the match against Mongolia where we won 14-0, but they showcased a similar attitude in both matches. We must prepare ourselves so that we can maintain the same intensity level in tomorrow's match.
DF YOSHIDA Maya (U.C. Sampdoria)
This is the second time I was selected as the over-age player, and I feel that the expectations are much higher than the previous Olympics in London. I have told the coach that he can swap me out if he thinks I am not a good fit for the team, so I will be playing with a sense of urgency in the two matches with the U-24 squad. Losing in the third-place match at London was one of the most regretful moment of my career, so I feel fortunate to be given another opportunity. There is a big difference between a medallist and an Olympian. This will be my third try, so I will be striving to win a medal this time. The other two over-age players also played in the Olympics and have plenty of experience with the national team, so their presence gives me great confidence. We will be playing matches under a tight schedule and very hot weather, so we must take it one step at a time and give our utmost efforts to advance through the group stage first. Making the step from the Olympics squad to the senior team is a huge step forward, and all players must strive to become a player that can represent their country and raise the overall level of football in Japan.
I am aware that Myanmar is in a difficult situation as a country, but we must keep politics away from sports and try to focus on the match. When looking at the World Cup, Asian countries have historically struggled to advance through the group stage, while many strong European countries are being eliminated at the continental qualifiers. If this trend continues, it may have an effect on the number of spots allocated to each continent in the future. In order for Asian countries to succeed at the world stage, we must raise the overall level of football in Asia. In doing so, we must think whether this current format for the Asian qualification is good for the competition or not. By showcasing a strong performance and scoring many goals, we might be able to raise a question about the current format.
DF NAGATOMO Yuto (Olympique de Marseille)
It has been a while since I was called up to the national team, so I am enjoying this sense of nervousness. I feel that I am in great condition right now. Before joining Marseille, I was away from football for nine months, so it was hard to get back in game fitness, but I was able to improve my form during the second half of the season. I was competing with many players for the starting job, so it gave me a lot of confidence when I started to earn more minutes towards the second half of the season.
Endurance is a major factor when playing as a fullback or a wingback. They are positions where you are required to be involved in both offence and defence at a high level, but I am used to playing both positions at the club and international level, so I feel like I can provide extra value for the team. With more young talents making their way up, the competition is fierce, and I must be able to showcase a strong performance in both offence and defence in order to survive in this team.
People look back on our match against Belgium at the 2018 FIFA World Cup Russia™ and say we did a great job and that we were so close of winning the match, but the reality was far from that. We still have long ways to reach the quarterfinals. Players at the top level are always making plays that are aiming for the "future," while the Japanese players are making plays in the "present," which is a huge difference. I have always tried to compete at the highest level possible, but it is something that stems from your mindset, so I will try to keep a strong mindset in the upcoming matches.
MF KUBO Takefusa (Getafe CF)
This season was a tough season for me, but it was great that I was able to finish the season on a high note by scoring a goal. I feel that I have improved a lot, as I am getting more comfortable with the ball compared to last season. Myanmar may not have huge players, but they play with high intensity and have great agility, which is somewhat similar to the style Japan plays. It is important that I prepare myself in the best way possible, play with confidence, and earn results when I am given the opportunity to play on the pitch. It would be great if I can score goals that helps the team win, which is something everyone is trying to do, so we hope to raise the overall level of the team by competing against and inspiring each other.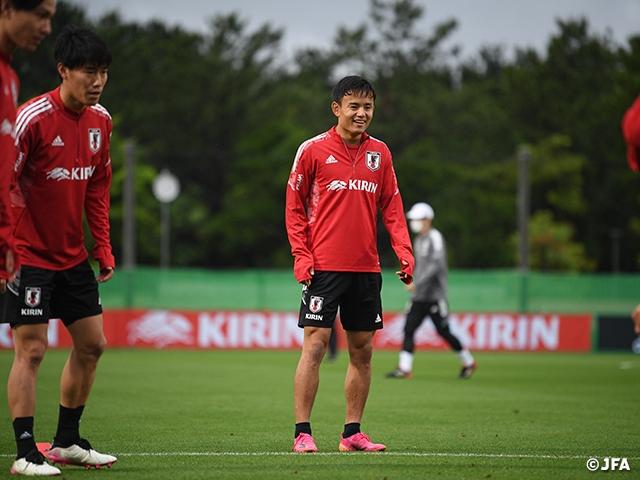 MF MINAMINO Takumi (Southampton FC)
I was transferred from my club this season, and although it was a productive year, I am not satisfied with the outcome, so I hope to use that disappointing feeling as motivation to do better next season. There were many things I felt and learned from the league competitions, so I hope to make the most of those experiences to help the national team. Regardless of where I am positioned, I am focused on helping the team. If I am given the opportunity to play upfront, I will try to understand what I am asked for and make my plays accordingly. It is expected that we will be dominating the ball possession against Myanmar, so we must focus on how we maintain our distance between each other and to create opportunities against a team dropping deep in their territory.
The team will start by playing with just the players playing abroad, while the players playing in the J.League will be joining later. Although this is a difficult schedule, we must try to stay on the same page, regardless of who is in the squad. That is why the players must actively communicate with each other. The final round of the Asian qualifiers is just around the corner, so we hope to make this a productive camp. We will give our best efforts to understand what our coach is striving for and try to showcase that on the pitch.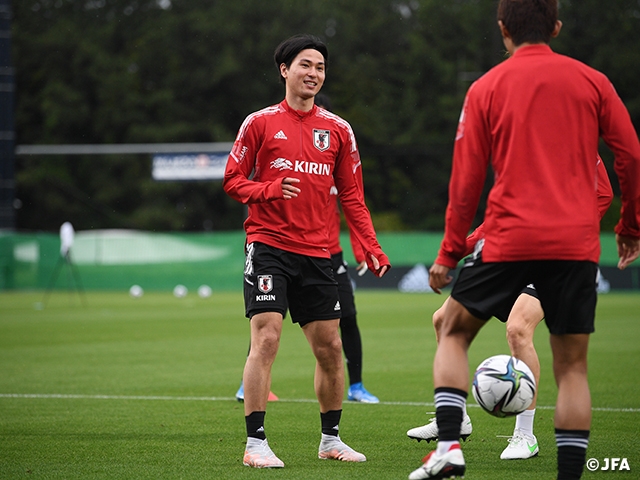 Antoine HEY, Coach of Myanmar National Team
Japan is the No.1 team in Asia, and they have many talented players on their squad, so we are looking forward to facing them. Although there were some players we couldn't call-up for personal reasons, we have held a training camp in Yangon since 20 April and conducted intensive trainings over the past two weeks. Due to the effect of COVID-19, the players were away from playing football since the end of the domestic season in October, but the players are free of injuries and in great condition right now. We hope to take advantage of the fact that our players are relatively unknown. We have some great players that can give Japan a hard time.
FIFA World Cup Qatar 2022™ - Preliminary Competition/AFC Asian Cup China 2023 Qualifiers/Preliminary Joint Qualification Round 2
Fri. 28 May 2021 [19:20] vs Myanmar National Team
Venue: Fukuda Denshi Arena (Chiba)