NEWS
SAMURAI BLUE's coach MORIYASU shares aspiration ahead of match against Mongolia "Will strive to win while building on the team's core"
30 March 2021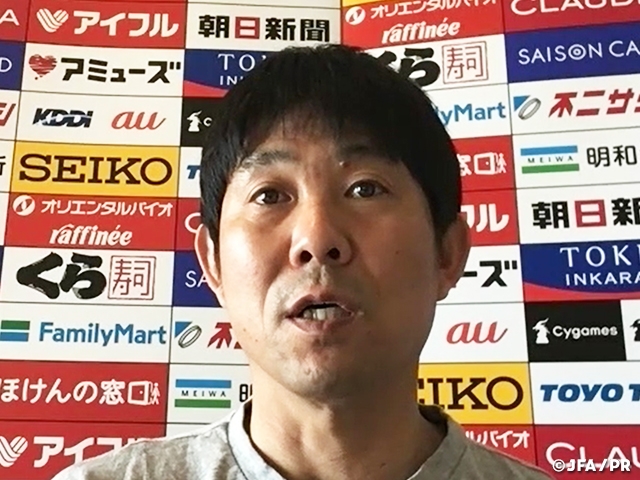 On Monday 29 March, one day before their match against the Mongolia National Team at the second round of the FIFA World Cup Qatar 2022™ Asian qualification, coach MORIYASU Hajime of the SAMURAI BLUE (Japan National Team) appeared in an online conference and shared his aspiration to "Stive for victory while building on the team's core."
The second round of the Asian qualification started in September 2019, where Japan won all four matches to claim the lead in Group F, but the competition was suspended due to the worldwide spread of COVID-19. This match against Mongolia was originally scheduled to be held at Mongolia, but due to the Mongolian government's countermeasures to limit the spread of the pandemic, the match was rearranged to be held in Japan as a home game for Mongolia.
Japan is coming off an international friendly match played against the Korea Republic National Team on the 25th. With goals scored by YAMANE Miki (Kawasaki Frontale), KAMADA Daichi (Eintracht Frankfurt), and ENDO Wataru (VfB Stuttgart), the team earned a 3-0 victory at Nissan Stadium.
With momentum on their side, the SAMURAI BLUE will seek to cruise through the second round and prepare for the final round of the Asian qualification scheduled in September.
Reflecting on their performance against Korea Republic, coach Moriyasu mentioned, "Our players were on the same page and performed better than our last tour to Europe. We will analyse both the positives and negatives from the match against Korea Republic and try to improve ourselves ahead of the next match."
In their previous encounter with Mongolia, the SAMURAI BLUE claimed a 6-0 victory at Saitama on 10 October 2019, thanks to the goals scored by MINAMINO Takumi (Southampton FC), YOSHIDA Maya (U.C. Sampdoria), Endo, and Kamada.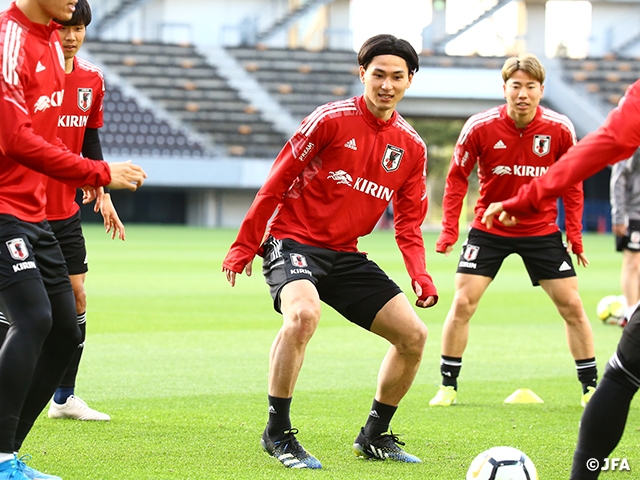 Ahead of the match, coach Moriyasu shared his approach, "We must acknowledge where we are headed and fight with ambition. I must reenforce that thought to our players."
The Mongolia National Team who arrived in Japan on the 26th, has welcomed their new coach Rastislav BOZIK last September. According to the 43 year old Slovakian coach, this month's matches will be their first series of qualification matches since facing Myanmar in November 2019,
After the domestic league's season ended in September, many players went without playing any matches, and trained at home during the severe wintertime and the pandemic. The team restarted their activities by holding a training camp in Turkey, and faced their first match under the new regime, where they lost 0-3 against Tajikistan on the 25th.
Coach Bozik mentioned about the difficulties leading up to this match, "It has been a very tough stretch for the Mongolia National Team." Regarding the fact that their home match was rearranged to be played in Japan, "We will lose our home field advantage, but we will not use that as an excuse. We will give our utmost efforts."
Mongolia's team captain Tsedenbal NORJMOO (Erchim) also shared his take on the team's condition, "We held a training camp in Turkey for 21 days. We are fully prepared for tomorrow's match."
On this day, the two teams held an official training session at the match venue, Fukuda Denshi Arena. The session was closed to the media except for the first 15 minutes, where the Japanese squad was seen conducting warmups drills before going through their tactics.
MORITA Hidemasa (CD Santa Clara) who excelled in the match against Korea Republic, shared his aspiration for the match, "Winning is our priority, and I am looking forward for the pressure. I was able to understand the team's vision in our match against Korea Republic, so I hope to cut down on the easy mistakes at the individual level."
The match between the SAMURAI BLUE and the Mongolia National Team will be held at Fukuda Denshi Arena, Chiba with a kick-off time of 19:30. The match will be played with no spectators.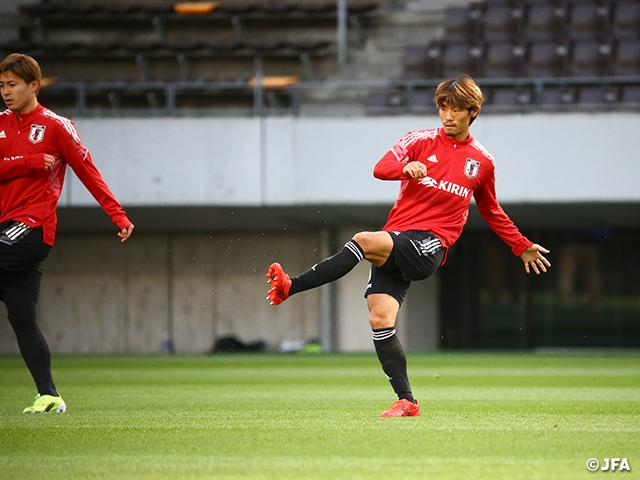 Coaches and Players' Comments
MORIYASU Hajime, Coach of SAMURAI BLUE (Japan National Team)
With the team coming off a big match against Korea Republic, this will be a tough match for us, but in order to advance through the second round, reach the final round, and to achieve our goal at the World Cup, this is a match we cannot afford to lose. We must continue to strive for a higher level, both as a team and as individuals, and our motivation should not be wavered based on who we face. It is important that we have an ambition. We also have the obligation to showcase our fighting spirit and deliver a victory to those who support us.
I will determine the line-up after observing today's training session, but I am not planning on making huge changes from our previous match. I want to see how this team can respond and build on the performance we showed against Korea Republic. We want to strive to win while building on the team's core. Our players were on the same page and performed better than our last tour to Europe. The players understood the balance between collective efforts and individual efforts, as they executed their roles, while also covering for each other in both offence and defence. The players also displayed great skills and mentality to win the individual battles, while showing enough flexibility to make adjustments on the pitch. The new players also proved that they could handle matches under pressure.
There is no such thing as an easy match. We won our previous match against Mongolia 6-0 because we gave everything we've got and played with high intensity. I am expecting our players to play with the same level of intensity tomorrow.
MF #5 MORITA Hidemasa (CD Santa Clara)
Since arriving in Japan, I wasn't able to communicate with other players leading up to the previous match, but still managed to showcase a high performance at both the team and individual level, so that gave me great confidence. After joining a new team overseas, I have been working to play with higher intensity for the past two months, so that was my main focus, and there were some aspects that went well and some that didn't, so I hope to utilise this experience to do better in our next match. I have never faced the pressure of representing a country in official matches, so tomorrow will be my first step.
MF #6 ENDO Wataru (VfB Stuttgart)
It is important that we continue to execute our game plan in our next match against Mongolia. Our goal is to earn results at the World Cup, and that should be our main focus, but we must also take care of the matches in front of us. It doesn't matter who we face, we must maintain our play style. No matter who I play with, or how many minutes I get, I will give my utmost efforts to showcase my best performance.
MF #9 KAMADA Daichi (Eintracht Frankfurt)
I am in good condition and fully prepared. We are expected to control the ball possession, so it is important that the attackers score an early goal to lift the weight off our defenders. We have plenty of players who can perform under tight spaces, so I am not worried at all. The World Cup is one of my biggest goals since childhood, so I hope to take an active role to achieve our team's goal. The more minutes I earn with my club, the more help I can be for the national team, so I will continue to work hard to cement my position at my club.
MF #10 MINAMINO Takumi (Southampton FC)
We are playing under an unprecedented circumstance, leaving us with very few opportunities to communicate with each other, so it is important that we get on the same page during the training sessions. I feel most comfortable playing as the attacking midfielder, but I am ready to help the team from any position. In our match against Korea Republic, I focused on keeping a distance with Kamada, which turned out to be effective. In case we are dominating the match, I think our fullbacks came push up and play more aggressively.
Rastislav BOZIK, Coach of Mongolia National Team
Although the players are coming off a long break, they are fully aware of their tasks and understand what they are expected. Instead of focusing on our opponent, we must focus on our own plays. Compared to other countries, the measures taken to prevent the spread of COVID-19 is very strict in Japan, but we understand where they are coming from. Despite the tough times, we will give our best efforts to overcome the adversity and build a good team.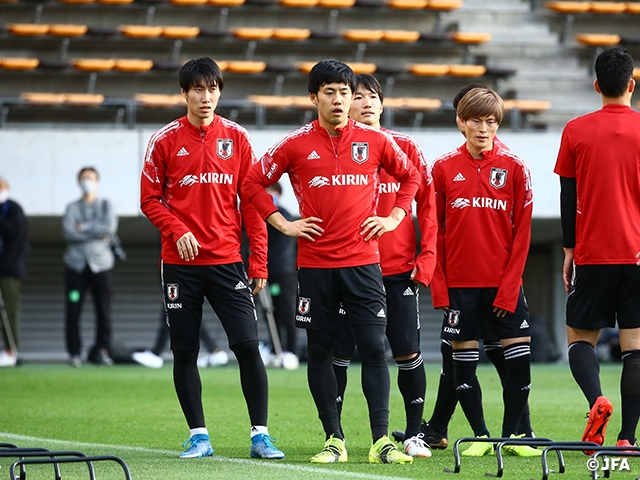 FIFA World Cup Qatar 2022™ / AFC Asian Cup China PR 2023™
Preliminary Joint Qualification Round 2
Tue. 30 March 2021 [19:30] vs Mongolia National Team
Venue: Fukuda Denshi Arena (Chiba) [Away Match]