NEWS
Uruguay National Team arrive in Japan ahead of KIRIN CHALLENGE CUP 2023
22 March 2023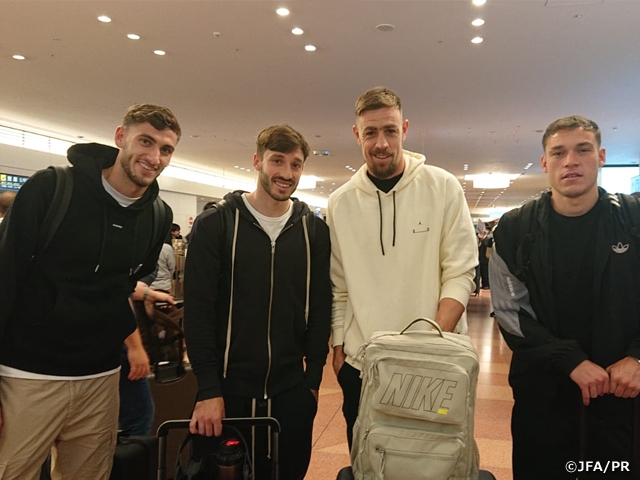 The players and staff of the Uruguay National Team began travelling to Japan on Monday 20 March, in preparation for the KIRIN CHALLENGE CUP 2023, which will be held at Japan National Stadium on Friday 24 March.
The team will start training in Tokyo on Tuesday 21 March.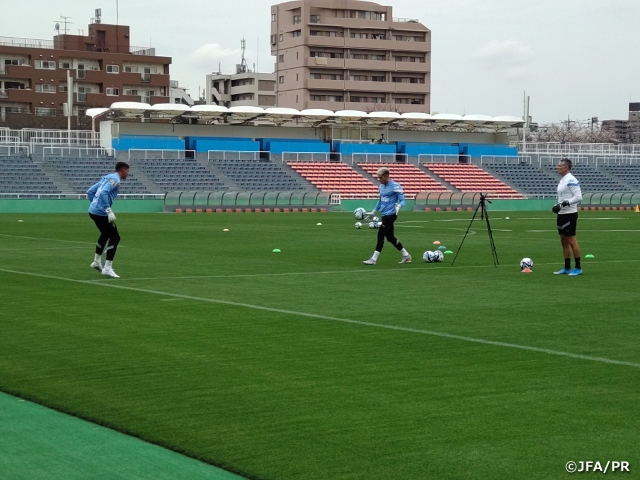 Coach and Players' Comments
Marcelo BROLI, Acting Coach
I was here five months ago for a U-18 tournament and was impressed by the high standard of the people and the cleanliness of the city. I also have a strong impression of the Japan National Team, who has made great progress in recent years, winning against strong teams like Germany at the World Cup, and I feel that they are a very strong team. This friendly is the beginning of a new process after the World Cup and preparation for the upcoming qualifiers. I hope Japanese football fans will enjoy this match.
Sebastian COATES (Sporting CP/Portugal)
I have been to Japan in the past, but the Japanese people have always welcomed me with great respect. This match marks a generational change for Uruguay and the beginning of a new cycle, which will provide a great opportunity for both the veterans and the upcoming new players. I am sure that is the same for Japan, and we hope to showcase a spectacular match.
Santiago MELE (CA Union/Argentina)
This is my first visit to Japan, but I have a positive impression of the country from movies and other sources. Having played against Japan at the FIFA U-20 World Cup Korea Republic 2017™, I have the impression that Japanese football is tactically disciplined, but also capable of playing with great dynamism and intensity. For me personally, this is my first call-up to the senior national team, so I am thrilled to be here. This game will give our team a crucial opportunity to compete against a tough team from another continent. We hope that you will come to the stadium and enjoy the spectacle of the match.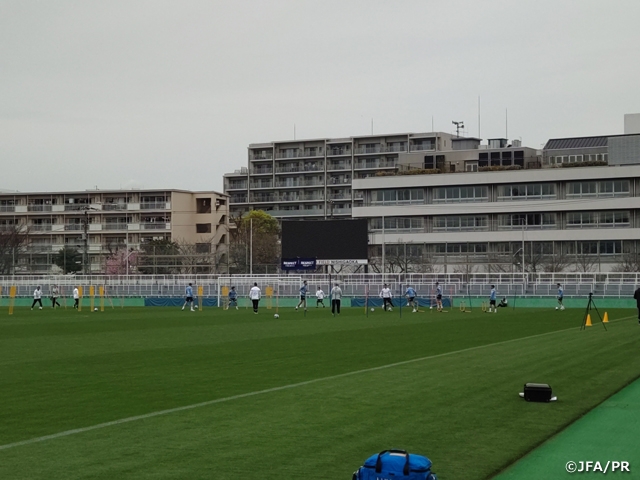 Uruguay National Team
Acting Coach
Marcelo BROLI (Uruguay)
Squad
GK
1 Sergio ROCHET (Nacional)
12 Gaston OLVEIRA (Club Olimpia/Paraguay)
23 Santiago MELE (CA Union/Argentina)
DF
19 Sebastian COATES (Sporting CP/Portugal)
3 Giovanni GONZALEZ (RCD Mallorca/Spain)
13 Jose Luis RODRÍGUEZ (Vasco da Gama/Brazil)
16 Mathias OLIVERA (SSC Napoli/Italy)
17 Matias VINA (Bournemouth/England)
22 Joaquín PIQUEREZ (SE Palmeiras/Brazil)
2 Santiago BUENO (Girona/Spain)
4 Sebastián CÁCERES (Club America/Mexico)
MF
5 Matias VECINO (SS Lazio/Italy)
7 Felipe CARBALLO (Gremio/Brazil)
15 Federico VALVERDE (Real Madrid/Spain)
14 Agustín CANOBBIO (Athletico Paranaense/Brazil)
20 Facundo TORRES (Orlando City SC/USA)
10 Diego HERNANDEZ (Montevideo Wanderers)
6 Manuel UGARTE (Sporting CP/Portugal)
8 Facundo PELLISTRI (Manchester United/England)
FW
11 Jonathan RODRIGUEZ (Club America/Mexico)
18 Maximiliano GOMEZ (Trabzonspor/Turkey)
9 Diego ROSSI (Fenerbahce/Turkey)
21 Matías AREZO (Penarol)
KIRIN CHALLENGE CUP 2023
SAMURAI BLUE vs Uruguay National Team
Date: Friday 24 March 2023, 19:30 (subject to change)
Venue: Japan National Stadium, Tokyo
Tournament Information