NEWS
SAMURAI BLUE announce 25-man roster for AFC Asian Qualifiers in October
29 September 2021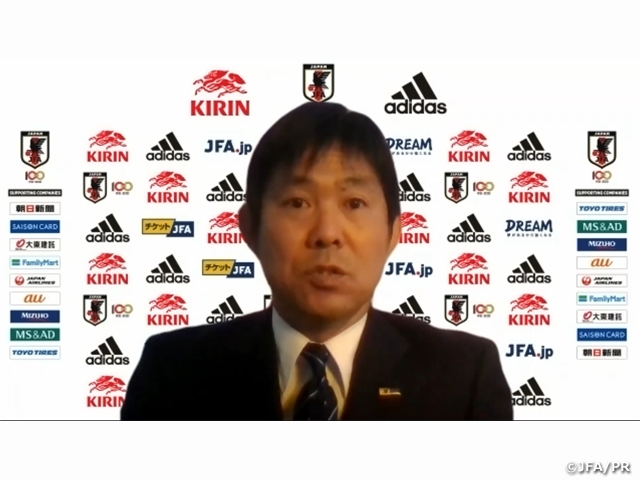 On Tuesday 28 September, coach MORIYASU Hajime of the SAMURAI BLUE (Japan National Team) announced the 25-man roster for the two fixtures of the FIFA World Cup Qatar 2022™ AFC Asian Qualifiers (Road to Qatar) against Saudi Arabia (7 October, Jeddah) and Australia (12 October, Saitama).
Since the final round of the Asian Qualifiers started in September, Japan lost their first match against Oman at home, followed by an away victory over China PR, as they currently sit in fourth place out of six teams in Group B.
Japan will now face Australia and Saudi Arabia, who are currently in first and second place respectively after winning back to back matches. Top two teams of the group will automatically qualify for the World Cup, thus making these upcoming fixtures a major turning point for Japan's quest to Qatar. For this crucial set of fixtures, Japan selected more players than usual, 25 to be exact, in order to prepare against the ongoing pandemic and unexpected injuries.
The announced squad included MINAMINO Takumi (Liverpool FC) who was side-lined for the matches held in September due to injury, and TOMIYASU Takehiro (Arsenal) who has newly joined the English Premier League side, Arsenal, this season. Regular members, such as team captain YOSHIDA Maya (UC Sampdoria), ENDO Wataru (VfB Stuttgart), and OSAKO Yuya (Vissel Kobe) were also named into the squad.
ONAIWU Ado (Toulouse FC) who has been playing in top form since transferring to Ligue 2, the second division of French football, made his return to the squad after being called up to replace Minamino during the fixtures in September, while ASANO Takuma (VfL Bochum 1848) returned to the squad since the second round fixtures in June.
KUBO Takefusa (RCD Mallorca) and FURUHASHI Kyogo (Celtic FC) were not listed in the squad due to injury, but players who thrived at the Tokyo Olympics, such as TANAKA Ao (Fortuna Dusseldorf), MIYOSHI Koji (Royal Antwerp FC), ITAKURA Kou (FC Schalke 04), and HASHIOKA Daiki (Sint-Truidense V.V.) made their first call up for the final round.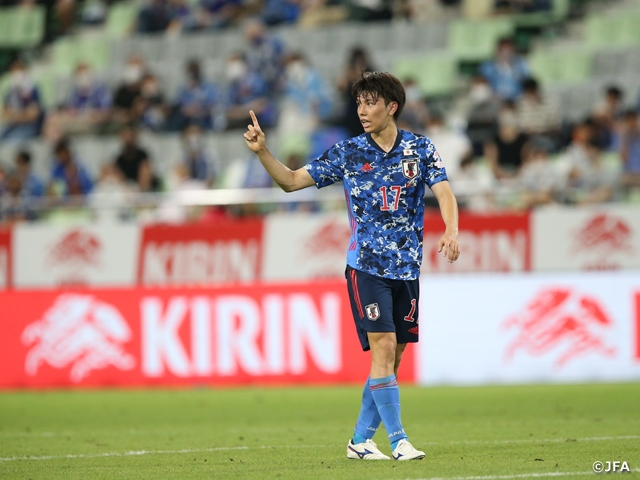 Due to caution accumulation, ITO Junya (KRC Genk) will be suspended for the match against Saudi Arabia, but the winger will join the team in Jeddah to prepare for their match against Australia.
"I have selected the best squad based on what I have seen with my own eyes," said coach Moriyasu, who has been traveling around Europe to assess the players. During the online press conference, in which the coach appeared from Europe, he continued share his take on the newly selected players, "We have selected and worked with a large group of players over the years and prepared ourselves so that the national team can function regardless of who is on the pitch, so we have nothing to worry about with this squad. I strongly believe that these players will give their best efforts to showcase a strong performance."
The coach also shared his hopes towards the younger players with less experience, "I want them to play with high expectations for themselves, determination to earn a roster spot, assertiveness to make a case for themselves, and aggression that can bring energy to help the team win the two matches."
"We are fully aware that Saudi Arabia and Australia are tough opponents," said coach Moriyasu when asked about their upcoming opponents. "Every team is a powerhouse at the final round, so we cannot let our guards down at all times. Regardless of who we face, we need to give our best efforts."
The team will meet at Jeddah on Monday 4 October to begin training ahead of their match against Saudi Arabia. Coach Moriyasu concluded the conference by stating, "We will work together as a team to prepare ourselves in the best way possible, so that we can earn the maximum points in the upcoming matches."
Comments
MORIYASU Hajime, Coach of SAMURAI BLUE (Japan National Team)
All teams are strong in the final round, but Saudi Arabia and Australia are especially tough opponents considering their experience in the World Cup. They are both very attack-minded and aggressive teams. Our next fixture against Saudi Arabia is an away match, so we must brace ourselves for an extremely tough match, but we will still be aiming for three points.
The Saudis are very aggressive and will use their home field advantage to put pressure on us with their large turnout at the stadium. We have to prepare ourselves both mentally and tactically so that we can compete under such away atmosphere. Even in an away match, we must demonstrate our team concept, which is to build quality offence through solid defence. In September, we had some difficulties filling in the tactical gap between the national team and the clubs, and also struggled to maintain our conditions after returning to Japan. In addition to those issues, we must also address how we should fight in the climate of Saudi Arabia and have a clear image of how to fight in a completely away environment, which is vastly different from Japan or Europe.
There are some players who are unable to participate due to suspensions or injuries, but there are also players who are willing make a case for themselves. I hope that the players on the pitch will give their best efforts for the team's victory.
As we have done in the past, we must first prepare ourselves in the best way possible and try to keep everyone on the same page as we enter the match. We will give our utmost efforts to make our fans and supporters happy with the results, and to deliver courage and energy to the people who are suffering from the Covid-19 pandemic.
SORIMACHI Yasuharu, JFA Technical Director
We have been quietly preparing for the two matches in October. The coaching staffs have carefully selected the squad for the match against Saudi Arabia in Jeddah, followed by the match against Australia in Saitama. We are told that the stadium in Saudi Arabia, which has a max capacity of 50,000, will be filled up to 60%. Unlike what we have seen in Japan, I think it will be a match with a strong away atmosphere for us. However, regardless of the circumstance, we will do everything we can to get the maximum number of points, both at Saudi Arabia and Saitama.