NEWS
【Match Report】SAMURAI BLUE advance to the title match with a 4-1 victory over Ghana - KIRIN CUP SOCCER 2022
11 June 2022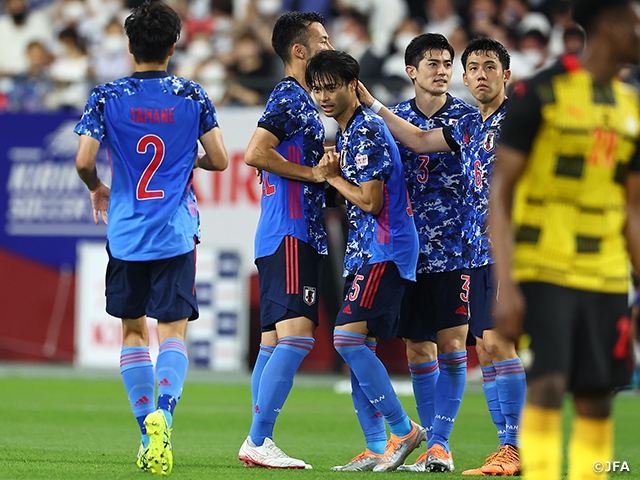 On Friday 10 June, the SAMURAI BLUE (Japan National Team) played their first match of the KIRIN CUP SOCCER 2022, which was held for the first time in six years, against the Ghana National Team at Noevir Stadium Kobe. Propelled by the goal and assist of MITOMA Kaoru (Royale Union Saint‑Gilloise) and KUBO Takefusa's (RCD Mallorca) first international goal at the senior level, Japan won the match 4-1 to advance to the title match. Japan will now face Tunisia at Panasonic Stadium Suita on Tuesday 14 June.
Entering their third match of the four-match series leading up to the FIFA World Cup Qatar 2022™ in November, Japan rotated nearly the entire starting line-up against Brazil four days earlier, with the exception of YOSHIDA Maya (UC Sampdoria) and ENDO Wataru (VfB Stuttgart).
Veteran goalkeeper KAWASHIMA Eiji (RC Strasbourg) started in goal, with YAMANE Miki (Kawasaki Frontale), Yoshida, TANIGUCHI Shogo (Kawasaki Frontale), and ITO Hiroki (VfB Stuttgart) forming the defence line. Kubo, SHIBASAKI Gaku (CD Leganes), and Endo were placed in the midfield, while DOAN Ritsu (PSV Eindhoven) and Mitoma started in the flanks with UEDA Ayase (Kashima Antlers) in the number nine role. For Ueda, Shibasaki, and Kawashima, this was their first start since the AFC Qualifiers match against Vietnam in March this year.
In front of a sell-out crowd of 25,100 spectators, the SAMURAI BLUE worked in tandem to bring out the best in each player, with their inside halves Kubo, Shibasaki, and Doan making frequent runs up front to threaten the opposing goal with their shots.
The opening goal came in the 29th minute, when Yamane, Kubo, and Doan exchanged passes to break down the right flank. With Doan delivering the final pass, Yamane made a run into the box and calmly slotted the ball into the far side, giving Japan a 1-0 lead.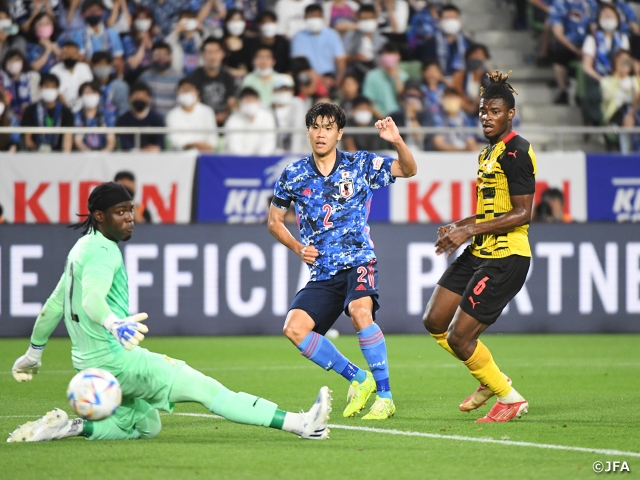 Ghana, who had advanced through the African qualifiers to clinch their fourth World Cup appearance, demonstrated their approach to seek for chances to counterattack, which almost came to fruition in the 36th minute, when they created an opportunity from a long feed that led to the shot of Andre AYEW, but the striker's shot sailed over the Japanese goal.
Japan continued to dominate the ball possession to control the match, but in the 43rd minute, Ghana took advantage of a passing error in the build-up from the Japanese defence line, as they quickly served the ball to Jordan AYEW, who scored the equaliser from the edge of the box.
Despite seeing their lead being erased just before halftime, Japan seemed to be unfazed and responded right away. One minute into additional time of the first half, Mitoma delivered a sharp cross towards the goal, which Doan and Ueda responded to create enough diversion to allow the cross to find the back of the net.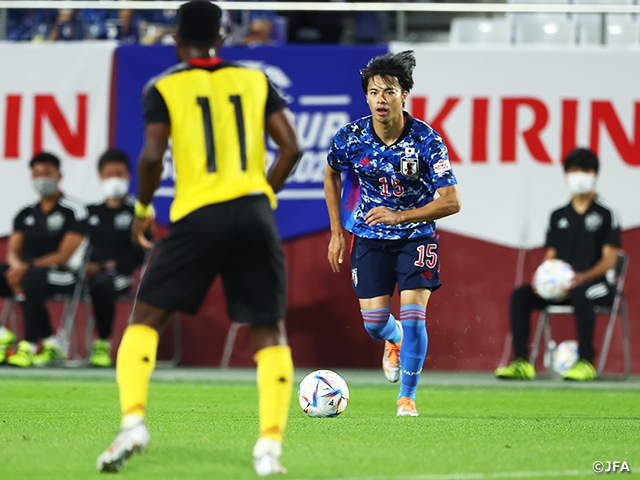 After retaking the lead before halftime, Japan brought in ITAKURA Kou (FC Schalke 04) to start the second half in place for Yoshida. In the 69th minute, ITO Junya (KRC Genk) and TANAKA Ao (Fortuna Dusseldorf) were introduced to replace Doan and Endo.
With the substitutions providing fresh legs and more depth to the offence, Japan scored their third goal in the 73rd minute, when Mitoma broke through the left side to set up the goal of Kubo, who scored his first international goal for the senior side since making his debut on 9 June 2019.
In the 80th minute, MINAMINO Takumi (Liverpool FC) and MAEDA Daizen (Celtic FC) were brought on to replace Mitoma and Ueda. Just two minutes later, Ito Junya drove into the box before squaring a pass to Maeda, who also scored his first international goal since making his senior squad debut in June 2019.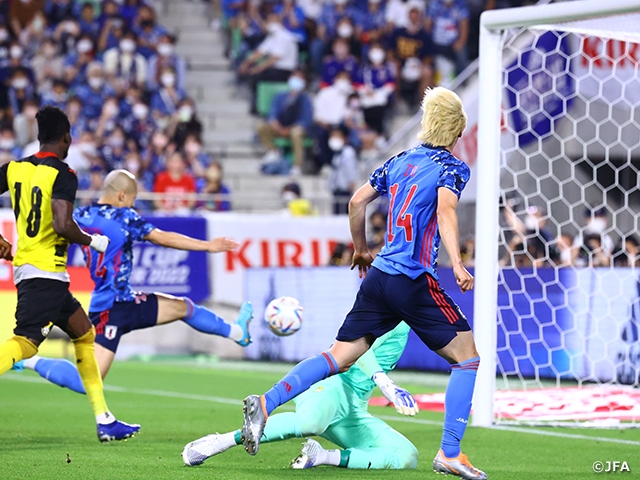 Leading 4-1, NAKAYAMA Yuta (PEC Zwolle) was introduced to replace Yamane in the 85th minute, as Japan shifted their formation to 3-4-3 to test their plays with a three-man defence line.
Despite conceding a shot to Andre AYEW at the end, the Japanese defence delivered a solid performance to keep the Ghanaian offence to just four shots, as Japan advanced to the final where they will face Tunisia, while Ghana face Chile in the third-place match.
In the other match played on this day, Tunisia defeated Chile 2-0 after Ali ELABDI and Issam JEBALI scored a goal apiece in the 41st and 89th minute respectively, while goalkeeper Aymen DAHMEN made a crucial save to deny a spot kick late in the match.
Coaches and Players' Comments
MORIYASU Hajime, Head Coach of SAMURAI BLUE (Japan National Team)
Having played two matches in this international match week, we were looking to build on what we have achieved and aim to win against Ghana. I think the players did a great job to prepare themselves and fought well. We have changed our starting line-up throughout these three matches, but the team has maintained the high standards we had since our match against Brazil, and the players played with strong intentions to function as a team and to win regardless of who was on the pitch. Brazil taught us that we cannot win against the top teams in the world if we just focused on raising the individual strength. Today, the players showed us the importance of strengthening the organisational strength while improving the individual strength.
Kubo and Maeda scored their first goals for the national team, which I think was a result of their continuous efforts to give their best at all times. As for the goal we conceded, the mistake has to be corrected, but I appreciate the effort we made in trying to possess the ball from our final line and take full blame for that goal. As a team, we want to be able to defend when we lose possession of the ball like that.
We made our decision to shift our system to a three-back formation to test if it can be a viable mid-game option for us. We had contemplated on deploying the system during the AFC Asian Qualifiers (Road to Qatar), but we wanted to first build the team around the four-back formation. The players have worked hard to taken on new challenges and have now given us new options we can explore in our future matches.
MF/FW #7 SHIBASAKI Gaku (CD Leganes/Spain)
As a team, we were able to play with the intention of making adjustments according to our opponents' approach, and I personally played with the intention to enter the final third when the opportunity presents itself. I tried to complement the strengths of our forwards and Endo's defensive duties, while keeping an eye on the team's balance between offence and defence. With Mitoma, Doan, Kubo, and Yamane working in tandem, I think we were able to create some good offensive shapes. Knowing how Kubo is capable of playing the number 10 role, I focused on providing him support as a linkman. There were times when we managed to keep good distance between each other, and there were several good attacks created from the flanks, including the first goal. It would be great if we can build on these positives and have them as a mutual option for the team. We assumed our opponent would play four in the back but were told that they can play three in the back during our warmups. I feel like we were able to take advantage of the mismatches from the early stages of the match.
MF/FW #11 KUBO Takefusa (RCD Mallorca/Spain)
There were moments when I thought I would never score a goal for the national team. Every time a teammate scored, I thought "why are my shots always blocked?" I wish I had scored earlier, but now that I have scored in my 17th match, no one can tease me for having zero goals. It would become irrelevant when I finish my career with a ton of goals. When I scored the goal, I had a feeling the ball would arrive there. As an inside-half, I knew I would be more effective playing in the 10 spot rather than getting involved in our build-ups, so I focused on making runs upfront to increase the tempo of our offence. In terms of defence, I made conscious efforts to deny our opponents to initiate counterattacks, and I feel I was effective in that aspect as well. I though about getting subbed off after hurting my feet and it still hurt after scoring the goal, but I am glad I was able to play the entire 90 minutes.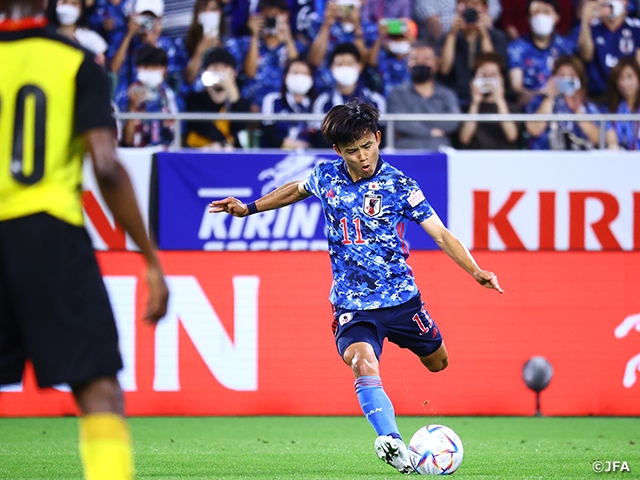 MF/FW #21 DOAN Ritsu (PSV Eindhoven/Netherlands)
I was given the start in back-to-back matches, so I made a conscious effort to contribute to the team's victory. In addition, my play style is different from Ito's, who likes to make vertical runs, so I was conscious of holding my position wide to create space in the centre and penetrate when I had the opportunity. With Yamane getting involved in our attacks, we focused on rotating our positions, which led to the goal scene. I am also fully aware of how Kubo plays, so we interchanged our positions depending on the situation. My faith in him hasn't changed and I was thrilled when I learned that we'd be playing on the same pitch this time. I think we brought out the best in each other. This Kansai series is being held in a very memorable place for me, so I want to make sure to score in our next match. If I can do that, I think the story will be complete.
MF/FW #24 MAEDA Daizen (Celtic FC/Scotland)
I'm relieved to have scored today because I have missed out on many chances in the last few matches. There are lots of scenes like that at my club, and I am always determined to make runs into that space in those situations. I am sure Ito was also thinking about taking a shot, but I was ready to convert the deflection in any way possible. I always get so much power from the videos my daughter sends me, and I wanted to score today because 13 June is her birthday, so I am glad I was able to score. Just like all other matches, I focused on playing defence from the front line and making runs in front of the goal. In today's game, I defended from the front and got in front of the goal as usual. We are aiming to win the title as a team, so I will continue to work hard and contribute to the team's victory.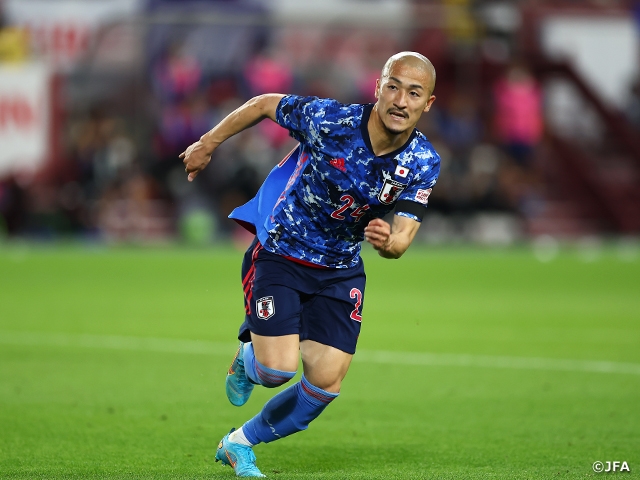 Nana OTTO ADDO, Head Coach of Ghana National Team
Japan was very organised and played well as a team. We tried to give our all, but Japan was stronger. We thought we could create chances by applying pressure from the front line, which worked out towards the end of the first half, but looking back on the match as a whole, unfortunately, it did not go as well as we would have liked. We were not able to provide coverage behind our defence line, make adjustments inside the penalty area, and win the one-on-one battles against Japan in our final third. This match reminded us that we need to improve our defence and we hope to make the most of this experience to improve ourselves.


Date/Venue:
Fri. 10 June/Noevir Stadium Kobe (Hyogo)
Tue. 14 June/Panasonic Stadium Suita (Osaka)