NEWS
SAMURAI BLUE blow lead in loss to Bosnia, finish runners-up in KIRIN CUP final
08 June 2016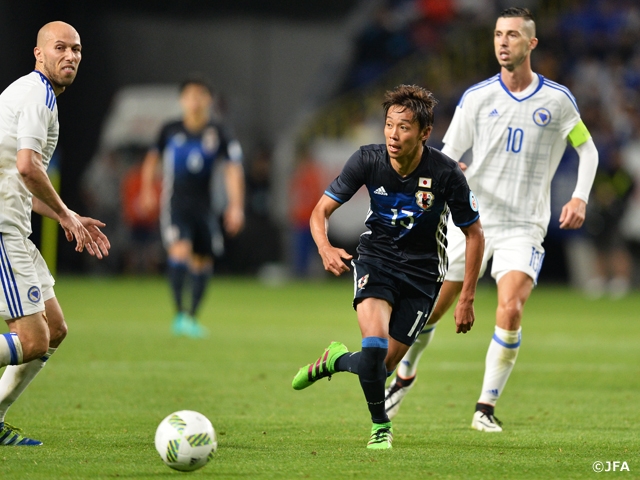 SAMURAI BLUE (Japan National Team) faced Bosnia and Herzegovina on Tuesday 7 June in the KIRIN CUP SOCCER 2016 final. Despite midfielder KIYOTAKE Hiroshi (Hannover 96)'s opening goal, Japan allowed Bosnia and Herzegovina to come back and win 2-1, finishing as the tournament runners-up.
Bosnia clinched their first title in the KIRIN CUP, which was held after a five-year interval. Bosnian striker Milan DURIC, who tallied four goals in the tournament including a double in the final, was named the Most Valuable Players of the Cup.
In the third-place match, Denmark beat Bulgaria 4-0 thanks to midfielder Christian ERIKSEN's hat trick.
See more match details (3rd-Place Playoff)
Japan coach Vahid HALILHODZIC put Kiyotake behind the striker with forward HONDA Keisuke (AC Milan) and KAGAWA Shinji (Borussia Dortmund) on the bench due to injury. He switched four starters from the Bulgaria match four days ago, playing ASANO Takuma (Sanfrecce Hiroshima) as the right forward, USAMI Takashi (Gamba Osaka) on the left, SAKAI Gotoku (Hamburg SV) at the right back and NISHIKAWA Shusaku (Urawa Reds) as the goalkeeper.
Defender NAGATOMO Yuto and Usami came out aggressively on the left flank from the start. Asano fired a shot for Nagatomo's cross just three minutes after the kick-off and Usami menace with a dribble from a cut-in in the 12th minute before Kiyotake's shot slammed off the cross bar in the 15th minute.
The Bosnian side also showed aggressive, swift attacks. With Duric meeting a free kick with his head just after a kick-off, Bosnia built up their attack using space on sides. In the 10th minute, midfielder Izet HAJROVIC came close from the right flank.
Japan opened the scoring in the 28th minute when Usami dribbled deeply up on the left flank and cut the ball back to centre, with Kiyotake bursting into the box and meeting the pass with his left foot to find the back of the net.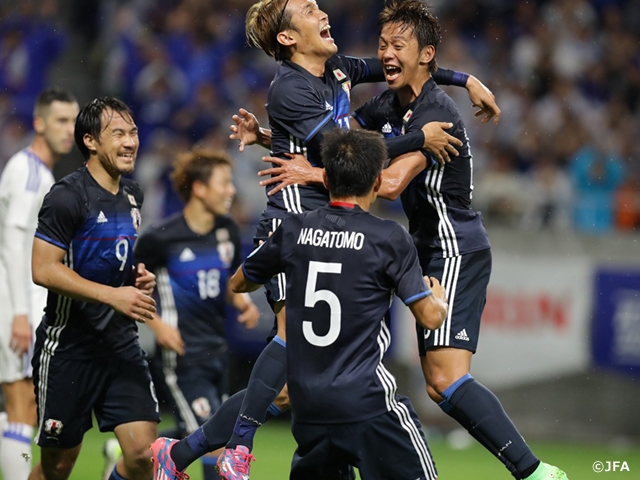 But one minute later, Bosnia forward Armin HODZIC headed off a long ball from midfield. After goalkeeper Nishikawa parried the shot, Duric tapped home the deflection with his right foot to equalise immediately.
Against Bosnia keep going forward with simple long balls, Japan attempted to halt the opponents by creating outnumbering situations in midfield. The match saw an intense seesaw game on offence and defence.
Just before half-time, Usami fired after breaking through with his dribbling, but the Bosnian goalkeeper denied it, while Bosnian midfielder Haris MEDUNJANIN's free kick hit off the cross bar in the first-half added time.
After the first half finished 1-1, the Japanese side subbed in midfielder ENDO Wataru (Urawa Reds) in place of midfielder KASHIWAGI Yosuke (Urawa Reds) in attempt to change the momentum. Japan continued to make efforts with Asano firing a shot from the right after finding space behind defenders just into the second half and Usami unleashing another shot two minutes later. However, neither could convert the opportunity.
The deadlock was broken in the 66th minute. Japan allowed Bosnia to find a gap again. When subbed-in Miroslav STEVANOVIC found a timing to thread a pass into the box from Medunjanin's free kick, Duric rushed in and blasted through a low shot between Yoshida's legs to put his side ahead.
Japan tried to rally back, sending on defender MAKINO Tomoaki (Urawa Reds) at the left back, international debutant midfielder KOBAYASHI Yuki (Jubilo Iwata), forward KANAZAKI Mu (Kashima Antlers) and forward KOBAYASHI Yu (Kawasaki Frontale).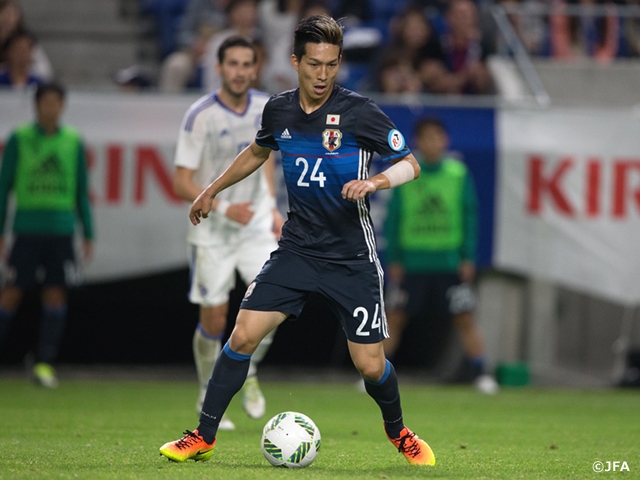 However, Asano's 87th-minute shot was saved by the Bosnian goalkeeper. And Asano also found an opening again in added time but failed to score. Kiyotake struck the deflection with his right foot, but his shot went off target before Japan finished with a 2-1 defeat.
See more match details (Final)
Japan's loss under Halilhodzic is for the first time since the loss against DPR Korea last August and their winning streak ended with five.
SAMURAI BLUE's next match is coming on Thursday 1 September against the UAE in the 2018 FIFA World Cup Russia Asian Qualifiers Final Round.
Coach and Players' Comments
Vahid HALILHODZIC, Coach of SAMURAI BLUE (Japan National Team)
Considering that this match had a potential to turn out differently, it's very disappointing. Especially the goal we allowed after scoring our own, that's something I just mentioned in the meeting today. Some of our players tried to play like they did in the Bulgaria match and they tried to play too complicatedly. Then we allowed our opponents to get on counter-attacks. Allowing a goal is a matter of concentration or lack of it. We should have played more wisely. There were some players who were tired, but it can't happen in the final qualifiers. We can't call up players to the national team if they aren't 100% ready. I want all our players to work hard, and there are also some players I expect to be physically stronger. We found out that there were still many things to improve.
FW #11 USAMI Takashi (Gamba Osaka)
It would have been better if we had carried the good tempo of the first half into the second half. But we had more stretches where the opponents pushed us back. This is a lesson telling us that we have got to keep good tempo throughout the 90 minutes.
MF #13 KIYOTAKE Hiroshi (Hannover 96)
We couldn't score when we had a chance to score one more in the first half, and it's disappointing. (On missing Honda and Kagawa) It means nothing if we don't get a good result in a situation like this. There were many stretches where our defence didn't work. It would have been better, if we could have used both flanks both in the first and second halves, but in the second half, our offence was too simple. We often lose the ball, trying to connect too many passes, and then that led to counter-attacks by the opponents. I am full of disappointments.
MF #17 HASEBE Makoto (Eintracht Frankfurt)
It's disappointing that we lost at our home. We let the physically superior opponents attack us with set-pieces, and when we allowed goals, that physicality easily got us. There are many things to correct. We want to be a better team when we get together next time.
Mehmed BAZDAREVIC, Coach of Bosnia and Herzegovina National Team
It means a lot for us to win the Kirin Cup for the first time. We tried to eliminate Japan's strength, and it worked well as a whole. As a friend of coach Halilhodzic, this result isn't very enjoyable, but as the coach of this national team, I am glad to win against a team like Japan.
TASHIMA Kohzo, President, Japan Football Association
We played against a very high quality team and our players played a high quality match. It doesn't lead to team development unless we keep playing this kind match continuously. It's also good that we now understand more clearly what kind of football our coach is aiming at by playing these two matches.
JFA-TV (Japanese version only)
Schedule
Thu. 26 May
PM
Training
Fri. 27 May
AM/PM
Training
Sat. 28 May
AM/PM
Training
Sun. 29 May
AM
Training
Mon. 30 May
PM
Training
Tue. 31 May
PM
Training
Wed. 1 June
16:30
17:00
Official Conference (Toyota Stadium)
Official Training (Toyota Stadium)
Thu. 2 June
PM
Training
Fri. 3 June
7-2
KIRIN CUP SOCCER 2016
vs Bulgaria National Team (Toyota Stadium)
Sat. 4 June
AM
Training
Sun. 5 June
17:00
17:30
Official Conference (Suita City Football Stadium)
Official Training (Suita City Football Stadium)
Mon. 6 June
PM
Training
Tue. 7 June
1-2
KIRIN CUP SOCCER 2016
3rd-Place Playoff or Final (Suita City Football Stadium)
*The schedule is subject to change due to the team condition, the weather, etc.
KIRIN CUP SOCCER 2016
Held in knockout system among SAMURAI BLUE (Japan National Team), Bosnia Herzegovina, Bulgaria and Denmark.
KIRIN CUP MUSEUM
Japan against the world, KIRIN CUP MUSEUM tracing the history is now open!