NEWS
SAMURAI BLUE resume training for KIRIN CUP final
05 June 2016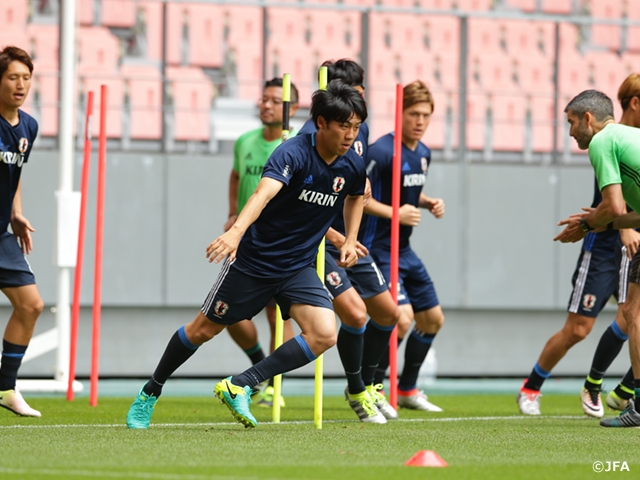 After thrashing Bulgaria in their KIRIN CUP SOCCER 2016's first match, SAMURAI BLUE (Japan National Team) had training on Saturday 4 June at Toyota Stadium in Aichi for the final to be held three days later. Japan face Bosnia and Herzegovina in the final on Tuesday 7.
In front of over 1000 fans including children cheering from the stands, midfielder KIYOTAKE Hiroshi (Hannover 96/ Germany) and other starting squad of the Bulgaria match focused on recovery with a light workout such as running and stretching drills.
Meanwhile, substitutes including those who entered midway through the match worked out for an hour with passing drills and a small-sided game. The squad fired shots in the small-sided game after connecting passes with limited numbers of touches and went through moves toward goal through swift shifts between offence and defence. Midfielder OHSHIMA Ryota (Kawasaki Frontale) and others were showing lively moves, scoring goals.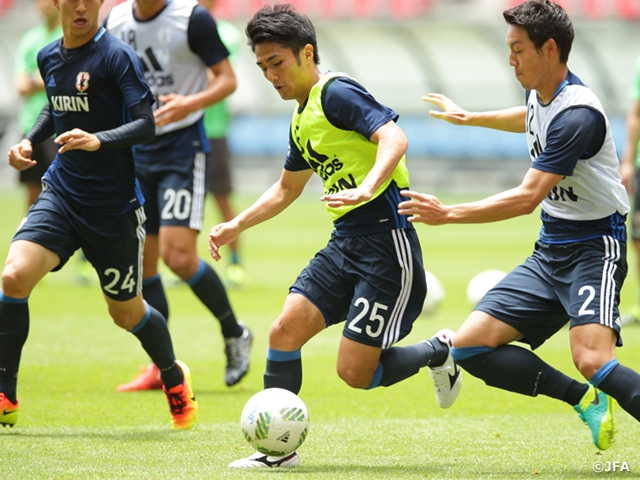 Bulgaria match sub goalkeepers NISHIKAWA Shusaku (Urawa Reds) and HIGASHIGUCHI Masaaki (Gamba Osaka) had intense training including saving drills with jumps over hurdles and took a goalkeeper role behind field players in the small-sided game at the end.
Midfielder KAGAWA Shinji (Borussia Dortmund/ Germany), who bruised his right side abdomen yesterday, did not join on-field practice, while forward HONDA Keisuke (AC Milan/ Italy) continued to tune up separately due to discomfort in his left hamstring.
After the session, several players such as Honda and defender NAGATOMO Yuto (FC Internazionale Milano/ Italy) approached to fans at stands and communicated with them with smiles and hi-fives.
After providing an assist for Kagawa's first goal through effective overlap in the Bulgaria match, Nagatomo seemed to light up as he makes his 90th international appearance in the next match.
While he had been dreaming to flourish internationally, he "didn't think" he actually gets where he is now. "Being outrun by young players is the last thing I want. It's my strength and I want to contribute to the team."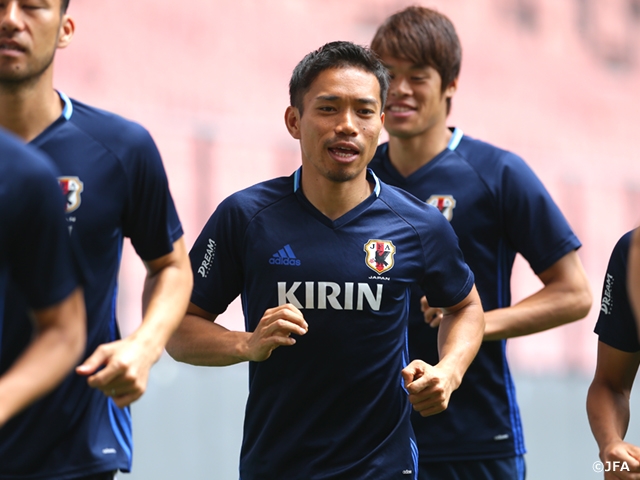 The team moved to Osaka in the afternoon, where they face Bosnia and Herzegovina.
In the first match of the KIRIN CUP on Friday 3, Bosnia and Herzegovina came back to 2-2 from a two-goal deficit and grabbed a 4-3 penalty win over Demark to reach the final.
The final will be held at Suita City Stadium in Osaka on Tuesday 7 after the third-place match between Denmark and Bulgaria.
Players' Comments
DF #6 MORISHIGE Masato (F.C. Tokyo)
It was a good game as a whole, but I wanted to finish with a clean sheet as a defender. (Talking about the goals they gave up) We lost our concentration with the big margin, but it was because of our mistake. We can change it by staying conscious. Substitute players need to take over a role and starting players need to instruct subs on positioning and details so that we can keep a balance with whoever coming on. It's important everyone shares understanding. (In the next match) The first thing is to win battles in front of goal. We as a team also try not to let the opponents send a cross easily. Considering opponents' strength, we've got to defend together.
DF #5 NAGATOMO Yuto (FC Internazionale Milano/ Italy)
We may have a situation where we miss Honda and Kagawa in the upcoming tough battles of the World Cup Qualifiers. (In case of missing them in the next match) In the sense that we can test that, it's good for us. Of course, having them on the pitch is encouraging for us, but only relying on them does not raise the level of Japan National Team. (Regarding revelation of his relationship with an actress) I'm happy to be celebrated and thank everyone. But I first want to get results on the pitch as a footballer.
MF #13 KIYOTAKE Hiroshi (Hannover 96)
There is a team rule like passing with one touch when you have an opponent right behind you. But whatever the rule is, I'm aware that I need to bring out my style and strength every match. Yesterday it went really well and we scored four goals in the first half. And we were able to create a lot of situations where we beat such big men with one-touch moves. I had a good communication with Nagatomo and want to get more situations like that.
MF #7 KASHIWAGI Yosuke (Urawa Reds)
(In yesterday's match) We weren't able to control the game as players were switching from first half to second half. I always push myself to stay on the team by telling myself that I always have to earn the spot. And if I keep showing a good performance, the situation will change. What's important is not what I've done but how I can grow from now on and whether I can keep going with confidence. I will try to get ready for the next match, and when getting back to my own club, I will do what I can do for the team and get results.
MF #3 ENDO Wataru (Urawa Reds)
To show my strength, I tried to go forward and get the ball. But I should have stayed a bit calmer and got clear about when to stay back and when to go up. I can imagine to some extent how my teammates get going, but I haven't displayed it on the pitch. ASANO Takuma's goal is important for the U-23s and also in the sense that we young players boost up Japan National Team. If I can play next, I will try to show my strength, feeling the atmosphere of the new stadium.
JFA-TV (Japanese version only)
Interview - NAGATOMO Yuto (FC Internazionale Milano/ Italy)

Interview - KAWASHIMA Eiji (Dundee United Football Club/Scotland)
Schedule
Thu. 26 May
PM
Training
Fri. 27 May
AM/PM
Training
Sat. 28 May
AM/PM
Training
Sun. 29 May
AM
Training
Mon. 30 May
PM
Training
Tue. 31 May
PM
Training
Wed. 1 June
16:30
17:00
Official Conference (Toyota Stadium)
Official Training (Toyota Stadium)
Thu. 2 June
PM
Training
Fri. 3 June
7-2
KIRIN CUP SOCCER 2016
vs Bulgaria National Team (Toyota Stadium)
Sat. 4 June
AM
Training
Sun. 5 June
17:00
17:30
Official Conference (Suita City Football Stadium)
Official Training (Suita City Football Stadium)
Mon. 6 June
PM
Training
Tue. 7 June
19:40
KIRIN CUP SOCCER 2016
3rd-Place Playoff or Final (Suita City Football Stadium)
*The schedule is subject to change due to the team condition, the weather, etc.
KIRIN CUP SOCCER 2016
Held in knockout system among SAMURAI BLUE (Japan National Team), Bosnia Herzegovina, Bulgaria and Denmark.
2016-6-7 (Tue,) Osaka/Suita City Football Stadium
16:00 kick-off (subject to change) Bosnia Herzegovina National Team or Denmark National Team vs Bulgaria National Team
19:30 kick-off (subject to change) SAMURAI BLUE (Japan National Team) vs Bosnia Herzegovina National Team or Denmark National Team
KIRIN CUP MUSEUM
Japan against the world, KIRIN CUP MUSEUM tracing the history is now open!