NEWS
SAMURAI BLUE record big win against Bulgaria at KIRIN CUP SOCCER 2016
04 June 2016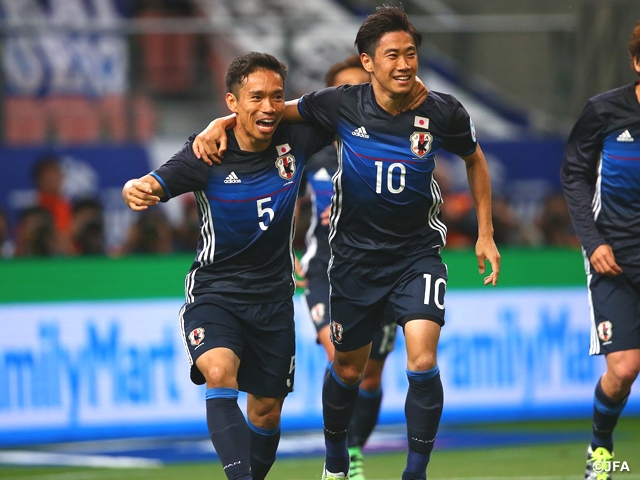 On Friday 3 June at Aichi Toyota Stadium, SAMURAI BLUE (Japan National Team) routed Bulgaria 7-2 at their first match at the KIRIN CUP SOCCER 2016 and advanced to the final to be held on Tuesday 7 at Suita Stadium in Osaka.
Forward OKAZAKI Shinji (Leicester City FC) scored the opening match early and midfielder KAGAWA Shinji (Borussia Dortmund) and defender YOSHIDA Maya (Southampton FC) tallied two goals apiece on the way to Japan's first ever win against Bulgaria in their six tries.
Due to injury, forward HONDA Keisuke (AC Milan) did not play. Forward KOBAYASHI Yu (Kawasaki Frontale) and midfielder KIYOTAKE Hiroshi (Hannover 96) manned the right and left franks respectively instead, while Kagawa, defensive midfielder KASHIWAGI Yosuke (Urawa Reds) and midfielder HASEBE Makoto (Eintracht Frankfurt) led up-tempo ball movement with a small number of ball touches.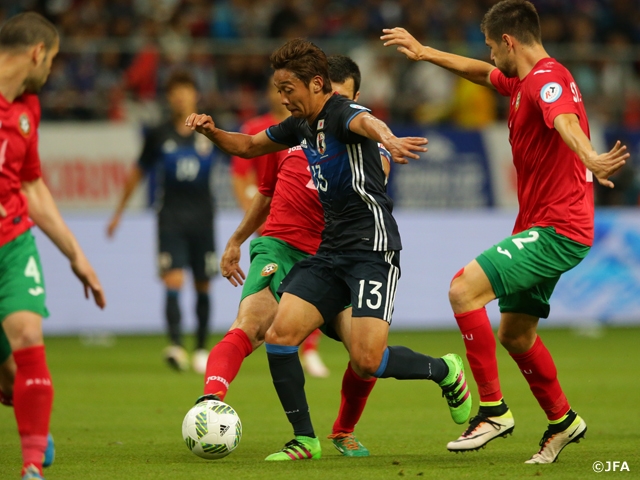 The opening goal came four minutes into the match. For the pass from Kashiwagi, Okazaki dashed past the opposing defenders, barely escaping an off-side call, to head in the feed into the back of the net.
After getting eliminated in the UEFA European Football Championship, Bulgaria are preparing for the 2018 FIFA World Cup Qualifiers. Forward Dimitar RANGELOV and midfielder Ivelin POPOV led the offence upfront. Rangelov in the 22nd minute attempted a close header off a right cross only to find Japan's goalkeeper KAWASHIMA Eiji (Dundee United Football Club) deny it with his left hand. Another Bulgarian shot in the 30th minute after a free-kick was cleared by defender SAKAI Hiroki (Hannover 96).
In the 27th minute, Kashiwagi sent the ball wide to the left flank, which led to defender NAGATOMO Yuto's (FC Internazionale Milano) cross headed in by Kagawa to widen the lead to 2-0.
Kagawa, making the 80th international match appearance, showed another beautiful goal eight minutes later. Kiyotake let go a grounder feed from Kobayashi on the right and Kagawa received it with his right foot before turning around to go by a defender and left-foot it to the goal.
Three minutes after that, after a corner-kick from the right, Hasebe's cross ball was deflected by MORISHIGE Masato (F.C.Tokyo) with his head. There rushed in Yoshida to put the ball into the goal with his head to put his team four goals ahead. Minutes before the end of the first half, Kagawa collided with an opposing player and had his lower back hit, which forced him to be replaced by forward Usami Takashi. But the injury did not slow down Japan's momentum.
In the 53rd minute of the second half, Sakai's right cross was again put home by Yoshida, this time with his right foot, while three minutes later Usami fired a well-targeted shot off Sakai's cross from the opposite side to extend the lead even further to 6-0.
Bulgaria in the second half repeatedly sent fresh legs onto the pitch to look for something that sparks their comeback. In the 59th minute midfielder Mihail ALEXANDROV scored one back. Then in the 82nd minute, midfielder Ivaylo CHOCHEV took a vertical pass for the second goal for his team to cut down their deficit to four goals.
However, Japan sent their own substitute players one after another including forward ASANO Takuma (Sanfrecce Hiroshima), midfielders HARAGUCHI Genki (Hertha BSC Berlin) and ENDO Wataru (Urawa Reds) to keep their attacks going. In the 87th minute, Asano got taken down inside the penalty box to be awarded a penalty kick. Asano himself composedly outsmarted the goalkeeper for his career-first goal as a Japanese international in his fourth appearance.
Then Japan also gave away a penalty kick opportunity to their opponents when Haraguchi committed a foul in the box. Goalkeeper Kawashima, however, stopped the shot by Bulgarian substitute Georgi MILANOV.
At last Japan finished their first match at the tournament with the 7-2 win. It was the first time for them to win with seven or more goals scored since when they defeated Tajikistan 8-0 five years ago in the world cup qualifiers back then.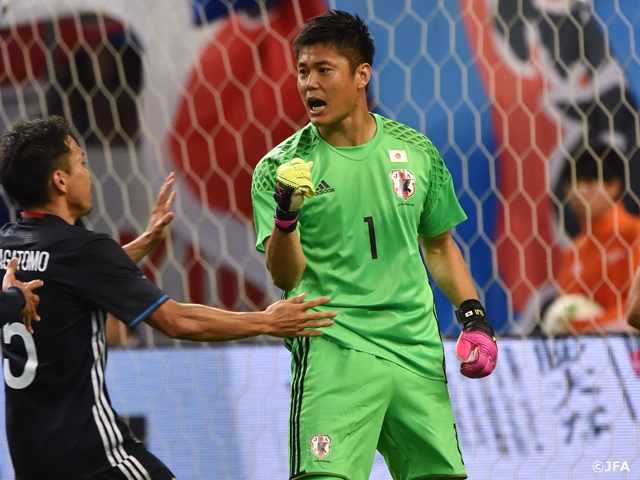 Now Japan are set to take on Bosnia and Herzegovina at the final.
Bosnia and Herzegovina earlier on this day faced Denmark where their forward Milan DURIC scored two goals after being two goals down to tie against Denmark who struggled with an injury halfway in the second half. In the end, Bosnia and Herzegovina edged Denmark with 4-3 in the penalty shootout. Bulgaria and Denmark go head to head in the third place match taking place on 7 June.
Coach and Players' Comments
Vahid HALILHODZIC, Coach of SAMURAI BLUE (Japan National Team)
It was a fantastic match. Especially in our offence, we played at a really high level. The way we scored goals with few touches and quick moves was great also. We found out that we can play even without Honda. Our substitutes played well, too. Allowing two goals was disappointing. It was that we lost our focus momentarily and we lost intensity. Overall this team are on the right track, so we will be well prepared for the final qualifiers.
MF KAGAWA Shinji (Borussia Dortmund/Germany)
The pass came at a perfect timing from Nagatomo. It was an important match for this team, so it was good that we came out with a good result. I collided with an opposing player after scoring the goal and I hurt my lower back, but I think I will be fine for the next match.
FW OKAZAKI Shinji (Leicester City Football Club/England)
(Speaking of the opening goal) When Kashiwagi received the ball, I thought I may have a chance. Then a good ball really came to me. It was a very good timing just off the off-side call. We were able to create many chances with direct passes and our third goal also was good because many players got involved in it. One thing that still sticks to my mind is we let them create a chance when we were leading 1-0, because we didn't go hard on the ball. That's something we can prevent from happening, so we want to be careful.
GK KAWASHIMA Eiji (Dundee United Football Club/Scotland)
I could make a comeback because many people supported me. I was happy to get another chance, and I think it's important to utilise this kind of experience for the national team. At the penalty kick, I was trying to wait until the last minute and make a move. In the second half, after we had substitutions, our ball movement and ball pressure became fuzzy. That's something we have to take away for next.
Ivaylo PETEV, Coach of Bulgaria National Team
We made mistakes individually and as a team, and that was the worst match we played since I became this team's coach. Because our defenders made so many big mistakes, we allowed this many goals. But there were some moments we could have tied the match, and we scored two in the second half. I think Japan showed their class with organised plays and emotion.
JFA-TV (Japanese version only)
Interview - KAGAWA Shinji (Borussia Dortmund/Germany)

Interview - OKAZAKI Shinji (Leicester City Football Club)

Interview - ASANO Takuma (Sanfrecce Hiroshima)
Schedule
Thu. 26 May
PM
Training
Fri. 27 May
AM/PM
Training
Sat. 28 May
AM/PM
Training
Sun. 29 May
AM
Training
Mon. 30 May
PM
Training
Tue. 31 May
PM
Training
Wed. 1 June
16:30
17:00
Official Conference (Toyota Stadium)
Official Training (Toyota Stadium)
Thu. 2 June
PM
Training
Fri. 3 June
7-2
KIRIN CUP SOCCER 2016
vs Bulgaria National Team (Toyota Stadium)
Sat. 4 June
AM
Training
Sun. 5 June
17:00
17:30
Official Conference (Suita City Football Stadium)
Official Training (Suita City Football Stadium)
Mon. 6 June
PM
Training
Tue. 7 June
19:30
KIRIN CUP SOCCER 2016
3rd-Place Playoff or Final (Suita City Football Stadium)
*The schedule is subject to change due to the team condition, the weather, etc.
KIRIN CUP SOCCER 2016
Held in knockout system among SAMURAI BLUE (Japan National Team), Bosnia Herzegovina, Bulgaria and Denmark.
2016-6-7 (Tue,) Osaka/Suita City Football Stadium
16:00 kick-off (subject to change) Bosnia Herzegovina National Team or Denmark National Team vs Bulgaria National Team
19:30 kick-off (subject to change) SAMURAI BLUE (Japan National Team) vs Bosnia Herzegovina National Team or Denmark National Team
KIRIN CUP MUSEUM
Japan against the world, KIRIN CUP MUSEUM tracing the history is now open!