NEWS
SAMURAI BLUE: Nagasawa and Koroki included in twenty-five member squad for Europe tour
01 November 2017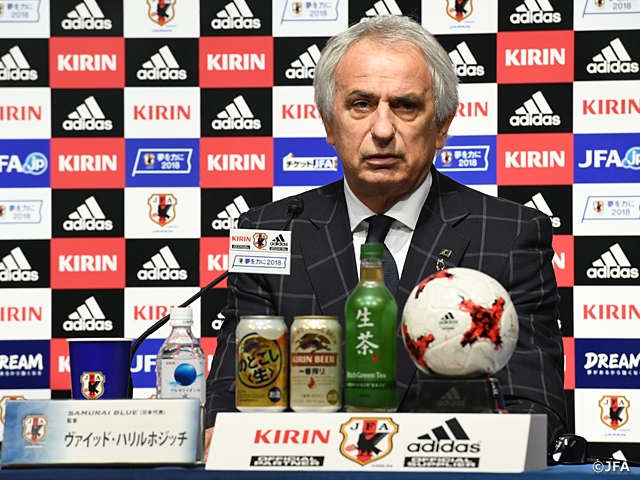 Vahid HALILHODZIC, coach of SAMURAI BLUE (Japan National Team), selected 25 players, including the team debutant, midfielder NAGASAWA Kazuki (Urawa Red Diamonds), on Tuesday 31 October for the coming international friendly matches in Europe scheduled against Brazil on 10 November in Lille, France and Belgium on 14 November in Bruges, Belgium. The coach stated his objective of the tour as 'to strengthen the team by playing against two powerhouses'.
Along with Nagasawa, midfielder MORIOKA Ryota, who is currently playing for Wasuranto-Beferen in Belgium, was invited to the team for the first time under coach Halilhodzic and will be making a first appearance for the national team in approximately three years. The Bosnian coach considered highly of the two newcomers to the team and stated, 'Nagasawa is a rare player who can find ways to contribute in attacks even when defending,' and added, 'Morioka's performance has been improving since he moved to Belgium.'
The current top scorer in the J.League, forward KOROKI Shinzo (Urawa Red Diamonds), will be returning to the national team for the first time in almost two years. His Urawa teammate, goalkeeper NISHIKAWA Shusaku, midfielder HASEBE Makoto (Eintracht Frankfurt), and defender MIURA Genta (Gamba Osaka) are all renamed in the SAMURAI BLUE.
However from the October squad, midfielder KAGAWA Shinji (Borussia Dortmund) has been excluded, while forwards HONDA Keisuke (CF Pachuca) and OKAZAKI Shinji (Leicester City) were not invited for the second straight time in the national team.
Coach HALILHODZIC has commented that 'the selection is competition' and explained regarding the players who were excluded to his squad, 'they need to get back in their top form first,' and added, 'They will be here if their performances were better than ones being selected.' Furthermore, the Japanese boss further elaborated, 'The part of the reason is tactical. I have selected the members that will fit the way in which I am looking to organise the team as well as the system and the game plan that I am going to use in the match.'
Meanwhile, defender NAGATOMO Yuto (FC Internazionale Milano), who is about to play his 100th career match for the national team, has been renamed in the squad. Defender KURUMAYA Shintaro (Kawasaki Frontale), who made his top-flight debut in the game against Haiti in October, midfielder KURATA Shu (Gamba Osaka), forward INUI Takashi (SD Eibar), and forward OSAKO Yuya (1.FC Koeln) are all reselected from the last squad.
Coach HALILHODZIC described the coming opponents, Brazil and Belgium: 'They are among the best teams in the world and have the physical strength as well as many talented players. We need to play to our strength with courage to surprise them. We have only a one-in-ten chance to beat them. In order to grab that slim chance, we must perform brilliantly in both games.'
Second in the FIFA World Rankings, Brazil is the only country who has never missed a World Cup and will be appearing for the 21st time in Russia. On the other hand, Belgium reached the quarter-finals in the 2014 World Cup in Brazil and is currently ranked fifth in the world. They will be participating in their 13th World Cup next year. In comparison, Japan is 44th in world rankings and will be making their sixth consecutive and sixth overall cup appearance.
The Japanese manager mentioned, 'We have been playing at a high level, but the World Cup is a completely different stage. We need to improve our team going through this camp. I expect that we are going learn tough lessons from playing these matches.' He further explained that the team would find out their current level of football by playing against these two powerhouses and be an excellent preparation for the World Cup in Russia.
The team will start their preparations from Sunday 5 November in Europe. They will face Brazil on Friday 10 November at Stade Pierre-Mauroy in Lille, and will meet Belgium on Tuesday 14 November at Jan Breydelstadion in Bruges.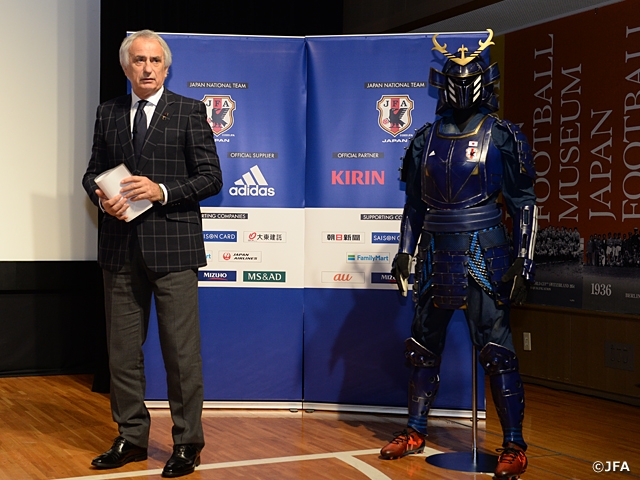 Comments
Vahid HALILHODZIC, Coach of SAMURAI BLUE (Japan National Team)
We will meet two powerhouses, Brazil and Belgium, and also must consider that we have a chance of being in the same group with either of these teams in the World Cup. We cannot be intimidated or feel that we are inferior to them. Instead, we have to play to our strength with courage. It is not an easy task, but we have nothing to lose as well. I believe that this might facilitate us to do our job at hand. We further think that our defence will be challenged in both matches. Hard work is a must defensively. For example against Brazil, we are faced with the question of who are going to mark the three excellent attackers up front. Additionally, they have midfielders with strength on the ball. We need to be tenacious in one-on-ones in midfield as well. This is not the end of our story. In attacks, we need to have players who can make a number of sprints regardless of the possession of the ball. We need not only to create open space but also exploit it effectively. Team chemistry can be only be attained through training together.
The Belgian team have a completely different playing style and I consider them to be mostly a 'power-driven' team. However, I must add that they have players with distinctive characteristics, including those who have both physical strength and pace, and can time perfectly to avoid an offside and create scoring chances. We are required to defend against the side that have the capability of threatening us in multiple ways. I must say that any weaknesses we show during the game will be exploited by both Brazil and Belgium and we simply cannot allow that to happen as well. We further need to find better ways to communicate among the teammates and must be organised and focused as well as having courage and competitive spirit to achieve a daunting task to challenge and win against these two powerhouses. I expect that we are going learn tough lessons from playing these matches. However, we must not stop there, but capitalise on them. We still have eight months for the World Cup. Hopefully, we are taking the right path and making a good preparation before entering Russia.
NISHINO Akira, Technical Director of JFA Technical Committee
It is the second training camp since Japan booked a ticket to the FIFA World Cup. The team will play test matches in Europe against two powerhouses, namely Brazil and Belgium. We found many tasks through playing two matches in Japan in October. We have different members in the team since October and are faced with different challenges this time as well. Both opponents are ranked top ten in the world by FIFA and I expect tough matches from two excellent teams. However, I also believe that we will learn our current standings and be able to make the necessary changes to strengthen the team for the subsequent training and matches.
Schedule
Sun. 5 November
PM
Training (In France)
Mon. 6 November
PM
Training (In France)
Tue. 7 November
PM
Training (In France)
Wed. 8 November
PM
Training (In France)
Thu. 9 November
PM
Official Conference,Official Training
Fri. 10 November
13:00
International Friendly Match
vs Brazil (Stade Pierre-Mauroy)
Sat. 11 November
AM
Training (In France)
Sun. 12 November
PM
Training (In Belgium)
Mon. 13 November
PM
Official Conference,Official Training
Tue. 14 November
20:45
International Friendly Match
vs Belgium (Jan Breydelstadion)
*Local Time
*The schedule is subject to change due to the team condition, the weather, etc.
JFA-TV (Japanese version only)
International Friendly Match
Friday, 10 November 2017 Kickoff at 13:00 (local time)
SAMURAI BLUE (Japan National Team) vs Brazil National Team
France/Stade Pierre-Mauroy
More information
Tuesday, 14 November 2017 Kickoff at 20:45 (local time)
SAMURAI BLUE (Japan National Team) vs Belgium National Team
Belgium / Jan Breydelstadion
More information