NEWS
SAMURAI BLUE hammer Afghanistan – FIFA World Cup Asian Qualifiers Round 2 Match 7
25 March 2016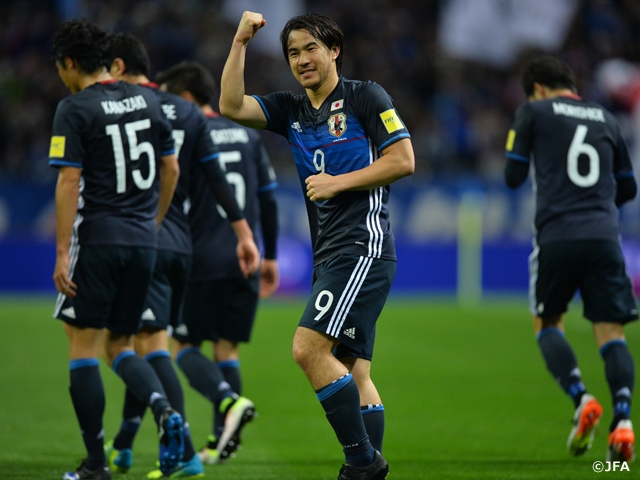 SAMURAI BLUE (Japan National Team) cruised to a 5-0 win over Afghanistan thanks to midfielder KIYOTAKE Hiroshi (Hannover 96)'s contribution to four of Japan's goals on 24 March at Saitama Stadium 2002 in the 2018 FIFA World Cup Asian Qualifiers Round 2.
Japan added their points to 19 with six wins and one tie in Group E as the side made big strides toward the final round by keeping the top spot, which allows them to advance unconditionally.
As Vahid HALILHODZIC said, "I'm considering to put together the team differently," he newly used a 4-4-2 formation. The Japan boss placed OKAZAKI Shinji (Leicester City Football Club) and KANAZAKI Mu (Kashima Antlers) as a striker role, Kiyotake right behind them, HARAGUCHI Genki (Hertha BSC Berlin) at right midfield, KASHIWAGI Yosuke (Urawa Reds) at left midfield and HASEBE Makoto (Eintracht Frankfurt) at the anchor positon. And SAKAI Hiroki (Hannover 96), YOSHIDA Maya (Southampton FC), MORISHIGE Masato (F.C. Tokyo) and NAGATOMO Yuto (FC Internazionale Milano) were listed in defence along with goalkeeper HIGASHIGUCHI Masaaki (Gamba Osaka).
Japan dominated the opponents with vertically-quick build-up from the start. As Halilhodzic said, "I wanted this kind of aggressiveness", his side controlled the game with an aggressive attitude.
Afghanistan formed a defensive block and put pressure on a ball holder to halt Japan's attacks, but Japan strung passes together, and even though the opponents got the ball, they did not allow any gap to exploit by winning the ball back immediately.
In the first half, Kiyotake initiated attacks for his team, combined with challenges by Nagatomo and Kashiwagi on the left flank. In the 13th minute, Haraguchi picked up a deflection of Kanazaki's shot and fired a 25-yard shot to hit off the cross bar.
Japan kept coming close at times including Kanazaki's effort but failed to convert. Midway through the first half during a short break due to an Afghan player's medical treatment, all the Japanese players got together at the centre of the pitch and exchanged words to look through their moves.
Then, their combination got smoother over time before the opening goal came in the 43rd minute. Sakai, Hasebe and Kiyotake connected the ball vertically before Okazaki, who made his 99th international appearance, received Kiyotake's setup with his right foot and beat a defender to put the ball home with his left foot. The moment resulted from their vertical attacks that the team were attempting from the start.
After the first half finishing 1-0, the second half was also in Japan's control. In the 58th minute after crisp passes up from Yoshida to Hasebe and to Kanazaki, Kiyotake ran through space behind the defensive line and met Kanazaki's feed with his left foot at the end to make it 2-0.
In the 63rd minute, Sakai's right cross got deflected off an Afghan defender and drew an own goal.
Japan's bench sent midfielder KAGAWA Shinji right after that and forward HAVENAAR Mike in the 72nd minute for Haraguchi and Okazaki respectively. In the 74th minute, Yoshida headed Kiyotake's left corner kick at the near post to find the back of the net.
Then, Havenaar laid off a cross from Kiyotake, who received a free kick from Kagawa, and Kanazaki tapped in the ball at the far post in the 78th minute to give his side a 5-0 lead.
Japan fired 27 shots the first and second halves combined and allowed only one shot to the opponents coming from a right corner kick in the 19th minute.
Japan will face Group's second-placed Syria in the final fixture on Tuesday 29. In another match that took place a few hours later, Syria beat Cambodia 6-0, adding the points to 18.
Singapore, who did not play on the day, stand in third place with seven points. Afghanistan finished their second round tourney with six points (two wins and five losses) while Cambodia were eliminated with a winless 0-8 record.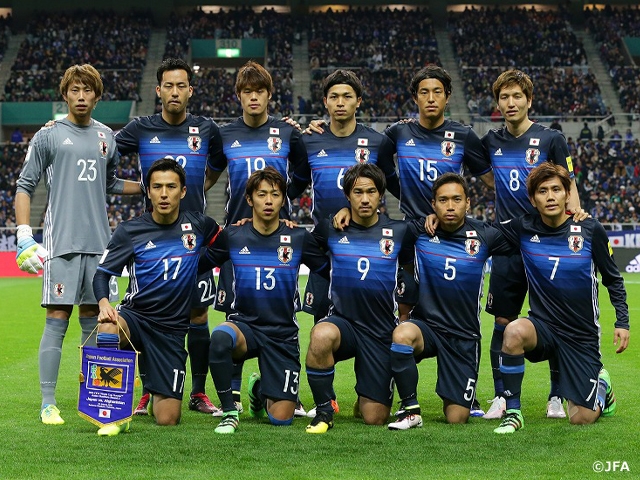 Coach and Players' Comments
Vahid HALILHODZIC, Coach of SAMURAI BLUE (Japan National Team)
That was a beautiful win. My players put up a brave fight and showed motivation and aggressiveness. They got rattled when passing at the beginning of the match and tried to make out too much, but I give credit to the team for their spirit. I wanted this kind of aggressiveness. They didn't allow the opponents to get into the box and did a great job on defence as well. I wouldn't say everything was good about the newly-installed system, but I was able to try out the system and new players so that I could rest some players. I said bravo to the players and I believe fans are also happy with that. We will face tougher opponents next. We will go for it with the mindset that it is the final and win it as well as keep a clean sheet.
MF #13 KIYOTAKE Hiroshi (Hannover 96)
The first half was difficult, but I think we played well in the second half. (Talking about the opening goal) Hasebe passed the ball first time to me and I was able to send it to Okazaki with a good rhythm. Then, the rest is Okazaki's skill. The goal gave us a good momentum for our second half game. It's been a while since I scored a goal last time and it gave me confidence. With trials and errors throughout the match, we were able to share our thoughts, and there were a lot of smooth, good moments. But we could've shown them more from the first half.
GK #23 HIGASHIGUCHI Masaaki (Gamba Osaka)
I called out to defence from the start of the match. In a way, because I hadn't played before this match, I was able to start with great concentration. Playing today's match again made me feel like playing more, and I think I can grow by continuing what I am doing.
FW #9 OKAZAKI Shinji (Leicester City Football Club)
I was playing with a fresh mindset. I felt we could play in a dynamic way with a new form of a two-striker system and a sense of distance between three players – Kiyotake, Kanazaki and me. We made haste a bit too much, but I knew the opponents didn't like us keeping doing that. All the three players did dynamic performance.
Petar SEGRT, Coach (Afghanistan National Team)
We had no chance. I realised after one minute that everything was different – collectiveness, quality, pace and plays moving one step forward. We will learn from the loss.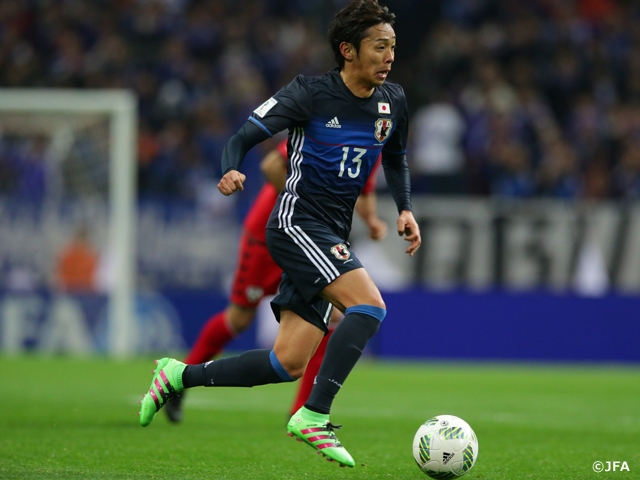 JFA-TV (Japanese version only)
Schedule
Mon. 21 March
PM
Training
Tue. 22 March
PM
Training
Wed. 23 March
tbc
Official Conference
Official Training
Thu. 24 March
5-0
2018 FIFA World Cup Russia Asian Qualifiers Round 2
AFC Asian Cup UAE 2019 Preliminary Joint Qualification
vs Afghanistan National Team (Saitama Stadium 2002)
More information
Fri. 25 March
AM
Training
Sat. 26 March
PM
Training
Sun. 27 March
PM
Training
Mon. 28 March
tbc
Official Conference
Official Training
Tue. 29 March
19:30
2018 FIFA World Cup Russia Asian Qualifiers Round 2
AFC Asian Cup UAE 2019 Preliminary Joint Qualification
vs Syria National Team (Saitama Stadium 2002)
More information
*The schedule is subject to change due to the team condition, the weather, etc.
2018 FIFA World Cup Russia Asian Qualifiers Round 2 AFC Asian Cup UAE 2019 Preliminary Joint Qualification
SAMURAI BLUE (Japan National Team) vs Syria National Team
2016-3-29 (Tue.) - 19:30 (subject to change)
Saitama/Saitama Stadium 2002
More information