NEWS
【Scouting report】Hoping to build momentum from this encounter against Japan in preparation for a pivotal match in a month's time - Turkiye National Team
11 September 2023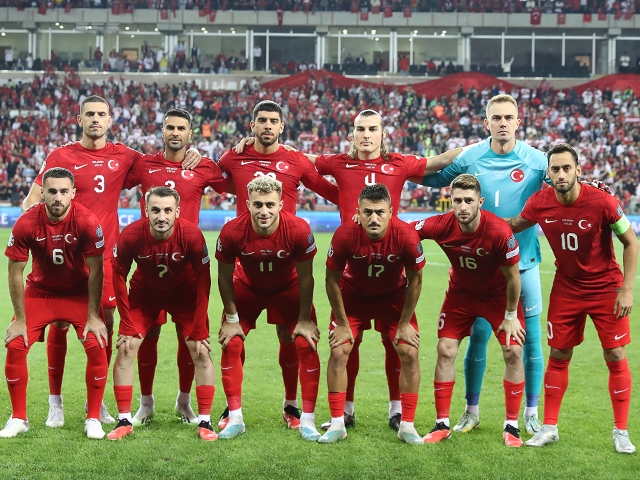 This will be the first time in 21 years that the SAMURAI BLUE (Japan National Team) will face Turkiye, an opponent they hold an overall record of one win and one loss. The two teams last met at a rainy Miyagi Stadium (now known as Q&A Stadium Miyagi for sponsorship reasons) in the Round of 16 of the 2002 FIFA World Cup Korea/Japan™.
The entire nation was enthralled by the success of the Japan National Team, who made it through to the knockout stage for the first time in only their second World Cup appearance. However, Japan's historic run came to an end when they faced Turkiye, who were making their first World Cup appearance since 1954. Turkiye took the lead from a corner kick in the first half and fended off the Japanese offence thereafter to escape with a 1-0 victory. With momentum on their side, they went on to defeat Senegal 1-0 in the quarterfinals, and despite falling to eventual champions Brazil 0-1 in the semifinals, they defeated Korea Republic 3-2 in the ensuing match to finish the tournament in third place.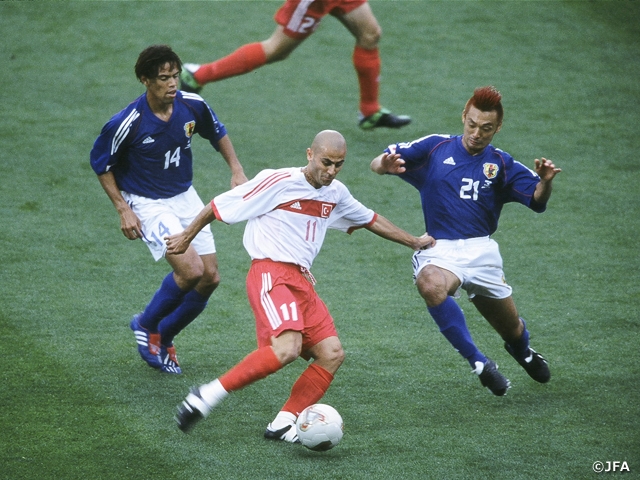 Turkiye later made headlines with a top-four finish in the UEFA EURO (European Football Championship) 2008 but have not returned to the World Cup since their remarkable run in 2002. Most recently, they fell short to qualify for the FIFA World Cup Qatar 2022™ after losing in the playoffs. They qualified for EURO 2020, which took place in 2021, but failed to make an impact, losing all three matches in the group stage.
The team is currently competing in the European Qualifiers for EURO 2024 scheduled to take place in Germany in June/July next year. The qualifying group stage is being played in a home-and-away, round-robin format, with the winners and runners-up qualifying directly to the final tournament. Sharing the group with Croatia, Wales, Latvia, and Armenia, Turkiye have played four matches as of June this year and now leads the group with three wins and one loss. However, Croatia, who finished third in last year's World Cup, have only played two matches in the same period because of their participation in the UEFA Nations League in June.
Head Coach Stefan KUNTZ, who led his native Germany at the Tokyo Olympics, currently oversees the team. Since being named Head Coach of the Turkiye National Team in 2021, the former German striker has developed the team around a 4-3-3 formation that is highlighted by their technical skills and pace down the line. The team is also drawing attention for the emergence of promising young talents.
They will take on Japan on 12 September, after playing Armenia in the EURO Qualifiers on 8 September. With the team set to play a pivotal away match against Croatia on 12 October, they will certainly be hoping to build momentum from this encounter against Japan.
Turkiye National Team
Head Coach
Stefan KUNTZ (Germany)
Squad
GK
1 Mert GUNOK (Besiktas)
23 Ugurcan CAKIR (Trabzonspor )
12 Altay BAYINDIR (Manchester United/England)
DF
18 Onur BULUT (Besiktas)
4 Caglar SOYUNCU (Atletico de Madrid/Spain)
2 Zeki CELIK (AS Roma/Italy)
3 Merih DEMIRAL (Al-Ahli Saudi/Saudi Arabia)
21 Mert MULDUR (Fenerbahce)
15 Ozan KABAK (TSG 1899 Hoffenheim/Germany)
22 Cenk OZKACAR (Valencia/Spain)
13 Kazimcan KARATAS (Galatasaray)
MF/FW
20 Salih UCAN (Besiktas)
10 Hakan CALHANOGLU (Inter Milan/Italy)
8 Irfan Can KAHVECI (Fenerbahce)
17 Cengiz UNDER (Fenerbahce)
5 Salih OZCAN (Borussia Dortmund/Germany)
7 Yusuf SARI (Adana Demirspor)
16 Ismail YUKSEK (Fenerbahce)
9 Halil DERVISOGLU (Galatasaray)
11 Baris Alper YILMAZ (Galatasaray)
6 Orkun KOKCU (SL Benfica/Portugal)
19 Bertug YILDIRIM (Stade Rennais/France)
Results of last 10 matches
(H: Home, A: Away, N: Neutral ground, ○: Win, △: Draw, ●: Loss)
| | | |
| --- | --- | --- |
| 14 June 2022 | ○ 2-0 (H) Lithuania | UEFA Nations League |
| 22 September 2022 | △ 3-3 (H) Luxembourg | UEFA Nations League |
| 25 September 2022 | ● 1-2 (A) Faroe Islands | UEFA Nations League |
| 16 November 2022 | ○ 2-1 (H) Scotland | International Friendly Match |
| 19 November 2022 | ○ 2-1 (H) Czechia | International Friendly Match |
| 25 March 2023 | ○ 2-1 (A) Armenia | UEFA EURO 2024 Qualifiers |
| 28 March 2023 | ● 0-2 (H) Croatia | UEFA EURO 2024 Qualifiers |
| 16 June 2023 | ○ 3-2 (A) Latvia | UEFA EURO 2024 Qualifiers |
| 19 June 2023 | ○ 2-0 (H) Wales | UEFA EURO 2024 Qualifiers |
| 8 September 2023 | △ 1-1 (H) Armenia | UEFA EURO 2024 Qualifiers |
Record against Japan
1 win, 1 loss (1 goal, 1 against)
| | | |
| --- | --- | --- |
| 15 June 1997 | ● 0-1 | KIRIN CUP SOCCER '97 |
| 18 June 2002 | ○ 1-0 | 2002 FIFA World Cup Korea/Japan™ |
Results at the FIFA World Cup™
Appearances: 2 times
Best finish: 3rd place
1930 Did not participate
1934 Did not participate
1938 Did not participate
1950 Did not participate
1954 Group stage
1958 Did not participate
1962 Eliminated in the qualifier
1966 Eliminated in the qualifier
1970 Eliminated in the qualifier
1974 Eliminated in the qualifier
1978 Eliminated in the qualifier
1982 Eliminated in the qualifier
1986 Eliminated in the qualifier
1990 Eliminated in the qualifier
1994 Eliminated in the qualifier
1998 Eliminated in the qualifier
2002 3rd Place
2006 Eliminated in the qualifier
2010 Eliminated in the qualifier
2014 Eliminated in the qualifier
2018 Eliminated in the qualifier
2022 Eliminated in the qualifier
| | |
| --- | --- |
| Association | Turkish Football Federation |
| FIFA Confederation | Union of European Football Associations (UEFA) |
| President | Mehmet BUYUKEKSI |
| Official Site | https://www.tff.org/ |
| FIFA Ranking | 43rd (as of 6 April 2023) |