NEWS
【Match Report】U-22 Japan National Team maintain group lead with win over Palestine - AFC U23 Asian Cup Qatar 2024™ Qualifiers
10 September 2023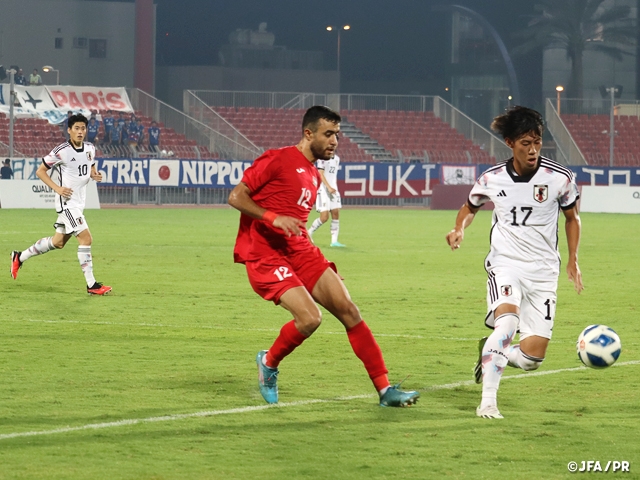 On Saturday, 9 September, the U-22 Japan National Team played their second group stage match of the AFC U23 Asian Cup Qatar 2024™ Qualifiers against the U-22 Palestine National Team at Sheikh Ali Bin Mohammed Al Khalifa Stadium in Bahrain.
Palestine had won their first match 1-0 against the hosts Bahrain, making this a pivotal match for Japan, who had also won their first match by defeating Pakistan 6-0.
Considering the heat and the condition of the players, Head Coach OIWA Go made the decision to rotate the entire starting line-up from the first match, with the exception of goalkeeper SUZUKI Zion (Sint-Truidense VV). KIMURA Seiji (FC Tokyo), HATA Taiga (Shonan Bellmare), NAKANO Shinya (Gamba Osaka), and TAKAI Kota (Kawasaki Frontale) formed the defence line, while KAWASAKI Sota (Kyoto Sanga FC), YAMAMOTO Rihito (Sint-Truidense VV), and SUZUKI Yuito (Brondby IF) were positioned in midfield. HIRAKAWA Yu (FC Machida Zelvia) and ODA Yutaro (Heart of Midlothian FC) were placed in the flanks, with FUJIO Shota (FC Machida Zelvia) playing as the central striker.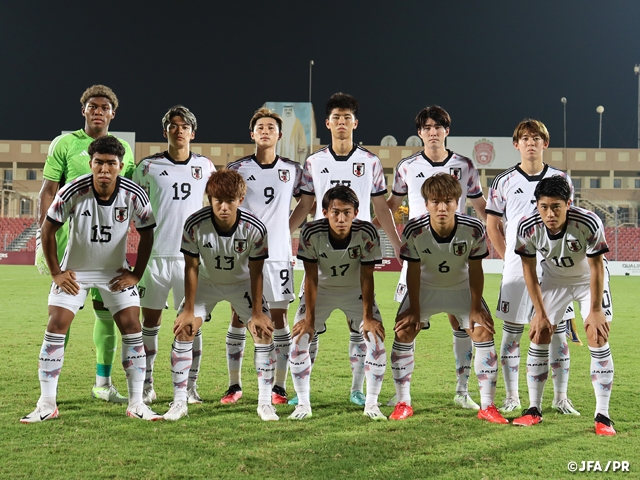 Goalkeeper Suzuki's long feed that nearly captured the opposing goal set the pace for Japan in the opening minutes. However, Palestine did a great job holding their defence line just outside the penalty area to prevent Japan from creating close opportunities.
Japan struggled to threaten the opposition goal aside from Takai's header off of a corner kick in the 21st minute, but the opening goal came in the 23rd minute when Oda responded to a through ball sent by Yamamoto and delivered a cutback to Fujio, who calmly finished the opportunity, as the striker later reflected, "I just needed to make good contact with the ball."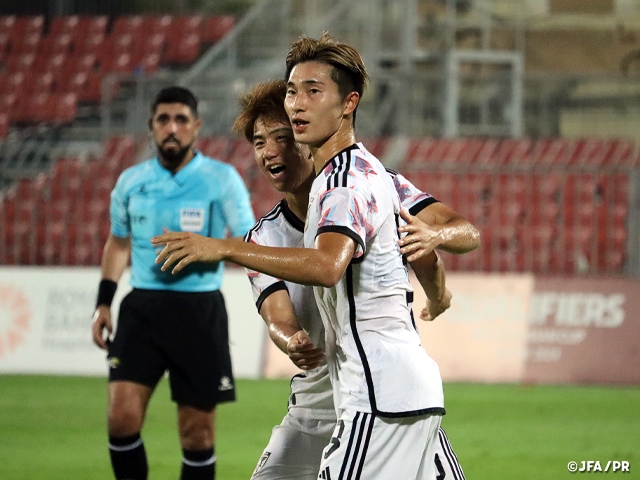 Despite being in complete control, Japan found it difficult to penetrate the Palestine defence, as coach Oiwa described, "We weren't making the proper runs when needed, nor were we in the right place at the right time." Japan led 1-0 at the half after Yamamoto's free kick hit the crossbar in the 31st minute and a great save by the opposing goalkeeper stopped Kimura's header in the 45th.
Japan's patience was put to the test in the second half, but the players focused on controlling the risks while also making attempts to add to their tally, as they managed to keep the clean sheet and walk away with a 1-0 victory.
The U-22 Japan National Team will now face the hosts, U-22 Bahrain National Team on Tuesday, 12 September (Wednesday, 13 September in Japan).
Coach and Players' Comments
OIWA Go, Head Coach
Winning was our top priority in today's match. We made it a difficult match for ourselves, but I would like to praise my players for maintaining their focus and giving it their all under this tough circumstance. It was a very difficult match in so many different ways. When these players move up to play for the SAMURAI BLUE, they will need the fortitude to win through qualifiers in these kinds of circumstances, thus I believe they need to develop into players who can handle this sort of environment with ease.
MF #13 HIRAKAWA Yu (FC Machida Zelvia)
I wish I was able to penetrate the space in the flanks on my side more effectively. I concentrated on making my runs towards the middle because the opponents were blocking the pathways down the line, but I believe I needed to improve the overall quality of my plays. As a team, it was great that we were able to win, but as a player, I wish I could have made more impact, so I will try to make the most of this experience to do better next time.
MF #19 ODA Yutaro (Heart of Midlothian FC/Scotland)
It was a difficult match against a difficult opponent, but we had to do better. Everybody was on the same page when we scored the goal, so I am glad I was able to make that run. Although we created some close opportunities from set-pieces after the goal, I feel like we had to be more aggressive in attacking the spaces and creating plays in the attacking third. This was a match we couldn't afford to lose, so I am glad we were able to win, but I am not satisfied with my own performance, so I hope to do better whenever I have the opportunity to play next time.
FW #9 FUJIO Shota (FC Machida Zelvia)
I am thrilled to have scored the decisive goal. The ball came at me with a fast pace, so I just focused on making good contact. I think we need to work on creating more opportunities as a team, especially against teams who play defensively against us. We had to play more direct plays in order to draw the opposing defenders out of the centre.
AFC U23 Asian Cup Qatar 2024™ Qualifiers
Tournament Dates: Mon. 4 September - Tue. 12 September 2023
Tournament information