NEWS
Exchange program resumes: Referees and referee instructor gained valuable insights in England
22 November 2022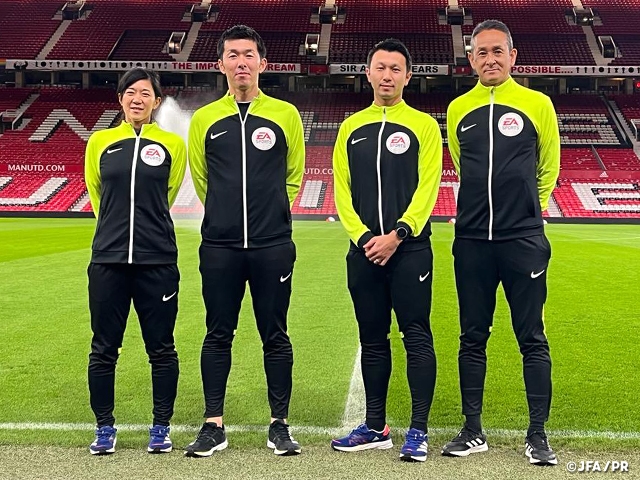 The overseas referee exchange program, which had been suspended since 2017, has resumed, and three referees and a referee instructor participated in the exchange program in England.
In addition to refereeing opportunities at competitive leagues, the referees had received feedbacks as well as discussions with PGMOL (Professional Game Match Officials Limited) coaches after each match. They enjoyed meetings with Premier League referees, observing matches and also stadium tours.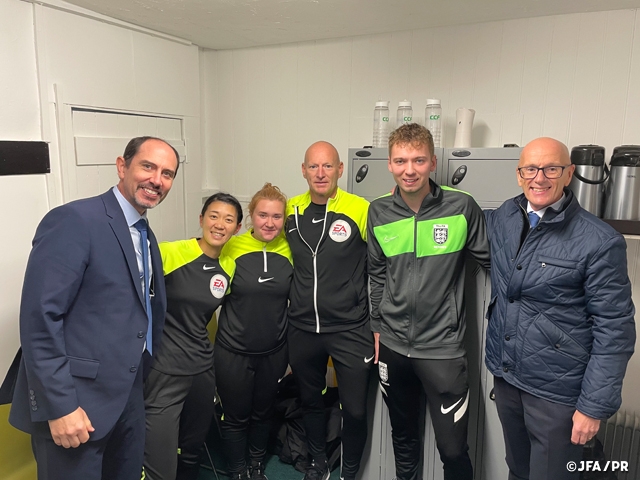 Appointments

Comments
ARAKI Yusuke, Referee
I had a wonderful time with EPL (English Premier League) referees and PGMOL coaches. The coaches' advice gave me a lot of new points of view. I watched some matches at the stadium and felt the energy of English football. I have also realised their remarkable football culture and positive aspects of Japanese football through discussions with them.
KOIZUMI Asaka, Referee
This is my first time to participate at the exchange program between PGMOL and JFA. During my match, I faced a strong physical play style and had to deal with the correct decisions. In addition, I needed to communicate more with the players. It was great to see that teams and referees were cooperating with each other to create more exciting matches. We had an opportunity to meet a Premier League referee before his match. In his match at a traditional stadium with full spectators, I was very impressed by the power of football, the wonderful atmosphere and the referee's power such as strong belief and management skill displayed. I will do my best and make use of these valuable experiences in my future refereeing activities.
NAGAMINE Koki, Referee
Thanks to referees and coaches of PGMOL, I have gotten great opportunity to reconsider my values and "What is Referee" both on and off the field. I have no doubt that this experience will have a positive impact on my future. One of the words that left an impression on me was "Decision is second". Referees are required to make decisions and actions that give top priority to "Game management" that considers the situation of the game and players when a gray incident that can be considered a foul or no foul occurs, without distinguishing between black and white. These words are one of the factors that maximizes the appeal of the world's highest ranked Premier League, and I would like to make use of them to improve my refereeing.
HIROSE Itaru, Referee Instructor
In this exchange program, I watched 4 professional matches (2 Premier League matches, 2 EFL Championship matches), and had a workshop with a top referee in Premier League. And I joined after-match briefings that an English coach held for our Japanese officials. I also had many chances to discuss what we can do to enhance the ability and performance of the referees with many English coaches. Through these experiences, I learned how the top referees in Premier League, one of the world's best football leagues, has been improving their referee competencies. "Pursuing the correct and acceptable decisions" and "the importance of having options of managing players to control the games", these are one of the things I reconfirmed to develop the ability of our referees. Finally, by participating in this program, I had a great opportunity to broaden my horizon and enrich my knowledge as a referee instructor.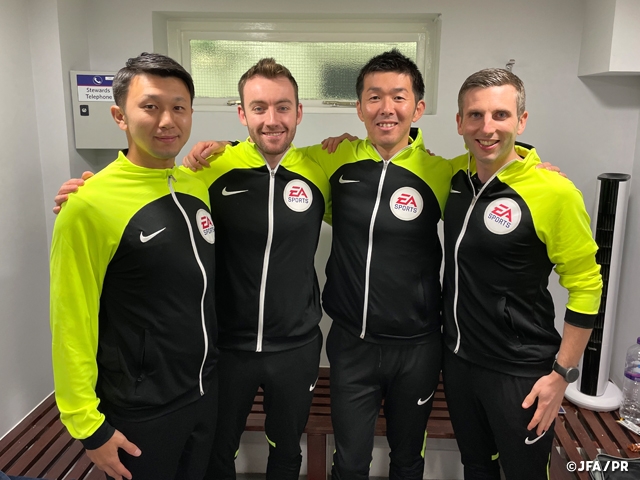 The exchange program is to provide refereeing experience and training opportunities in different cultures and match environments, with the aim of improving refereeing in the future and fostering friendly relations between the two countries.