NEWS
Kiryu Daiichi earn massive win to keep their hopes for survival alive while Omiya take a step back in the title race - Prince Takamado Trophy JFA U-18 Football Premier League 2022
20 September 2022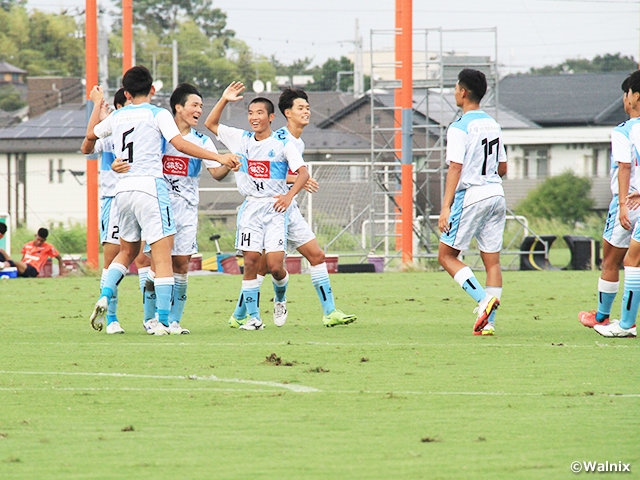 The 15th sec. of the Prince Takamado Trophy JFA U-18 Football Premier League 2022 EAST took place from Saturday 17 to Monday 19 September. At Nishi Omiya Football field, third-placed Omiya Ardija U18 (Saitama) faced 12th-placed Kiryu Daiichi High School (Gunma).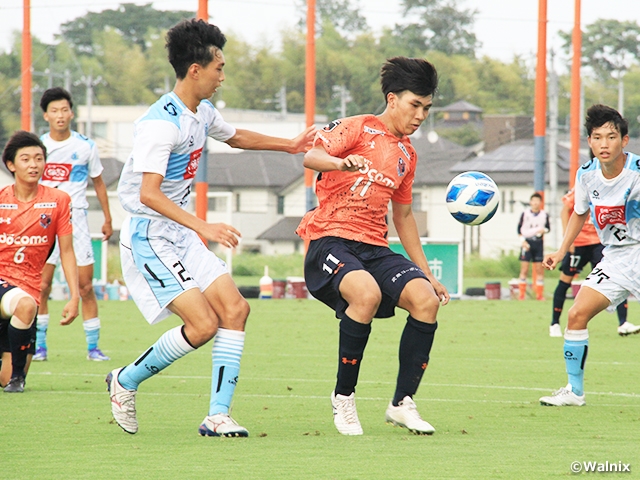 Featured Match
Omiya Ardija U18 0-1 (0-0, 0-1) Kiryu Daiichi High School
The two sides were in contrasting situations, with Omiya on a two-game winning streak and Kiryu Daiichi on a four-game losing streak, but Omiya were without several key players, with ICHIHARA Rion (#4) and TANEDA Haruhi (#14) taking part in tournament with the U-17 Japan National Team. As coach MORITA Hiroshi and OZAWA Haruki (#3) both reflected, "We entered the match too casually," the Omiya side struggled to play in cohesion with a slightly different line-up then usual. The team was also forced to use their substitution when ABE Naoto (#20) left the match with an illness.
Kiryu Daiichi, on the other hand, showed great energy from the start, as SUWA Kota (#10) mentioned, "The only way we could stay in the Premier League is to win. We can't even afford to tie a match." Led by OKAMURA Aoi (#7), ONO Tsuyoshi (#14), OZEKI Naoki (#19), and Suwa, the Gunma side connected passes from their defence line to seek for opportunities to attack the Omiya goal.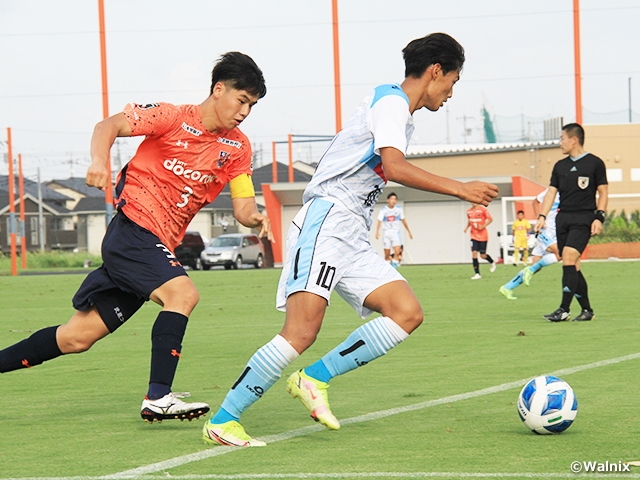 Following a scoreless first half, Kiryu Daiichi scored the opening goal in the 57th minute, when Suwa responded to a through ball to enter the box before firing a shot into the corner of the goal.
In efforts to rally back, Omiya introduced their tall forward ISOZAKI Mark (#24) at the hour mark, adding more arsenal to their offence in addition to the overlapping runs of Ozawa and the speed of TAKAHASHI Hikaru (#11). However, despite the late surge made by Omiya, Kiryu Daiichi showed great tenacity to keep the clean sheet intact, as coach NAKAMURA Hiroyuki encouraged the players, "There is no more time left. Commit yourselves to defence!" As a result, Kiryu Daiichi earned their second win of the season, which keeps their hopes alive to survive the league, while Omiya takes a setback to their hopes to join the title race.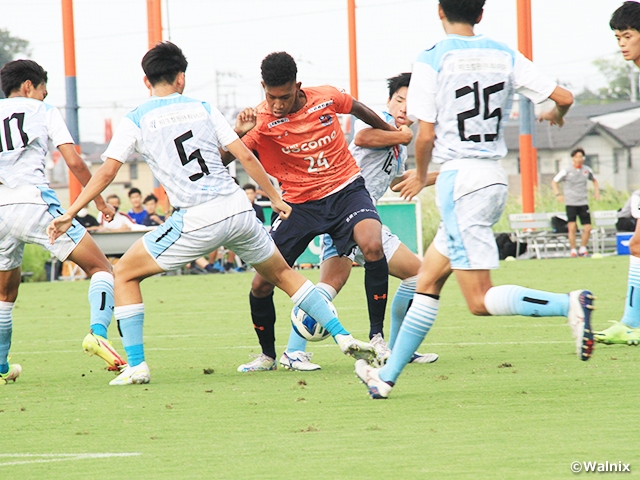 Coaches and Players' Comments
MORITA Hiroshi, Coach (Omiya Ardija U18)
We knew we would whether be fighting for the title or to avoid relegation depending on how we fare in our matches in September. We really wanted to win this match, especially after winning the previous two matches, but it is hard to win with this kind of performance. We entered the match too casually. We played with a poor sense of distance, took no action, and just aimlessly held the ball. Once we ran out of gas, we had nothing to offer and really showed how thin our player pool is.
DF #3 OZAWA Haruki (Omiya Ardija U18)
Despite entering the week off of back-to-back wins, we entered the match too casually, and I felt like we were not in the right mindset. I tried to get my teammates fired up, but it wasn't enough. We tried to contain the opponent's #10, but we struggled against #7, who positioned himself in really good positions to face our goal and attack us.
NAKAMURA Hiroyuki, Coach (Kiryu Daiichi High School)
If the losing streak continued, our relegation from the Premier League could have been decided even before the start of the All Japan High School Soccer Tournament qualifiers, and we wanted to avoid that at all costs, so this match gave us courage in many ways. The players played very well today. Despite making mistakes, they were able to stay on the same page to execute the gameplan. Now that we have snapped our losing streak, it is time for us to make new challenges.
MF #10 SUWA Kota (Kiryu Daiichi High School)
The only way we could stay in the Premier League is to win. We can't even afford to tie a match, so we made conscious efforts to add more layer to our offence. We were able to pick up our pace towards the end of the first half but couldn't capitalise on our opportunities. We talked during halftime to focus on our own game and try to make quick transitions between defence and offence, which led to that goal.
Results of other matches
JFA Academy Fukushima U-18 0-2 (0-0, 0-2) Yokohama FC Youth
Aomori Yamada High School 1-0 (0-0, 1-0) Maebashi Ikuei High School
Funabashi Municipal High School Postponed Yokohama F.Marinos Youth
FC Tokyo U-18 Postponed Ryutsu Keizai University Kashiwa High School
Kashiwa Reysol U-18 Postponed Kawasaki Frontale U-18
Yokohama FC Youth (Kanagawa) scored two goals in the second half to win over JFA Academy Fukushima U-18 (Shizuoka). KOYANAGI Itto (#8) scored the decisive goal in the 83rd minute to help Aomori Yamada High School (Aomori) win over Maebashi Ikuei High School (Gunma). Matches between Funabashi Municipal High School (Chiba) and Yokohama F.Marinos Youth (Kanagawa), FC Tokyo U-18 (Tokyo) and Ryutsu Keizai University Kashiwa High School (Chiba), Kashiwa Reysol U-18 (Chiba) and Kawasaki Frontale U-18 (Kanagawa) were postponed to a later date.

Prince Takamado Trophy Premier League Official Twitter
%F0%9F%8F%86#高円宮U18 プレミアリーグ 2022%F0%9F%8F%86
%F0%9F%94%B4EAST 第15節(9/19)%F0%9F%94%B4#大宮 0-1 #桐生第一

結果詳細はこちら%F0%9F%94%97https://t.co/Y65xFaJ4cM#高校サッカー pic.twitter.com/7ZdqrfP1Q6

— 高円宮杯 JFA U-18サッカープレミアリーグ (@jfa_u18) September 19, 2022
%F0%9F%8F%86#高円宮U18 プレミアリーグ 2022%F0%9F%8F%86
%F0%9F%94%B4EAST%F0%9F%94%B4

%E2%9A%BD暫定順位表%E2%9A%BD(9/19時点)
1%E2%83%A3 #川崎F
2%E2%83%A3 #横浜FM
3%E2%83%A3 #大宮
4%E2%83%A3 #青森山田
5%E2%83%A3 #FC東京
6%E2%83%A3 #横浜FC
7%E2%83%A3 #前橋育英
8%E2%83%A3 #流経大柏
9%E2%83%A3 #柏
1%E2%83%A30%E2%83%A3 #AC福島
1%E2%83%A31%E2%83%A3 #市立船橋
1%E2%83%A32%E2%83%A3 #桐生第一

詳細はこちら%F0%9F%94%97https://t.co/xyY4xTh7XQ#高校サッカー pic.twitter.com/TTXh8Mslxi

— 高円宮杯 JFA U-18サッカープレミアリーグ (@jfa_u18) September 19, 2022
Prince Takamado Trophy JFA U-18 Football Premier League 2022
League Duration: Sat. 2 April - Sun. 4 December 2022