NEWS
Iwata snap losing streak and move up to second place with win over Gamba Osaka - Prince Takamado Trophy JFA U-18 Football Premier League 2022
20 September 2022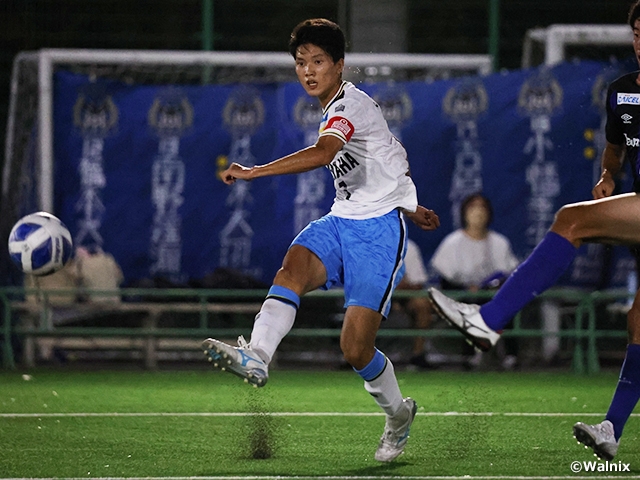 The 15th sec. of the Prince Takamado Trophy JFA U-18 Football Premier League 2022 WEST took place on Saturday 17 and Sunday 18. At OFA Bampaku Football Center, Gamba Osaka Youth (Osaka) faced Jubilo Iwata U-18 (Shizuoka).
Featured Match
Gamba Osaka Youth 1-3 (0-2, 1-1) Jubilo Iwata U-18
Since August, Gamba Osaka have been struggling, posting a record of one draw and three losses. Their opponent, Iwata, have also lost three in a row after the intermission, making this a match in which both sides were looking for a chance to break out of their slumps. The match started with Iwata taking the initiative, as coach MAEDA Ryoichi reflected on his decision to deploy a three-back formation, "We wanted to be more aggressive in both offence and defence." Responding to the feeds delivered from the defence line were the two full-backs, LEE Gyeon-su (#2) and ITO Ryosuke (#25), who aggressively attacked the flanks to create chances.
The first big chance was created in the 21st minute, when Lee held the ball in the right side before delivering a pass to MATSUDA Kazuki (#7), who made an overlapping run in which he later reflected, "In today's meeting, our coach told us that the three defenders can also press forward if we see an opportunity, so I thought it was a chance for me to showcase my strengths." Once receiving the ball, the defender dribbled into the box and drilled a powerful shot through the near upper corner of the Gamba goal, as he mentioned, "I just focused on hitting the ball hard and up in the zone."
Iwata scored their second goal in the 35th minute, when FUNAHASHI Kyota (#20) responded to a pass delivered by Lee and slotted the ball into the far side, giving Iwata a 2-0 lead at halftime.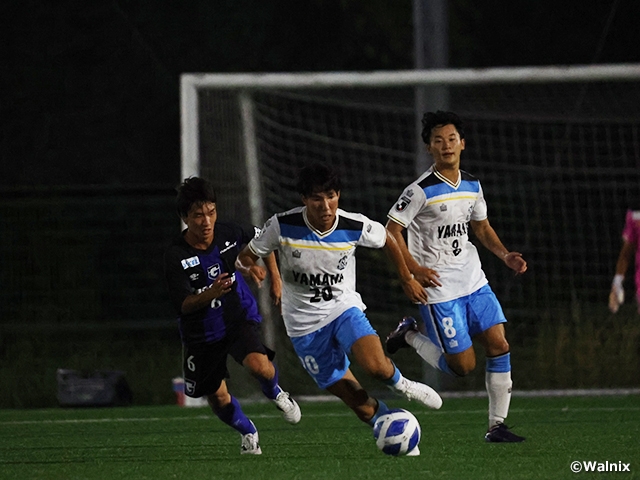 After failing to apply enough pressure from their frontline in the first half, Gamba Osaka made adjustments to their defensive approach in the second half, as MINAMINO Harumi (#9) commented, "Once we started to approach our opponents with a man-to-man coverage, we were able to induce mistakes and initiate counterattacks more frequently." The Osaka side gradually picked up their rhythm from their side attacks, as INOUE Shugo (#4) and SUZUKI Hiroto (#11) worked in tandem to attack the left flank, but the Iwata defence showed great tenacity to keep them from scoring a goal.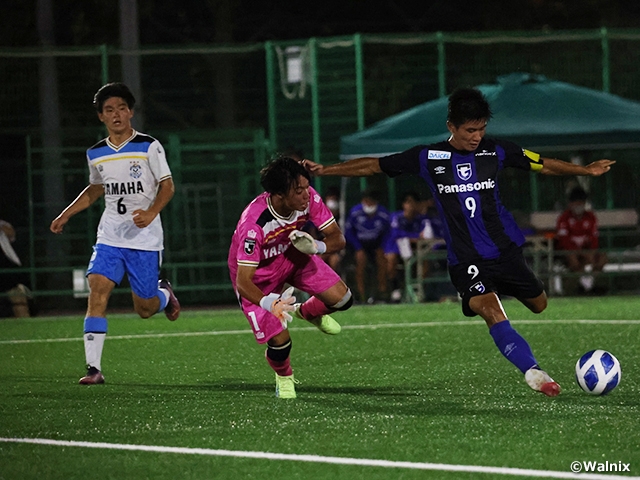 With Gamba applying more number to their offence, Iwata capitalised from a counterattack in the 62nd minute, when Matsuda carried the ball into the attacking third before passing the ball to Lee, who fired a well-placed shot into the far side to extend the Iwata lead to three goals.
Gamba Osaka managed to score back a goal in the 90th minute, when Minamino converted the deflection of his own shot, but their rally ended there, as Iwata won the match 3-1 to snap their losing streak at three.
Coaches and Players' Comments
MORISHITA Hitoshi, Coach (Gamba Osaka Youth)
The match showed the difference in the overall team's ability between the two sides. Our players looked a bit lost in both offence and defence. It felt like we were playing with a limited perspective and weren't fully aware of our surroundings. As a result, we were slow to make our decisions and couldn't work as a team. However, we started to work in tandem in the second half, despite all the simple mistakes we made. We managed to win the battles in the midfield to take control of the match, but we need to improve the way we prepare ourselves off the ball.
FW #9 MINAMINO Harumi (Gamba Osaka Youth)
I am glad that we were able to score back a goal in front of our supporters. We still have tough fixtures ahead of us, but we hope to play like the way we did in the second half from the beginning. If we can do that, I feel like we can win more matches.
MAEDA Ryoichi, Coach (Jubilo Iwata U-18)
We were in bad shape after losing our match last week, but I wasn't worried about this week because everyone worked extremely hard in practice. I feel like they have been able to display what we have been working over the last six months. I am glad we were able to snap our three-game losing streak, and we hope to use this momentum to start a winning streak. This week's result was a result of trying, which should encourage the players to try even more in the future. In that sense, it was a very big win.
DF #7 MATSUDA Kazuki (Jubilo Iwata U-18)
We are losing because we are conceding goals and the defenders have to feel responsible. As an individual, I was not able to start the previous week, which was very frustrating. I was also disappointed with myself for allowing the opponent to get past me to score a goal. That is why I was committed to showcase more passion and intensity than any of my teammates. I was given the opportunity to start today and entered with a strong determination to help the team win, but I ended up costing the team a goal from my mistake. I am glad the team won, but at the same time, I have a mixed feeling about my overall performance.
Results of other matches
Shimizu S-Pulse Youth Postponed Shizuoka Gakuen High School
Cerezo Osaka U-18 1-2 (0-1, 1-1) Higashi Fukuoka High School
Sanfrecce Hiroshima FC Youth 2-1 (1-1, 1-0) Ozu High School
Nagoya Grampus U-18 3-0 (1-0, 2-0) Riseisha High School
Sagan Tosu U-18 Postponed Vissel Kobe U-18
Thanks to the goals scored by HOSHINA Tetsu (#42) and URA Juzo (#7), Higashi Fukuoka High School (Fukuoka) defeated Cerezo Osaka U-18 (Osaka) to claim their third consecutive victory. SENO Hayato (#13) scored the decisive goal in the 86th minute to help Sanfrecce Hiroshima FC Youth (Hiroshima) win over Ozu High School (Kumamoto). Led by the goal of OTA Soma (#20), Nagoya Grampus U-18 (Aichi) defeated Riseisha High School (Osaka) 3-0 at home. The matches between Shimizu S-Pulse Youth(Shizuoka) and Shizuoka Gakuen High School(Shizuoka), Sagan Tosu U-18 (Saga) and Vissel Kobe U-18 (Hyogo) were postponed.

Prince Takamado Trophy Premier League Official Twitter
#高円宮U18 プレミアリーグ 2022%F0%9F%8F%86
%F0%9F%9F%A2WEST 第15節(9/18)%F0%9F%9F%A2#広島 2-1 #大津#鳥栖 (延期) #V神戸#名古屋 3-0 #履正社#G大阪 1-3 #磐田

結果詳細はこちら%F0%9F%94%97https://t.co/GNr6Ievn0n#高校サッカー pic.twitter.com/pLaaYY9KUn

— 高円宮杯 JFA U-18サッカープレミアリーグ (@jfa_u18) September 18, 2022
%F0%9F%8F%86#高円宮U18 プレミアリーグ 2022%F0%9F%8F%86
%F0%9F%9F%A2WEST%F0%9F%9F%A2(9/18時点)

%E2%9A%BD暫定順位表%E2%9A%BD
1%E2%83%A3 #鳥栖
2%E2%83%A3 #磐田
3%E2%83%A3 #V神戸
4%E2%83%A3 #東福岡
5%E2%83%A3 #静岡学園
6%E2%83%A3+ #広島
7%E2%83%A3 #C大阪
8%E2%83%A3 #名古屋
9%E2%83%A3 #履正社
1%E2%83%A30%E2%83%A3 #大津
1%E2%83%A31%E2%83%A3 #清水
1%E2%83%A32%E2%83%A3 #G大阪

詳細はこちら%F0%9F%94%97https://t.co/AHqNVIJWJl#高校サッカー pic.twitter.com/wP0396G42s

— 高円宮杯 JFA U-18サッカープレミアリーグ (@jfa_u18) September 18, 2022
Prince Takamado Trophy JFA U-18 Football Premier League 2022
League Duration: Sat. 2 April - Sun. 4 December 2022