NEWS
【Match Report】Despite their dominance SAMURAI BLUE finish second match of EAFF E-1 Football Championship in a scoreless draw against China PR
25 July 2022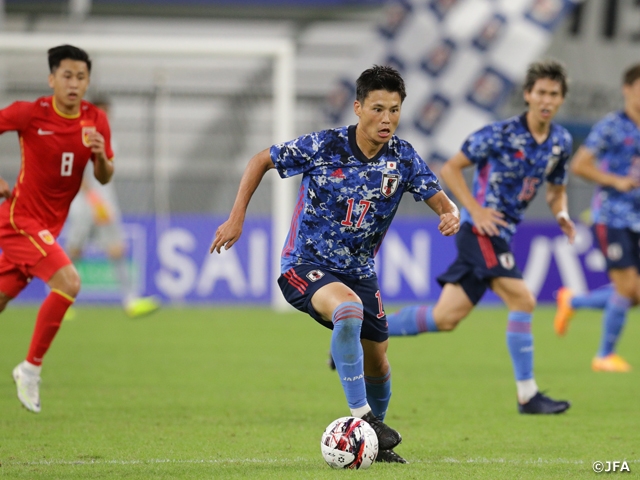 On Sunday 24 July, the SAMURAI BLUE (Japan National Team) played their second match of the EAFF E-1 Football Championship 2022 Final Japan against the China PR National Team at Toyota Stadium. Despite their dominance in ball possession, Japan drew the match 0-0.
On this day, Korea Republic defeated Hong Kong 3-0 to mark their second consecutive win and to take a two point lead over Japan. China PR earned their first point to rank third, while Hong Kong are in fourth with back to back losses. Japan will face the three time defending champions Korea Republic with the East Asian title on the line in their final match.
Following their 6-0 victory over Hong Kong on Tuesday 19, Head Coach MORIYASU Hajime rotated his entire starting line-up. OSAKO Keisuke (Sanfrecce Hiroshima) was given the start in goal, with KOIKE Ryuta (Yokohama F. Marinos), NAKATANI Shinnosuke (Nagoya Grampus), ARAKI Hayato (Sanfrecce Hiroshima), and SASAKI Sho (Sanfrecce Hiroshima) forming the four-man defence line. In the midfield, HASHIMOTO Kento (SD Huesca) and NOTSUDA Gakuto (Sanfrecce Hiroshima) were placed as the defensive midfielders, while WAKIZAKA Yasuto (Kawasaki Frontale) was named as the attacking midfielder. MIYAICHI Ryo (Yokohama F. Marinos) and MORISHIMA Tsukasa (Sanfrecce Hiroshima) were positioned in the flanks, with HOSOYA Mao (Kashiwa Reysol) taking on the number nine role.
On the other side, China PR made three changes to their starting line-up following their match against Korea Republic (0-3) on Wednesday 20 and entered with a five-man defence line. Their line-up featured many of those from the U-23 squad, alongside veterans like JIANG Guangtai and TAN Long.
At the beginning of the match, WEN Jiabao made a run down the left side to strike a shot, but it was Japan who dominated the ball possession from that point onwards.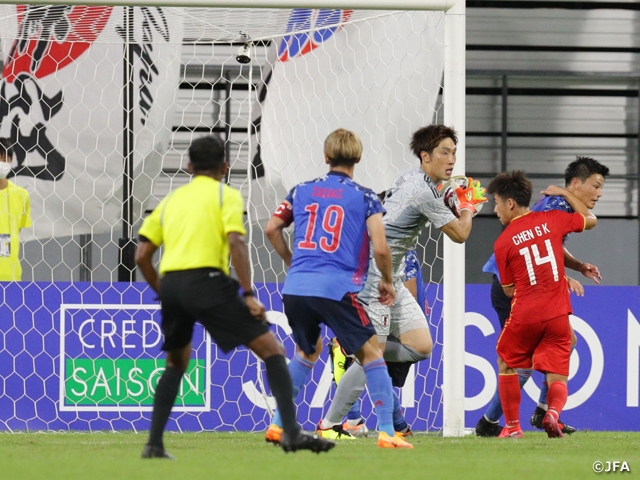 Miyaichi, who was selected to the national team for the first time in nearly a decade, worked in tandem with his clubmates, Koike and Wakizaka to create chances down the right side. Wakizaka was also active in taking shots, as the midfielder made attempts in the 15th and 17th minutes to threaten the opposing goal, while Miyaichi created a close opportunity in the 21st minute, only to see his attempt saved by the goalkeeper.
In the 27th minute, Koike responded to a pass from the midfield to break into the penalty area, followed by Miyaichi's attempt to convert the deflection caused by the shot taken by Notsuda, but both attempts fell short from finding the back of the net.
In efforts to add layers to their offence, Hashimoto and Notsuda actively made runs upfront, as seen in the play created just before halftime, when Hashimoto responded to a cross delivered by Miyaichi, but his effort was denied by the goalkeeper.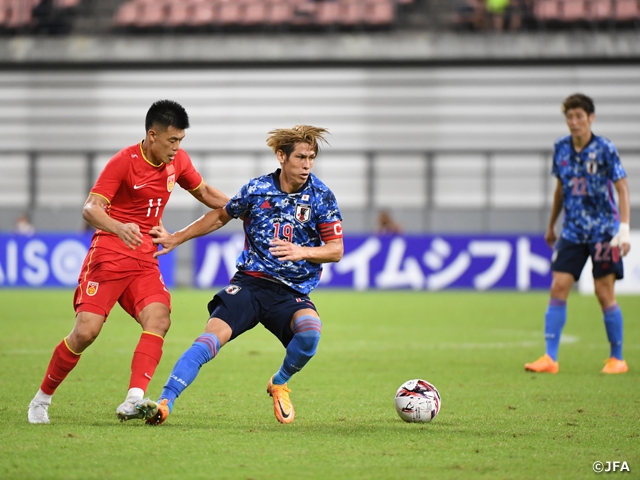 Japan continued to showcase their dominance in the second half. In the 53rd minute, Hosoya received a pass from Wakizaka before making a swift turn inside the box, but the striker's shot sailed over the crossbar. Another opportunity was created soon afterwards, but the shot taken by Notsuda also failed to find the net.
Substitutions were made just past the hour mark, as the duo from Shonan Bellmare, SUGIOKA Daiki and MACHINO Shuto, were brought on to replace Sasaki and Hosoya in the 62nd minute, while MITSUTA Makoto (Sanfrecce Hiroshima) was introduced to replace Miyaichi in the 69th minute.
With their 5-4-1 formation, China PR demonstrated great concentration to keep the Japanese offence at bay, while anticipating for their opportunities from counterattacks and set-pieces. In the 80th minute, ZHU Chenjie responded to a cross delivered from the flank to threaten the Japanese goal.
Desperately needing a goal, coach Moriyasu brought on SOMA Yuki (Nagoya Grampus) and NISHIMURA Takuma (Yokohama F. Marinos) to replace Morishima and Wakizaka in the 81st minute. Once stepping on the pitch, Soma showed great aggression to disrupt the opposing defence, but couldn't find ways to break the deadlock.
Despite taking five times as many shots than their opponents, Japan failed to score a goal in this match and ended with a scoreless draw. For Hosoya, Araki, Koike, Notsuda, and Mitsuta, who made their senior team debut, this match turned out to be a match to remember in both positive and negative ways.
Japan will now face Korea Republic on Wednesday 27 at Toyota Stadium, where the two sides will clash for the tournament title.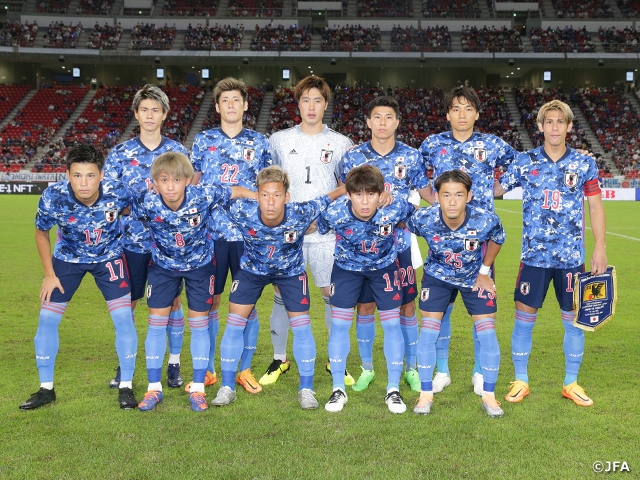 Coaches and Players' Comments
MORIYASU Hajime, Head Coach of SAMURAI BLUE (Japan National Team)
It is disappointing that we could not deliver a victory to our supporters. We should reflect on the fact that we could not win, but the players gave their maximum effort from start to finish, and I would like to commend them for that. We created plenty of opportunities but could not capitalise on them. There were many scenes where our players were not on the same page, so that is an aspect we must improve ahead of our next match. However, considering that we have rotated our entire starting line-up and the fact that we had very limited time to prepare following our match against Hong Kong, the players did a fine job to possess and keep the ball moving. We did not lose possession of the ball that much and showed our willingness to create chances from variety of attacks. Notably, our attacks from the right side were very effective and could have gotten us goals. In our third match, we hope to improve the overall quality, work on our tasks as a team, and try to win by scoring goals against Korea Republic. We want to win the title, and that goal remains the same. We knew that we had to win against Korea Republic in order to win the tournament. We hope to finish the tournament on a high note and share the joy with our players, staff, and the supporters.
DF #25 KOIKE Ryuta (Yokohama F. Marinos)
I am very happy to have made my debut for the national team. I felt overwhelmed when I heard the national anthem. I tried to demonstrate what I had to offer throughout the entire 90 minutes. I feel like I was able to create threats, even when the ball didn't get to me. However, we struggled to score goals and that is something we need to address. A goal could have changed the entire outlook of this match, and I wish I could have made the difference for the team. I stayed positive and gave my utmost effort throughout the match. I know that I still need to raise the quality of my plays and decisions on the pitch, but I have no regrets. Our goal still remains to win the title. We were not able to win despite dominating the match today, so we hope to make the most of this experience and strive to win our final match to claim the title.
MF/FW #14 WAKIZAKA Yasuto (Kawasaki Frontale)
It was a match where results were needed both as a team and as individuals, but we were not able to convert our chances. We tried to make quick transitions from defence to offence when winning the ball, while also trying to keep our composure when our opponents were dropping deep in their own territory. As an attacking midfielder, I focused on keeping myself on the same page with as many players as possible. Our team was in control for most part of the match, so kept telling Hashimoto and Notsuda to press forward, but I felt like we needed to be more creative to utilise the width of the pitch a little more. There were many scenes where my pass was off target, so I need to raise the quality of my plays, especially in the final third. We still have a match to play, so I will reset my mind and recover from this match, so that I can be ready when I am given the opportunity to play.
MF/FW #17 MIYAICHI Ryo (Yokohama F. Marinos)
Coach Moriyasu asked me to make use of my speed in the right flank, so that was what I focused on. Although I was able to get to the end of some crosses, I wasn't able to capitalise on them, and that is what I need to improve on. I have been playing with Koike at Marinos, and I feel very comfortable playing in front of him, so his presence has really helped me in this match, too. However, I am very disappointed that we finished 0-0 today. The team is looking for players who can make the difference in tough matches at the World Cup, so I need to strive to be that player. We still have a match against Korea Republic, where we can win the title with a victory. I don't know if I will be given the opportunity to play in that match, but I will do whatever it takes to help the team, regardless of whether I am on the pitch or not.
Aleksandar JANKOVIC, Head Coach of China PR National Team
The most important thing was to take some good conclusions after the first match against Korea Republic in terms of defensive stability and offensive impact. We were able to possess the ball longer than our match against Korea Republic and focused on showcasing our own football, rather than adjusting to our opponents. We tried to possess the ball using two thirds of the pitch to control the tempo of the match. Although our players were running on fumes at the end, they fought very hard for the entire 90 minutes against a very strong team, so we are satisfied with this result. However, we are not happy with this result. No team should be celebrating after a draw.
EAFF E-1 Football Championship 2022 Final Japan (Men's Tournament)
Tournament Dates: Tue. 19 - Wed. 27 July 2022
Venues: Kashima Soccer Stadium (Ibaraki), Toyota Stadium (Aichi)
Participating Countries: Japan, China PR, Korea Republic, Hong Kong