NEWS
2019 edition of "Dream Class" held in four countries including India, China PR, Korea Republic, and USA with the sponsorship of All Nippon Airways (ANA)
10 February 2020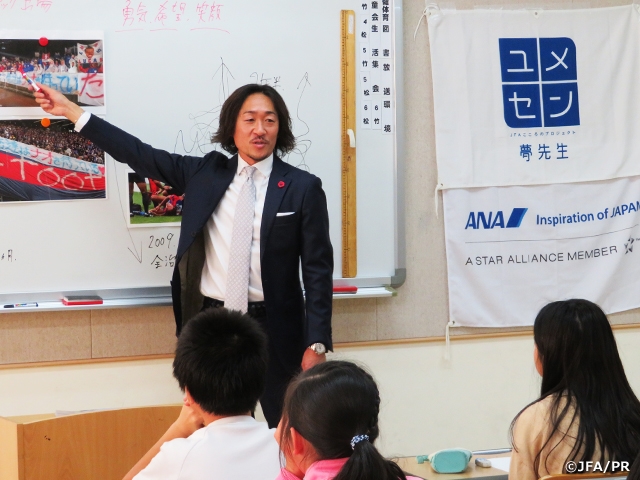 All Nippon Airways (ANA) has supported the JFA Kokoro Project since 2012, and with their sponsorship, the 2019 edition of the "Dream Class" were held at Japanese schools located in four different countries overseas.
The idea of holding the "Dream Class" overseas came from All Nippon Airways (ANA), who wished to deliver the Dream Classes to kids living abroad. Since starting the project, Dream Classes have been held in many countries each year. In 2019, the classes were held at New Delhi (India) in August, Shenzhen (China PR) in December, Seoul (Korea Republic) and Chicago (USA) in January.
At the Dream Class held in Chicago, Illinois (USA) on Monday 27 January, Mr. TAKAHASHI Ryosuke took the podium as the "Teacher of dreams" at a school where he spent his higher grades of elementary school and junior high school. Although the school facility had moved since he was at school, he fondly went over the graduation essays that brought back memories from the years he lived in Chicago.
During his class, he started off by revealing that he was an alumnus of the school to allow the students to feel affinity with him. He gave lectures on "the ABC's to make a dream come true," and that "daily habits are like a large ship and it cannot be changed immediately. That is why we must remind ourselves each day."
・Tue. 27 August 2019 Japanese School New Delhi/Teacher of dreams: HASEGAWA Taro (Football)
・Thu. 19/Fri. 20, December 2019 Shenzhen Japanese School/Teacher of dreams: NAKANISHI Eisuke (Football)
・Fri. 10 January 2020 Japanese School in Seoul/Teacher of dreams: ISHIKAWA Naohiro (Football)
・Mon. 27 January 2020 Chicago Futabakai Japanese School/Teacher of dreams: TAKAHASHI Ryosuke (Boxing)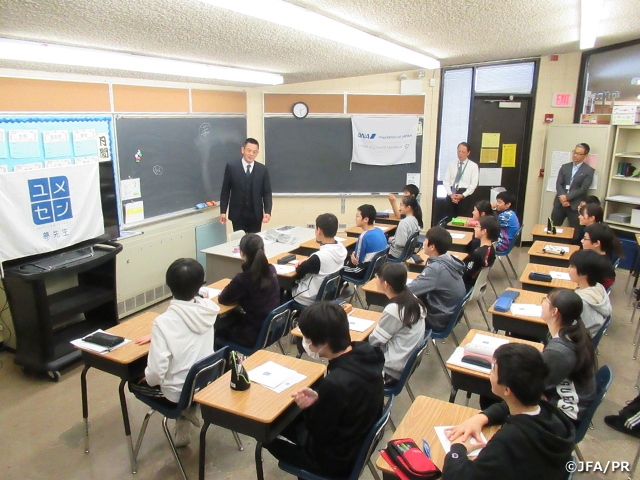 Comment of Teacher of dreams
Mr. TAKAHASHI Ryosuke
It has been 32 years since I visited this school, and I am feeling very nostalgic. I would like to thank ANA for giving me this opportunity. As a "Teacher of dreams," I have held classes in Japan, but this experience allowed me to realise that kids will always be kids regardless of where they live in the world. After making my return to this school as an alumnus and watching the kids, it reminded me of myself from years back, and it reinforced my belief in the infinite possibility of the younger generations. Reflecting on my own experience, the message I wanted to get across was the "ABC's to make a dream come true."* I suffered greatly and took many detours during my youth, so I hope these kids can learn from my experience to find a quicker way to reach their dreams.
*"ABC's to make a dream come true." A= "Ask" B= "Believe" C= "Courage"
Comment of Chicago Futabakai Japanese School Principal
Mr. SAKANO Tadashi, Principal
We have been educating our kids at a day to day basis to always strive to achieve their dreams, so this experience has really reinforced that principle. It felt like the stories told by Mr. Takahashi, who is an alumnus of this school, has really touched the hearts of our students. During the dream presentation, I was very happy to see the kids presenting their genuine dreams. Thank you very much for this experience.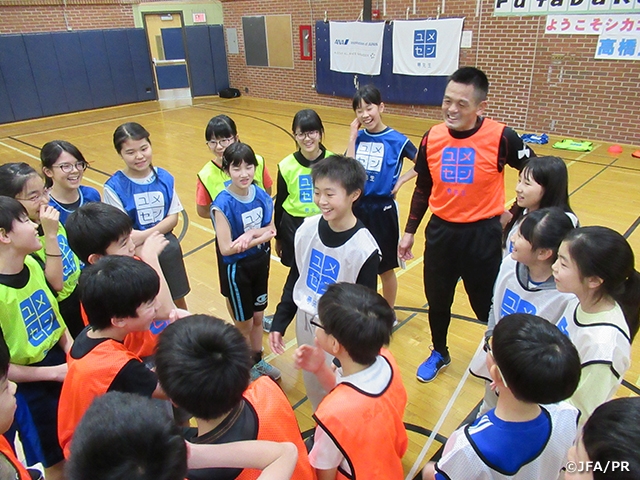 JFA Kokoro Project
Former and current athletes from various sports are dispatched to schools as the "Teacher of dreams" to give lectures on the importance of having a dream and making the efforts to make that dream come true. By playing games and sharing personal experiences, the "Teacher of dreams" also teach the importance to help out friends and peers.
For More Information