NEWS
SAMURAI BLUE's Coach Moriyasu seeking for improvements from team - KIRIN CHALLENGE CUP 2019 (11/19@Suita)
19 November 2019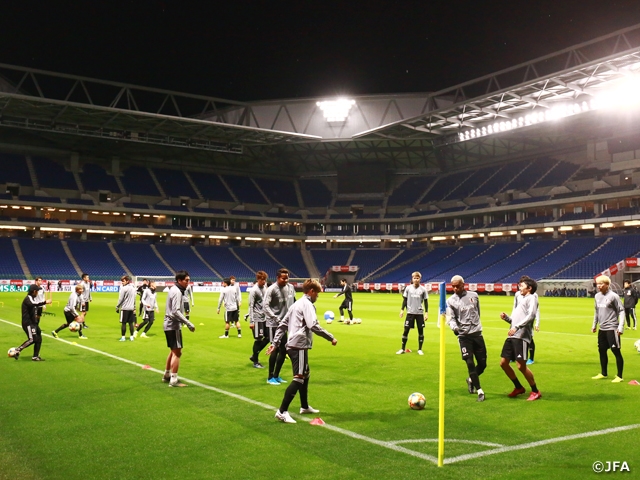 One day ahead of their match against the Venezuela National Team at the KIRIN CHALLENGE CUP 2019, the SAMURAI BLUE (Japan National Team) held a training session at the match venue, Panasonic Stadium Suita, on Monday 18 November. At the press conference, coach MORIYASU Hajime shared his aspiration, "This is a very important match for the team's development. We will enter the match with the intention to improve ourselves as a team."
In their final match of 2019, the SAMURAI BLUE rotated nine players from their recent match against the Kyrgyz Republic National Team played at Bishkek on Thursday 14. Four players, including FURUHASHI Kyogo (Vissel Kobe), received their first callup, while IDEGUCHI Yosuke (Gamba Osaka) made his first appearance under the regime of coach Moriyasu. With the team featuring mostly players who plays in Japan, the team's system may change from a four-back to a three-back formation in this match.
Regarding the starting line-up, coach Moriyasu mentioned, "I am thinking of utilising the players who played against Kyrgyz Republic as the core of this team." But also commented that he will take in consideration of their physical conditions following the long travel from Kyrgyz Republic. With the EAFF E-1 Football Championship scheduled to be held at Korea Republic next month, where many of the players belonging to clubs abroad will not be available, this match will serve as an important match to test new options and systems for the SAMURAI BLUE.
"These are players with great talents. While following the team concept, I want them to showcase their full potential." Coach Moriyasu also hinted of a system change, "Depending on the game flow, we must prepare ourselves to make changes."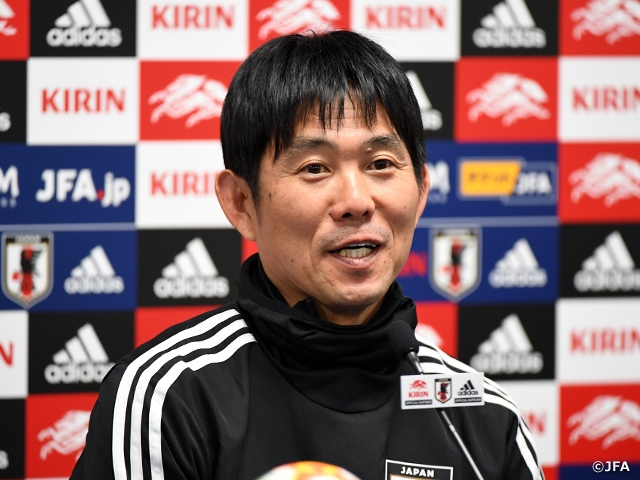 Japan and Venezuela have drawn 1-1 in their most recent match played at Oita a year ago. Reflecting on that match, coach Moriyasu mentioned, "They are a very discipline team, with great individual strengths."
For Venezuela, the team is currently working towards the World Cup qualifiers, which will start in March. After arriving in Japan on Thursday 14, the team have been conducting training sessions in Osaka. Their coach, Rafael DUDAMEL, shared his take on this match, "This match has great significance for us. We are honoured to be facing a high-level team like Japan. I will be demanding many things from my players and we hope to make the most of this match."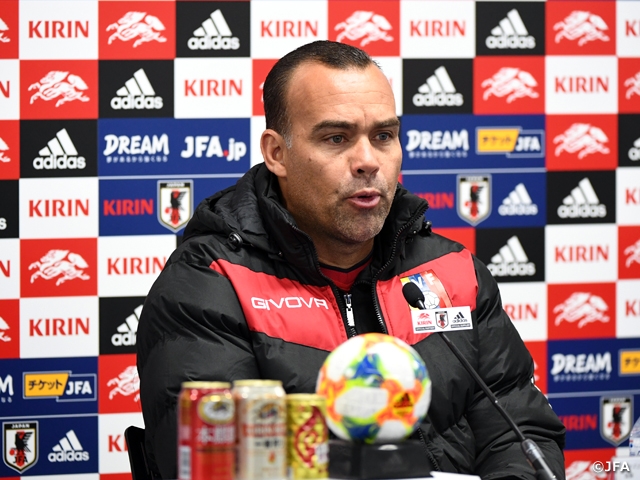 On this day, the SAMURAI BLUE started their training session in the evening. The beginning of the session was opened to the media, where players were seen going through their warmups. After the session went behind closed doors, the team went through their tactics for the upcoming match.
While Japan currently ranks 28th in the FIFA ranking, Venezuela ranks 26th. In a match where a change in their defensive line is imminent, Japanese defender UEDA Naomichi (Cercle Brugge K.S.V.) shared his aspiration, "I am aware of our system, so I will take the lead in this match. I know this is not going to be an easy match, but if we can showcase a positive performance, it will give us great confidence to face stronger teams in the future. I will continue to challenge myself in tomorrow's match." After receiving his first selection to the squad, Furuhashi mentioned, "I hope to showcase my strengths by making lots of runs into spaces behind the opponent's defence line."
The KIRIN CHALLENGE CUP 2019 match between the SAMURAI BLUE and the Venezuela National Team will kick-off at 19:45 on Tuesday 19 November.
Coaches and Players' Comments
MORIYASU Hajime, Coach of SAMURAI BLUE (Japan National Team)
We are honoured to face a strong team from South America, as it will give us a precious opportunity to strengthen the team. We will give our utmost efforts to win the match and to make our fans happy. I have the impression that the Venezuelan players are well aware of their coach's demands. They are a South American powerhouse, so we will enter the match with the intention to heighten the overall level of our team. Regarding the starting line-up, I am considering the players who played against Kyrgyz Republic as the core of this team. However, I will also consider their physical conditions, especially after the long travel from Kyrgyz Republic, so I will finalise the line-up after watching today's training session. In terms of the team's system, I will start with our usual four-back formation and make changes depending on the flow of the game. Although we had just two sessions to work on the team tactics, I have conveyed our strategies to the players through our meetings, so we should be fine with either systems.
DF #5 KURUMAYA Shintaro (Kawasaki Frontale)
This was my first training session with the national team in a year, so it felt very refreshing. I wasn't able to earn much minutes last time, so I hope to feature the match longer this time. This is a rare opportunity to face teams outside Asia, so I will do my best to make the most of this experience. I am looking forward for the challenge.
DF #22 ARAKI Hayato (Sanfrecce Hiroshima)
With this being my first call-up to the national team, I have been working hard to understand the team concept and find ways to help the team. However, I am still feeling the need to heighten the quality of my plays. My strengths lie on my defensive skills, especially in my ability to win the aerial battles, so I will try to play with confidence and showcase my usual performance.
MF #7 SHIBASAKI Gaku (Deportivo de La Coruna)
With the team adding many new players to the squad, I hope to actively communicate with them and combine with them on the pitch. Regardless of who we face, it is important that we showcase our usual performance. We have faced Venezuela before, and they are a very discipline team with great strengths and techniques. Our opponent has just one match to play, so they will be fully prepared for this match. This match will give us a precious experience that will help the team reach higher levels.
MF #9 FURUHASHI Kyogo (Vissel Kobe)
I was feeling very nervous at first, but I gradually became able to enjoy myself. It would be ideal if I can play in my usual position, but regardless of where I am positioned, I will give my best efforts. I must constantly think of ways to help the team and make runs to apply pressure from the frontline. Although I would like to score goals, my top priority is the team's victory. As long as I work hard for the team, positive results should follow.
MF #10 NAKAJIMA Shoya (FC Porto)
We have a different squad, so the match will be played differently, but I will continue to prepare myself as usual. Each and every match is important for us, so I am always thinking of ways to showcase my best performance. I hope to give my very best efforts to help the team win the match.
Rafael DUDAMEL, Coach of Venezuela National Team
Rafael DUDAMEL, Coach of Venezuela National Team Ahead of the World Cup qualifiers which will start in March, tomorrow's match will be an important test for us. This is our only match of this month, so we have prepared ourselves to make the most of this opportunity. We are a very mature team. Japan is a very organised team with spectacular teamwork, so I think we can showcase a dynamic match with great intensity. In order to win against Japan at their home, we must give our very best efforts.

Interview of SHIBASAKI Gaku (Deportivo de La Coruna/Spain)

Interview of FURUHASHI Kyogo (Vissel Kobe)

Interview of UEDA Naomichi (Cercle Brugge K.S.V./Belgium)
Schedule
Sat. 16 November
18:00
Training
Sun. 17 November
PM
Training
Mon. 18 November
PM
Official Press-conference/Training Session
Tue. 19 November
19:25
KIRIN CHALLENGE CUP 2019
vs Venezuela National Team (Panasonic Stadium Suita)
*The schedule is subject to change due to the team condition, the weather, etc.

SAMURAI BLUE (Japan National Team) vs Venezuela National Team
Match Date: Tue. 19 November 2019 19:25
Match Venue: Panasonic Stadium Suita, Osaka
TV Broadcast: Broadcasted live on Fuji Television Network (except for some regions)