NEWS
SAMURAI BLUE claim victory over Kyrgyz Republic with goals scored by Minamino and Haraguchi - 2022 FIFA World Cup Qatar Asian Qualification Round 2
15 November 2019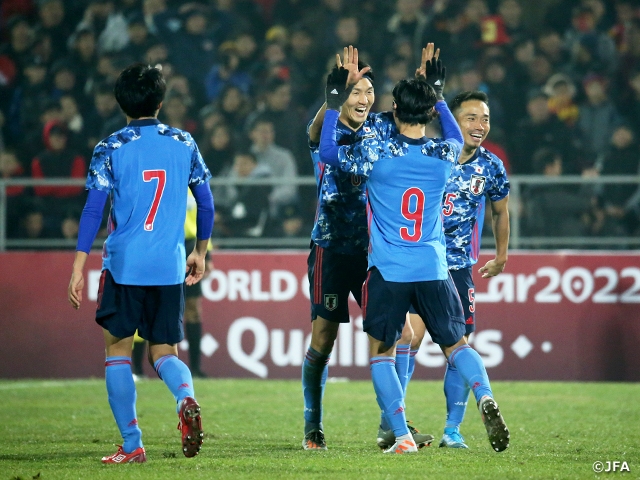 On Thursday 14 November, the SAMURAI BLUE (Japan National Team) faced the Kyrgyz Republic National Team at Bishkek in their fourth group stage match of the FIFA World Cup Qatar 2022 Asian Qualification round two. With the help of the goals scored by MINAMINO Takumi (FC Red Bull Salzburg) and HARAGUCHI Genki (Hannover 96), the team won the match 2-0 to remain in first place at Group F.
In this match, NAGATOMO Yuto (Galatasaray S.K.) marked his 122nd international cap, tying Mr. IHARA Masami for second most caps in Japan National Team history. Also, in this match, YOSHIDA Maya (Southampton FC) reached his 100th cap with the Japan National Team.
Following their match against Tajikistan, Japan made four changes to their line-up, as ENDO Wataru (VfB Stuttgart) was positioned as the defensive midfielder along with SHIBASAKI Gaku (Deportivo de La Coruna), while Haraguchi and ITO Junya (KRC Genk) were named in the flanks. It was NAGAI Kensuke (F.C. Tokyo) who played as the lone striker upfront.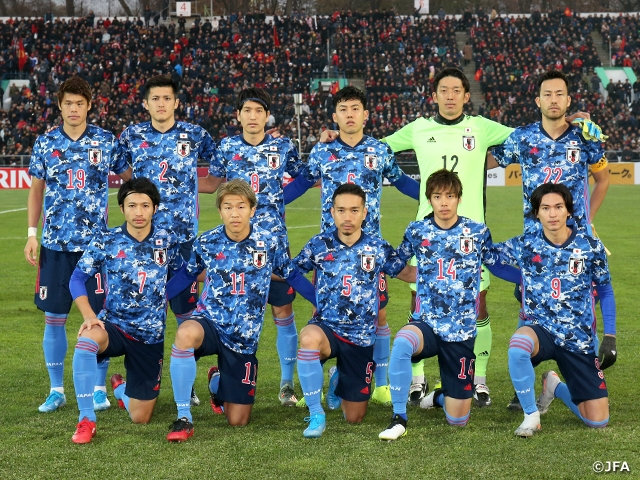 The match started with the home side showing their dominance against Japan, as Kyrgyz Republic changed their formation from a four back to a three back system to add layers to their offence. While Japan struggled to make their adjustment to the pitch condition, Kyrgyz Republic penetrated the right side to create opportunities.
In the 16th minute, Tamirlan KOZUBAEV connected with a free kick to threaten the Japanese goal, but this play was called offside. Alimardon SHUKUROV came close with a shot taken in the 24th minute, followed by an attempt made by Gulzhigit ALYKULOV in the 32nd minute, but Japanese goalkeeper GONDA Shuichi (Portimonense S.C.) was there to make the save.
Japan also created a close opportunity in the 14th minute, when Minamino connected with a cross delivered by SAKAI Hiroki (Olympique de Marseille), but his header couldn't hit the target. Another opportunity was created for Minamino just three minutes later, when he responded to a through ball sent by Endo, but his shot was blocked by the goalkeeper. With Japan picking up their pace in offence, Nagai utilised his speed to penetrate the space behind the opposing defence line, while Shibasaki struck shots from distance to crack open the Kyrgyz goal.
The opening goal came in the 41st minute, when Minamino chased the ball into the Kyrgyz penalty area, where he was tripped by the goalkeeper. Minamino converted this penalty kick himself to mark a goal in four consecutive World Cup qualifiers, surpassing MIURA Kazuyoshi (Yokohama FC), who registered a goal in three consecutive matches in 1993. In terms of international "A" matches, this was his fifth consecutive goal to score a goal, dating back from September's match against Paraguay, tying the record of Mr. KAMAMOTO Kunishige and others for the second longest streak in Japan National Team history. Japan continued to threaten the opposing goal during the remainder of the first half, but the match entered halftime with a score of 1-0.
The second half saw Kyrgyz Republic showing great intensity in offence, but Japan maintained their composure to keep their lead intact. An opportunity was created in the 53rd minute, when Endo earned a free kick deep in the opposing territory. It was Haraguchi who took this spot kick and drove a shot into the left hand corner of the Kyrgyz goal, making it 2-0 for Japan.
In efforts to level the match, Kyrgyz Republic created a chance in the 58th minute, when Mirlan MURZAEV responded to a ball delivered by Shukurov to take a shot, followed by another attempt in the 68th minute, but both attempts were saved by Gonda.
Coach MORIYASU Hajime utilised his substitutes towards the end of the match, as NAKAJIMA Shoya (FC Porto) and YAMAGUCHI Hotaru (Vissel Kobe) were introduced to the match to replace Ito and Endo in the 78th minute, followed by an 87th minute change to replace Nagai to SUZUKI Musashi (Hokkaido Consadole Sapporo). Despite the close opportunities created by Japan, the match ended with a final score of 2-0, giving Japan four consecutive shutout victories at the World Cup qualifiers.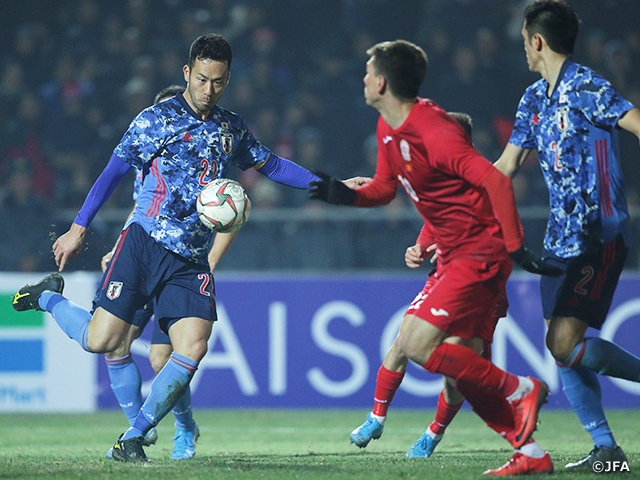 With this result, Japan remains atop of Group F with their 12 points, while Kyrgyz Republic ranks second with six points. Tajikistan also has six points after suffering a loss to Myanmar on this day, but they trail Kyrgyz Republic in goal difference to rank third in the group. Myanmar and Mongolia are also tied with three points, but it is Mongolia who has the advantage in goal difference. Japan will start the second half of the qualifiers when they welcome Myanmar at home on 26 March. The group leaders from each group will automatically advance through, while the top four teams among the runners-up will advance to the final qualification round.
Coaches and Players' Comments
MORIYASU Hajime, Coach of SAMURAI BLUE (Japan National Team)
Despite our overall performance, it means a lot for us to earn three points in this complete away atmosphere. We made many mistakes and allowed Kyrgyz Republic to create many chances, but our players did well to keep their patience and defend through the tough stretches. It was great to see us score two goals from set-pieces, but we need to become a team that can earn wins by taking full control of matches like this. Kyrgyz Republic collected the ball to their #2 player and initiated their attacks through long balls. Although we were aware of their strong points, they effectively penetrated the mismatches in our system to create opportunities, so that was an aspect we covered during halftime. Our attacking players did a fine job applying pressure from the frontline, which took away some of the burden off our defenders. With consideration of the pitch condition, the players also made a good decision to utilise their speed by sending long balls towards the open space. The offence showcased by Kyrgyz Republic was at a very high level. We will face them again at this qualifier, so must make note and prepare ourselves accordingly.
DF #5 NAGATOMO Yuto (Galatasaray S.K.)
At the second round of the Asian qualifiers, we have drawn matches and conceded goals in the past, so the fact that we have managed to keep clean sheets in all the matches thus far, shows how well the team has played defence. A strong team will always have strong individual plays, and that is an aspect we have grown over the years. I have played in 122 matches, but that is just a number, so I hope to focus on what I can do to help the team in the coming matches.
DF #22 YOSHIDA Maya (Southampton FC)
Our goals came in the right timings of this match, as we managed to score at the end of the first half and the start of the second half. Our opponent's showcased great offence, which disabled us from applying high pressure in defence. Through these matches at the Asian qualifiers, we are realising that we need to get stronger to win the ball and make better decisions to collect the second ball. Despite winning the match, there were plenty of room for improvements ahead of the final round of the Asian qualifiers.
MF #8 HARAGUCHI Genki (Hannover 96)
I have been working on my free kicks, so it went just the way I visualised. In a match where everyone expects us to win, it's great that I was able to score a goal to help the team earn the victory. That goal has given me the confidence to get back in contention to earn the starting position, so that was a huge goal for me.
MF #9 MINAMINO Takumi (FC Red Bull Salzburg)
It was my first time taking the penalty kick for this team, and it was a crucial goal for this match, so I am glad I was able to score that goal. When looking at just the result, we were able to earn the best possible result, and the clean sheet meant a lot for us as well. We just need to continue on polishing our plays and heighten our overall performance in our next match.
Aleksandr KRESTININ, Coach of Kyrgyz Republic National Team
This was not the result I was expecting, but our players showcased a quality game today, so I am a little satisfied in that regard. Although we created numbers of close opportunities, the Japanese goalkeeper did a great job to keep us away from scoring a goal. We must learn from the two goals we conceded and the missed opportunities we had, but this match against Japan has given us great experience and inspiration to reach higher levels.

Schedule
Mon. 11 November
PM
Training
Tue. 12 November
PM
Training
Wed. 13 November
TBC
Official Press-conference/Training Session
Thu. 14 November
2-0
2022 FIFA World Cup Qatar and
AFC Asian Cup China PR 2023
Preliminary Joint Qualification - Round 2
vs Kyrgyz Republic National Team
(Dolen Omurzakov Stadium)
Sat. 16 November
18:00
Training (J-GREEN Sakai)
*Local time
*The schedule is subject to change due to the team condition, the weather, etc.
2022 FIFA World Cup Qatar and AFC Asian Cup China PR 2023 Preliminary Joint Qualification - Round 2
Kyrgyz Republic National Team vs SAMURAI BLUE (Japan National Team)
Match Date: Thu. 14 November 2019 17:15 (20:15 Japan time)
Match Venue: Dolen Omurzakov Stadium, Kyrgyz Republic

SAMURAI BLUE (Japan National Team) vs Venezuela National Team
Match Date: Tue. 19 November 2019 19:25
Match Venue: Panasonic Stadium Suita, Osaka