NEWS
U-17 Japan National Team wins consecutive matches against Ecuador
10 September 2019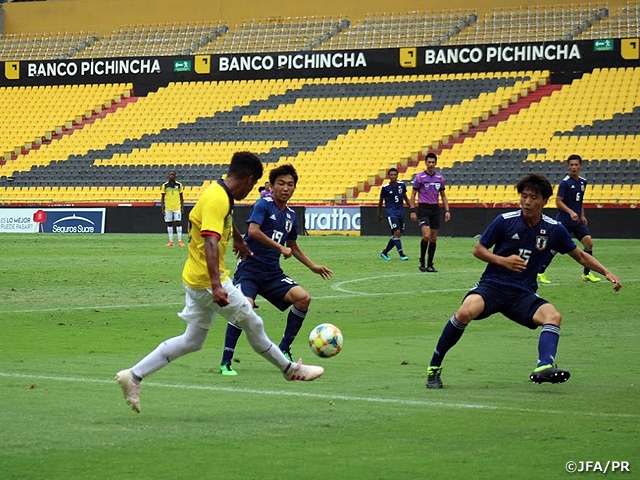 Ecuador Tour 2nd Match vs U-17 Ecuador National Team
Mon. 9 September 2019 11:00 Match duration 90mins (45minsx2)
Estadio Monumental Banco Pichincha (Ecuador)
U-17 Japan National Team 4-1 (2-0, 2-1) U-17 Ecuador National Team
Scores
14' NAKANO Keita (U-17 Japan National Team)
42' NISHIKAWA Jun (U-17 Japan National Team)
47' goal against (U-17 Ecuador National Team)
64' WAKATSUKI Yamato (U-17 Japan National Team)
90' TOYAMA Haruki (U-17 Japan National Team)
Starting Line-up
GK: NOZAWA Taishi Brandon
DF: SUMI Kohshiro, HANDA Riku, MURAKAMI Yosuke, TANAKA Satoshi
MF: YAMAUCHI Kakeru, FUJITA Joel Chima, TAMURA Souki, NAKANO Keita
FW: NISHIKAWA Jun, TOYAMA Shoji
Reserves
GK: SUZUKI Zion
DF: HATA Taiga, SUZUKI Kaito, NAKANO Shinya
MF: YOKOKAWA Asahi, NARUOKA Hikaru, MITO Shunsuke, TOYAMA Haruki
FW: MITSUDA Shuto, WAKATSUKI Yamato
Substitutions
HT NAKANO Keita → NARUOKA Hikaru
62' TAMURA Souki → MITSUDA Shuto
62' TOYAMA Shoji → WAKATSUKI Yamato
68' SUMI Kohshiro → NAKANO Shinya
68' FUJITA Joel Chima → TOYAMA Haruki
80' NISHIKAWA Jun → MITO Shunsuke
80' YAMAUCHI Kakeru → YOKOKAWA Asahi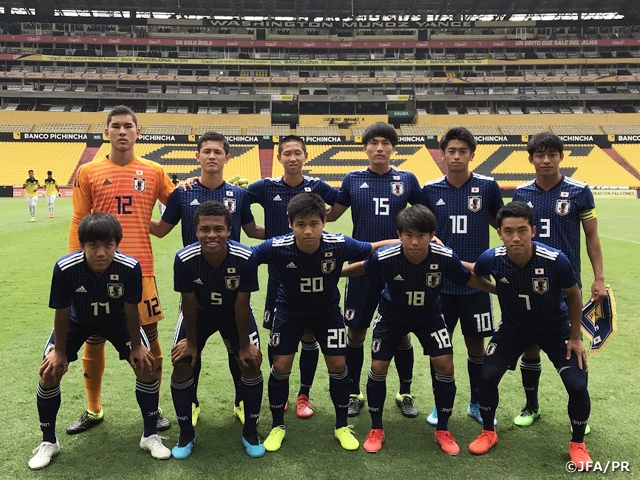 Match Report
On Monday 9 September, the U-17 Japan National Team played their second international friendly match against the U-17 Ecuador National Team. The match took place at the home stadium of Barcelona Sporting Club, a historic stadium that can hold nearly 90,000 spectators. Ahead of the match, coach MORIYAMA Yoshiro stressed the importance "to play tenaciously in order to take control of the match." On the other hand, for the Ecuadorian side, this was a home match they couldn't afford to lose, especially after losing the first match.
Japan entered the match with great intensity, as they applied aggressive pressure from the frontline to take the initiative of the match. Their aggressive approach got paid off in the 14th minute, when NAKANO Keita directly converted a freekick earned by TOYAMA Shoji at the edge of the penalty box. After taking the lead, Japan shifted their approach to a more defence-minded strategy, as they constructed a block in front of their goal, while anticipating for their opportunities to counterattack. Japan managed to score their second goal in the 42nd minute, when the ball was connected through six different players before reaching NISHIKAWA Jun at the centre. The Japanese striker calmly slotted the ball into the net to give Japan a two goal lead by halftime.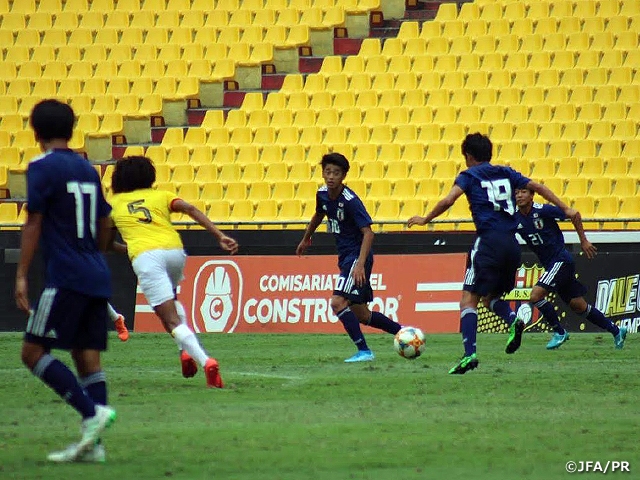 The second half saw the Japanese defence-line getting caught off guard, as Ecuador scored back a goal in the 47th minute. The home side continued to threaten the Japanese goal, but Japan showcased a persistent effort to keep their lead intact. In the 64th minute, WAKATSUKI Yamato responded to a through ball sent by FUJITA Joel Chima to score Japan's third goal, followed by TOYAMA Haruki's goal scored in the 90th minute, as Japan finished off their Ecuador tour with a 4-1 victory.
After registering back-to-back wins against the U-17 Ecuador National Team, the U-17 Japan National Team will return to Japan on Wednesday 11 September.
Players' Comments
DF #3 HANDA Riku (Montedio Yamagata Youth)
Similar to our first match, we managed to enter today's match with great intensity. The second goal came from a great sequence of plays, and it allowed us to visualise what we need to do at the World Cup. However, we had trouble dealing with the opponent's aggression in the second half and conceded a goal. This was a match we could have kept a clean sheet. With just a month left ahead of the World Cup, I will give my best efforts to reach a higher level and strive to get selected to the final squad so that I can help the team make a deep run at the tournament.
DF #17 TANAKA Satoshi (Shonan Bellmare U-18)
In our final match against Ecuador, I entered the match as a fullback, which was an unfamiliar position for me. I will have to deepen my understanding about this new position, while finding ways to get myself more involved with our offence. However, it is great for the team to have a utility player, so I will work hard to become a player that can play multiple positions.
FW #10 NISHIKAWA Jun (Toko Gakuen High School)
As a team, we managed to enter today's match with great intensity. It was also great to see everybody getting involved in both offence and defence. This tour has allowed us to simulate the situations that can occur during the World Cup and gave us the opportunity to get ourselves on the same page. With the World Cup fast approaching, we will heighten our team's morale and prepare ourselves in the best way possible ahead of the tournament.
Schedule
Tue. 3 September
AM/PM
Training
Wed. 4 September
AM/PM
Training
Thu. 5 September
3-0
Training Match vs U-17 Guayaquil Select Team
(Estadio Alejandro Ponce Noboa, Guayaquil)
Fri. 6 September
3-1
1st Match vs U-17 Ecuador National Team
(Estadio Cristian Benitez, Guayaquil)
Sat. 7 September
AM
Training
Sun. 8 September
AM
Training
Mon. 9 September
4-1
2nd Match vs U-17 Ecuador National Team
(Estadio Monumental Banco Pichincha, Guayaquil)
*The schedule is subject to change due to the team condition, the weather, etc.
International Friendly Match - Ecuador Tour
Dates: Mon. 2 - Wed. 11 September 2019
Tournament Information