NEWS
Nadeshiko Japan aim to for third title with "new forces" – EAFF E-1 Football Championship 2017 Final Women's Squad Announcement
29 November 2017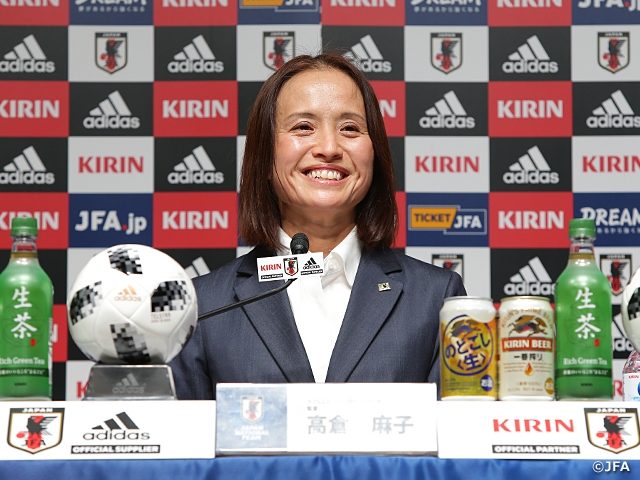 The coach of Nadeshiko Japan (Japan Women's National Team), TAKAKURA Asako, held a press conference at JFA House in Tokyo on Tuesday 28 November to announce her 23 squad members for the EAFF E-1 Football Championship 2017 Final. The competition is scheduled to start from Friday 8 December.
While the core of the team stayed the same from the Jordan tour, which was held between 21st and 24th November, three new players were newly called up to the team. Those players were goalkeeper YAMASHITA Ayaka (NIPPON TV BELEZA), defender SAKAMOTO Riho (AC NAGANO PARCEIRO LADIES), and forward SUGASAWA Yuika (Urawa Red Diamonds Ladies).
Coach Takakura talked about her aspirations for the championship, 'We are looking to see where we currently stand by displaying what this team have accomplished so far in the EAFF E-1 tournament. While we keep our aggressive style in both offence and defence, we will aim at winning the competition as a untied team.'
Nadeshiko Japan will play against South Korea (Friday 8), China (Monday 11), and DPR Korea (Friday 15). All the matches will be held at Soga Sports Park (Fukuda Denshi Arena) in Chiba.
Regarding the teams that will compete in the tournament, coach Takakura started by saying, 'There are teams that have made recent changes to their squad. It is difficult to gather all the information.' More specifically, she added, 'The Korean squad is roughly the same, and they have worked on team tactics and strengthened their team. China have a new coach and I am not exactly sure what kind of football they will play. However, I believe that they will take advantage of their strong physicality and compete in the tournament. DPR Korea will not play in the World Cup qualifiers and it is hard to predict what kind of team they will bring to the tournament. Will it be the team of young players or the same members? That I cannot tell. Either way, I expect them to display their customary and power style of football on both ends of the pitch.'
Nadeshiko boss has further commented about the current squad, 'We finally started to look like a team after going through several training camps together. There are "new forces" in the team. I understand that many people haven't seen them playing in the squad, but I believe they will come forward and perform well in the coming tournament. There are pros and cons of the current team. While we haven't been able to score many goals from set pieces, we have made excellent attacking plays where our players combined well to score. Those are some of the plays that I hope many spectators will come and see.' Furthermore, she has asked many people to come to stadium by talking about the tournament in 2010, 'Japan had won the EAFF Women's Championship, which is the former East Asian competition prior to the current EAFF E-1 Football Championship, in 2010. It was held in Japan, and with the support of many people, who had come to the stadium and cheered us, we clinched the title. I am hoping that many people will come and support us again.'
This championship will be a good test ahead of the AFC Women's Asian Cup, which will be held next March to decide the teams that qualify for the FIFA Women's World Cup France. Nadeshiko Japan will aim for third East Asian title in this championship.
Coach's Comment
TAKAKURA Asako, Coach of Nadeshiko Japan (Japan Women's National Team)
Our team still have many areas that need to be improved both offensively and defensively. I believe that both the precision and the strength on the ball are crucial. In defence, we are looking to strengthen the physicality of individual players, improve the quickness of putting pressure to the opponents, and share a same vision as to where we will try to challenge and reclaim possession of the ball. In offence, we have different types of forwards as well as strikers who have been scoring. We will try out different combinations of players and see how they will work together in each game. It is a cup tournament, where we expect the best performance from each player. We are also looking to see how well they perform in such competition. I believe that in order to win games we need experience. I hope that this championship will give each one of our players with that experience. We are further going to display that our team are not only aiming at the Asian title, but also competing in preparation for the coming World Cup qualifiers as well.
Schedule
Mon. 4 December
PM
Training (Frontier Soccer Field)
Tue. 5 December
AM/PM
Training *closed‐door
Wed. 6 December
AM
PM
PM
Training *closed‐door
Official Conference *closed‐door
Training *closed‐door
Thu. 7 December
AM
PM
Training *closed‐door
Official Training *closed‐door
EAFF E-1 Football Championship 2017 Final Japan
Fri. 8 December
18:55
1st Match vs Korea Rep.
Chiba / Soga Sports Park

Sat. 9 December
11:00
Training (Frontier Soccer Field)
Sun. 10 December
AM/PM
Training *closed‐door
Mon. 11 December
18:55
2nd Match vs China PR
Chiba / Soga Sports Park

Tue. 12 December
11:00
Training (Frontier Soccer Field)
Wed. 13 December
AM/PM
Training *closed‐door
Thu. 14 December
AM/PM
Training *closed‐door
Fri. 15 December
18:55
3rd Match vs DPR Korea
Chiba / Soga Sports Park

*The schedule is subject to change due to the team condition, the weather, etc.
JFA‐TV (Japanese version only)
EAFF E-1 Football Championship 2017 Final Japan
8 December 2017 - 16 December 2017
Women: Chiba / Soga Sports Park
More Information