NEWS
Relay Interviews by Japan National Team Coaches Vol. 8: SAMURAI BLUE/U-23 Japan National Team's coach MORIYASU Hajime "Think of what you can do now and try to stay positive"
06 May 2020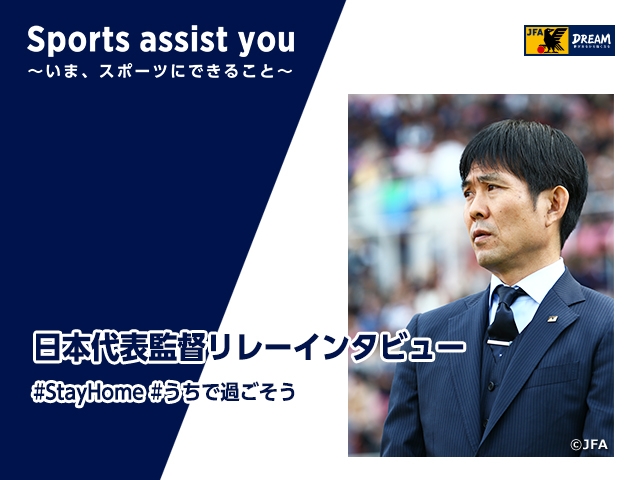 In efforts to contain the spread of the novel coronavirus, many sporting events have been cancelled over the recent period, and the activities of Japan National Team are no exception. With the players and coaches all staying at home during this quarantine period, we have conducted interviews with coaches from different categories of the Japan National Team, regarding their passion towards football, personal experiences, and the importance of chasing a dream.
As the eigth and final interview of the series, we will share the interview conducted with coach MORIYASU Hajime of SAMURAI BLUE/U-23 Japan National Team.
Intrigued by a sport full of creativity and individuality
We used to play football at the school play ground every morning, but our school did not have a football team. One day, a teacher from a neighbouring school got transferred to our school. This teacher used to coach a football team at his former school, and he was the one who introduced me to playing competitive football under a real coach.
I was a baseball kid until fifth grade of primary school, and my dream was to become a professional baseball player. In sixth grade, that dream all of a sudden changed to becoming a football player. I loved playing sports in general, so I enjoyed playing any sports, but football became my favourite sport because it allowed me to express my creativity and individuality on the pitch. I started playing football later than my peers, so I was surrounded by more experienced players, and their presence inspired me to become a better football player.
Environment surrounding football during the development era
I feel fortunate that my parents, my teammates' parents, and the teachers provided us with an environment where we can express ourselves freely. For instance, when I entered junior high school, there was no football team at this school neither, and their were no club teams around where I lived, so I ended up joining the school's handball team, which was the strongest athletic team at my school.
When I came back home, my father asked if I wanted to play football, and I answered, "I want to play football, but there is no football team at our school, so I decided to join the handball team." That is when he said, "Why don't you create one? I will go with you to talk with your teachers." From there on, my father gathered all other students' parents who also wanted to play football and organised a group to negotiate with the school. We were not an official team until our second year, but we were able to compete in official tournaments in our final two years of junior high school. I am forever thankful for my parents regarding this matter, and even as a young kid, this was an eye opening experience that really allowed me to realise that are lives were getting supported by many parents. The teacher who was in charge of our team did not have any football experience, but he devoted his time building a positive relationship with us and looked after us with an open mind. In terms of coaching, we were supported not only by our own coach, but by the coaches of our neighbouring teams as well. I used to take for granted of that environment, but now looking back, I feel so fortunate to be given such wonderful environment.
Starting a team from scratch
We did not have a team during our first year in junior high school, so my parents talked with the teacher and coach of a neighbouring school to allow me to train with their team while we setup our new team. So, I spent the year riding my bicycle to the neighbouring town to play football after school. Although I knew some of the kids from primary school, there were some tough times playing as an outsider.
Because of what I went through in the first year, I was extremely excited when we established our own team in my second year at junior high school. However, there were no space available at our school playground, so once again, our parents came to the rescue and negotiated with a company who had a wide open parking space available. The gravelled parking space was about the size of a futsal court and we had so much fun playing football there. We created our own training menus and I enjoyed discussing with my teammates on how we can better ourselves. We also did not have any goals or bibs, so we would pick up cans to setup the goals and played shirts against skins to play against each other.
Our training menu contained running, shooting, and scrimmages. As mentioned earlier, we did not have any goals, so we did not know where to aim at first, and without any nets, the ball would end up all over the place, but that whole experience was so entertaining for us.
There were so many things we learned from our coaches, but at the same time, parents have also contributed immensely in building our environment. The time we spent as a team figuring out how to become a better team is a fond memory.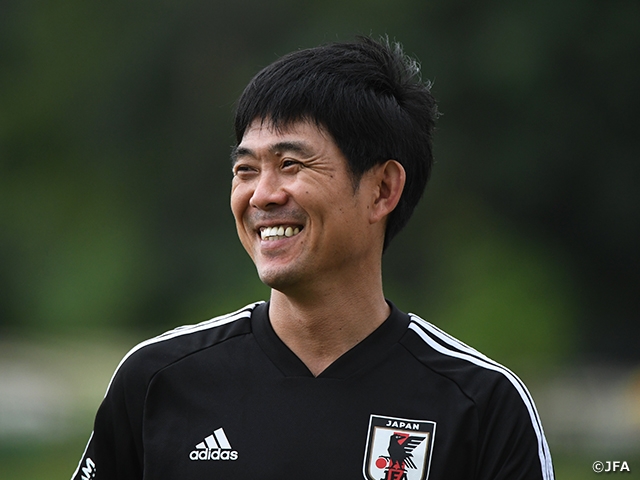 The depth and width of football
Football is such a profound sport. It has continued to evolve over time and there are always room for improvements both technically and strategically. No matter how hard we pursue, we cannot reach perfection in this sport. It allows us to stay grounded and strive for a higher level.
Football also gives us opportunities to meet new people. I genuinely believe that I would not have met this many people if it were not for football. I treasure all the "People" I have met, and "People" is what makes us better as a human being. Talking with people who shares the same value is one thing but talking with people who has a totally different perspective is also very inspiring. When we are working on the pitch, I feel so fortunate to be able to see so many different responses from a wide range of people. Meeting new people and being able to get involved with them is such a wonderful aspect of football.
Do not dwell on the negative aspects and try to stay positive
Football is a sport that revolves around people. Players work together with teammates to improve themselves, and they nurture a bond with one another. While all players are striving to become a better player, we currently are not able to work together as a team. However, there are many things we can work on our own. Instead of dwelling on the negative aspects, we should remain positive and make the most of this situation. I want the players to have that kind of mentality. Group trainings are essential to make a team stronger, but there are so many things an individual player can do to improve their game, and it is important that you do something unique to become a standout player. Core trainings can be done to strengthen your body. Stretching will make you more flexible. You may not be able to strike the ball hard inside your house, but you can still work on your ball touches. We need to stay away from other people, so we cannot train as a group, but you can still take a jog alone. When we are allowed to resume our team trainings, those small things will make the difference, so hang in there, your efforts will eventually get paid off. Nowadays, there are many ways to contact your coaches and there is also tremendous amount of resources online. By using your time effectively, you can improve as a player to get ahead or shorten the gap against other players, so use your head and try to make the most of this tough situation.
Not only limited to football players, but many people around the world are forced to lead a difficult and constrained lifestyle, and I am sure many are living under great stress. Finding ways to relieve those stress will make you mentally stronger. The perseverance to make small and continuous efforts will give you great energy when we go back to our normal lives. Life is full of adversities and it is important that you continue to make efforts towards your dream.
Do not think that you are in it alone. We are all struggling, so let us fight together to prevent the spread of the coronavirus disease. Despite the difficult situation, we must preserve our energy for now and release that energy when our normal lives are restored. Now is the time to showcase your patience and let us get over this pandemic together.