NEWS
U-23 Japan National Team undergo final tune-up ahead of final against Korea Republic on 30
29 January 2016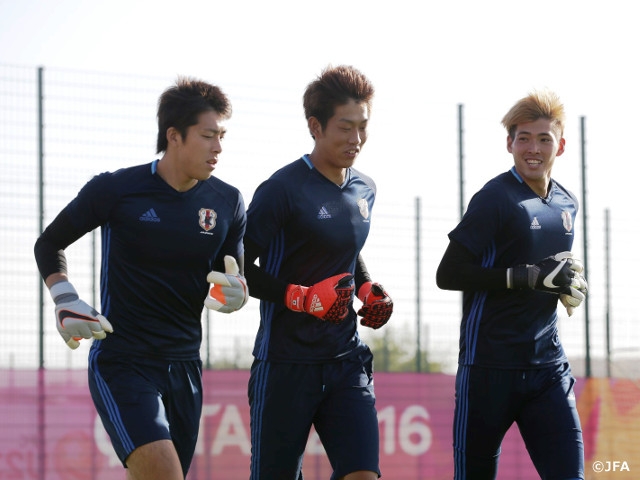 The young samurais, aiming at the top spot of Asia, have been in a final tune-up workout.
During their AFC U-23 Championship Qatar 2016 (Rio de Janeiro Olympics Asian Qualifiers Final Round) campaign, U-23 Japan National Team had a prep workout starting at 3:00 p.m. (9:00 p.m. Japan time) on 28 January.
Following the win in the semi-final, MINAMINO Takumi left the team due to his club's request. The rest of 22 men worked out for the final scheduled on Saturday 30 January for the sake of Minamino, the players who were not selected this time and the whole Japanese football. SUZUKI Musashi took a rest at hotel due to left thigh pain suffered in the last match against Iraq, where he ended up being subbed out. TOYOKAWA Yuta and KAMEKAWA Masashi trained separately just as the days before the semi-final, but their running pace speeded up and a long ball kicking drill was added in the session.
The starting lineup from the semi-final finished only with running and light training with the ball. Although the practice on 27 was off, the squad have already played five matches so far. As their shared understanding on tactics is very clear, the players can concentrate on getting themselves in shape.
Substitutes for the Iraq contest went through an 8-man passing drill, a 6-on-2 ball possession and a drill that aims to finish through cross balls from sides in a lively atmosphere. Making use of the interval between drills, they underwent physical training instructed by conditioning coach HAYAKAWA Naoki. The fine-tuned training regimen, made to consider players' condition, is never the same for each player. In addition to the five straight wins, the practice program that makes players feel that their individual condition is being taken care of is another key element that brought solidarity to the team.
In the final stretch of the training, the squad worked on a game-style practice with goalkeepers in a small-sided pitch. They capped the 80-minute session of the day with penalty shootouts.
They will hold training in the afternoon on 29 local time in the run up to the final match on 30.
Players' Comments
GK #23 NIEKAWA Ayumi (Sagan Tosu)
I haven't had a chance to play so far, but there are a lot of things to learn from the training with KUSHIBIKI Masatoshi and SUGIMOTO Daichi. Not playing a match is disappointing as a player, but some other players like injured NAKAMURA Kosuke feel disappointed more than me. For such fellows, I will keep myself focused. Goalkeepers can create team's atmosphere, and if we three brace ourselves lively, I believe it leads to a good effect on the entire team.
DF #15 KAMEKAWA Masashi (Avispa Fukuoka)
The final against Korea Republic is held after both grabbed a ticket to the Rio de Janeiro Olympics. Recently Japan's national teams haven't got to top of Asia in any category, and I heard Japanese people's attention has increased because we qualified and the opponents are Korea Republic. I wasn't able to join the team's training today because I'm not fit yet. But I'm confident about my stamina. Our coach decides who to play, but I will get ready 100% for team's win.
FW #16 ASANO Takuma (Sanfrecce Hiroshima)
Prior to this AFC U-23 Championship Qatar, we players also knew people's concern if we could get the ticket to the Rio de Janeiro Olympics. But I as a member of the team know individual capabilities and a kind of awesomeness.
That is inspiring me, and I feel a sense of danger and tension like, "something has to be done. I need to work harder." A Japan-Korea Republic match always draws attention. With the never-losing pride and responsibility, I will get out with pleasure and gratitude to play on such a stage. First playing our style of football is important, and if we can play not to have any regrets, the title will be waiting for us ahead.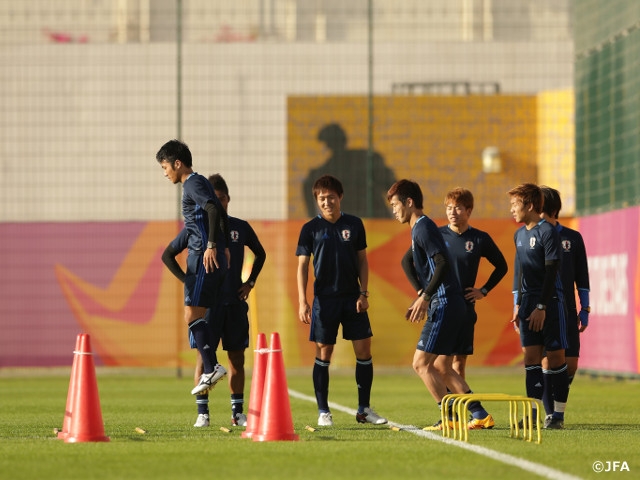 JFA-TV (Japanese version only)
Interview - ONAIWU Ado (JEF United Chiba)

Interview - KUBO Yuya (Berner Sport Club Young Boys/Switzerland)

Interview - YAMANAKA Ryosuke (Kashiwa Reysol)
Interview - IWANAMI Takuya (Vissel Kobe)
Schedule
AFC U-23 Championship Qatar 2016
Wed. 13 January
1-0
Group Stage 1st Match vs U-23 DPR Korea
(@Grand Hamad Stadium)
Thu. 14 January

AM

Training

Fri. 15 January

PM

Training

Sat. 16 January
4-0
Group Stage 2nd Match vs U-23 Thailand
(@Grand Hamad Stadium)
Sun. 17 January

AM

Training

Mon. 18 January

17:45

Official training (@Suhaim Bin Hamad Stadium)

Tue. 19 January
2-1
Group Stage 3rd Match vs U-23 Saudi Arabia
(@Suhaim Bin Hamad Stadium)
Wed. 20 January

AM

Training

Thu. 21 January

TBC

Official training (@tbd)

Fri. 22 January
3-0

Knock-out stage Quarter-Finals vs U-23 Iran
(@Abdullah Bin Khalifa Stadium)

Sat. 23 January

AM

Training

Sun. 24 January

PM

Training

Mon. 25 January

PM

Training

Tue. 26 January

2-1

Knock-out stage Semi-Finals vs U-23 Iraq
(@Abdullah Bin Khalifa Stadium)

Wed. 27 January

AM

Training

Thu. 28 January

PM

Training

Sat. 30 January

17:45

Knock-out stage Final vs U-23 Korea Republic
(@Abdullah Bin Khalifa Stadium)
*Local Time
AFC U-23 Championship Qatar 2016 (Rio de Janeiro Olympics Asian Qualifiers Final)
Final
Sat. 30 January - 23:45 (Japan Time)
Qatar/Abdullah Bin Khalifa Stadium
U-23 Japan National Team vs U-23 Korea Republic National Team
More information