NEWS
【Ahead of the Tokyo Olympics】Interview with SUGAWARA Yukinari
31 October 2019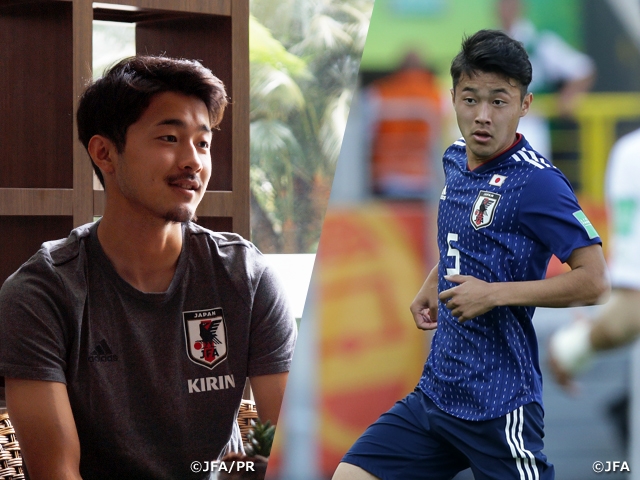 With the U-22 Japan National Team building their team ahead of the Tokyo Olympics 2020, we will share an interview conducted with their new member, SUGAWARA Yukinari, who has played in the FIFA U-17 World Cup in 2017 and this year's U-20 World Cup.
――Following the U-20 World Cup in June, you transferred to AZ Alkmaar in the Netherlands on a loan from Nagoya Grampus. It's been four months since then, but by watching the club's SNS, it seems like you are well adjusted to your new club.
Sugawara The players and staffs at AZ, and the people of the team's hometown have welcomed me warmly and everyone has told me to ask for their support if I needed anything. The coach has also taken great care of me, providing me with an environment where I can showcase my performance. Jonas SVENSSON is a player from Norway, who plays the same position as I do, and he can speak English, so he has been helping me from day one. With all the support from my peers, I have been able to spend a productive time there.
――You are competing for the right fullback position with Svensson, but he is still offering you help?
Sugawara He is a very kind person and we sit next to each other on our bus rides. He is also a great player, so there are many things I need to learn from him. We often times stay after practice to work on our crosses and shots together. He is like a mentor for me, or even like a brother. However, it is true that I must compete against him for the starting position, so I am training with the goal to become a better player than him.
――I have heard that you always dreamed of playing in Europe, but at which point did you really start to get conscious about the world? Perhaps the U-17 World Cup in 2017?
Sugawara Yes, I still vividly remember our match against England at the round of 16. That English squad was considered to be one of the best squads in recent years, as players who are currently playing at the Champions League and the senior team of the England National Team featured that team. (*Players like, Manchester City's Phil FODEN, Chelsea's Callum HUDSON-ODOI, Manchester United's Angel GOMES, and Leicester City's Demarai GRAY featured the squad.) That game really made me wonder, "What have I done leading to this match?" That experience has led me realise that "I cannot stay in Japan," and really made me conscious of the world standards.
――So that experience at the U-17 World Cup has given you the ambition to earn offers from European clubs at the U-20 World Cup, two years later?
Sugawara You're absolutely right. Following the U-17 World Cup, my new goal was to change my life at the U-20 World Cup. During the next two years, I have worked hard and sacrificed so many things to achieve that goal. I believe that those two years have led me here to the Netherlands. Of course, I am grateful for all the people who has supported me and for Grampus for letting me go.
――One year after the U-17 World Cup, you earned your starting position at the beginning of the 2018 J1 season as a high school player. However, as the club strengthened the squad during the summer transfer window, you started to lose minutes on the field. What went through your mind?
Sugawara When I was named in the starting line-up, I felt like I have really achieved something. It really got me motivated to play well and earn myself a contract, which I eventually did, but playing football as a profession is not easy. Once I started to see my playing time diminish, I repeatedly agonised over it and went through a tough time where I kept asking myself "what do I need to do to play in the matches?" It was during that time when I took a look back on the video I had on my cell phone of the England match at the U-17 World Cup. It gave me a smack on the head and made me realise my goal to strive the world level. From that point on, I was able to train with a positive attitude, and even when I wasn't playing in matches, I trained extra hours and worked on my fitness to become a better player ahead of the U-20 World Cup.
――So in other words, although you struggled to earn minutes with Nagoya Grampus, you kept yourself motivated to change your life at the U-20 World Cup?
Sugawara That's correct. Among the players of the U-20 Japan National Team, I have always believed that I was the most committed player towards the World Cup, and I can confidently say that I have worked the most towards it. So, when the U-20 World Cup finally came, I was fully prepared and had a mindset to enjoy the moment. When we played Ecuador in our first match, I remember myself playing with great confidence and at the end of the match, I really wanted to continue playing. The entire experience allowed me to learn that even if you find yourself in a difficult time, once you can overcome that period, great things will be waiting for you. Of course, I prioritised the team's victory, but I was able to showcase my ability as a player throughout the tournament.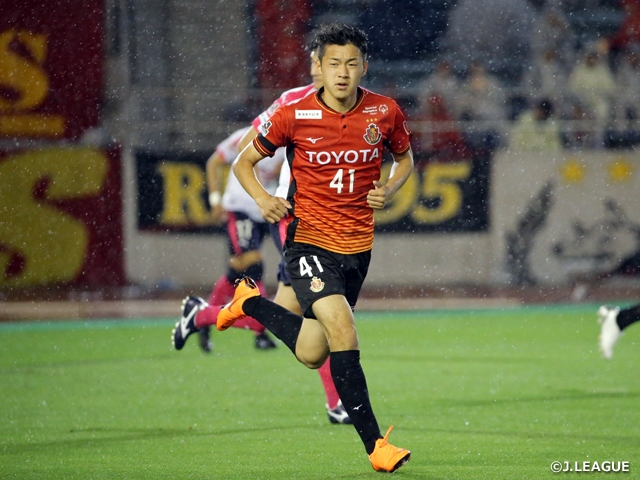 ――In reality, you showcased a superb performance at the U-20 World Cup. However, you committed a passing error in the final play of the match against Korea Republic at the round of 16, which led to the game winning goal for the opponent. How do you reflect on that play and how did you recover from it?
Sugawara That passing error was an unacceptable mistake and I feel so sorry for my teammates. However, looking back on the scene, I still believe that it wasn't a bad decision. That pass was intended to start a counterattack to score a goal. Therefore, I am not regretting my decision, but I just didn't have the sufficient techniques to make that pass. Of course, I was in shock and struggled to get over it for a while, but it gave me a sense of responsibility to learn from the mistake. That play gave me lots to think about, but I have since moved on and now I can consider it as a mistake committed while making a positive challenge.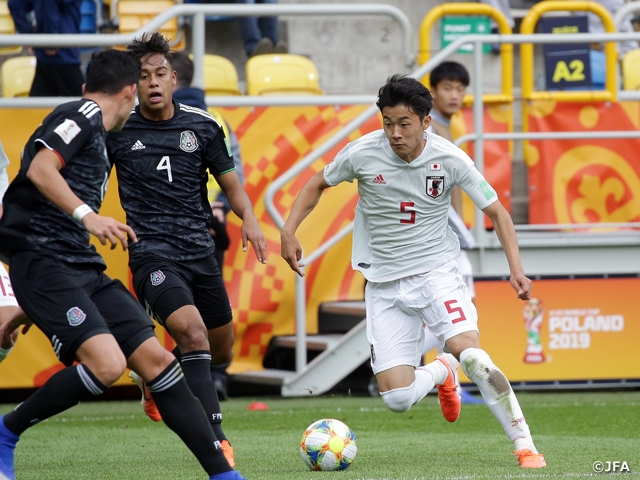 ――At this Brazil tour, you have been selected into the U-22 Japan National Team for the first time. What are your thoughts on the Tokyo Olympics?
Sugawara The Japan National Team is a special place for me, and I am honoured to be given the opportunities to play for the U-17 and U-20 teams at the World Cup. You gain extra energy when you represent your country. With the Olympics being hosted by our country, playing in this tournament was definitely a goal I have been striving for. I was feeling a bit nervous because I wasn't getting called up to this age category's national team, but I didn't want to get too worked up about it, so remained positive and believed that I would get my chance if I keep working hard towards it. Although I was able to get selected this time, it doesn't guarantee my spot for next time, so I will give my best efforts as if this is my last chance. I am confident that I have the strongest will to win the gold medal at the Tokyo Olympics and now that I am with the team, my feelings towards the Tokyo Olympics has grown even stronger.
――Despite being the youngest member of the team, you are committed to make the team?
Sugawara I strongly believe that age does not matter in football. In reality, the forward at AZ is a player younger than me. That tells me that your performance is everything once you step on the pitch, and that applies to everyone. That is why I hope to showcase everything I've got on the pitch and strive to earn positive results.
(This interview was conducted in early October 2019)
Olympic Football Tournament Tokyo 2020
Tournament Dates: Wed. 22 July - Sat. 8 August 2020