NEWS
U-22 Japan National Team drew against U-22 Uzbekistan National Team 0-0
14 December 2015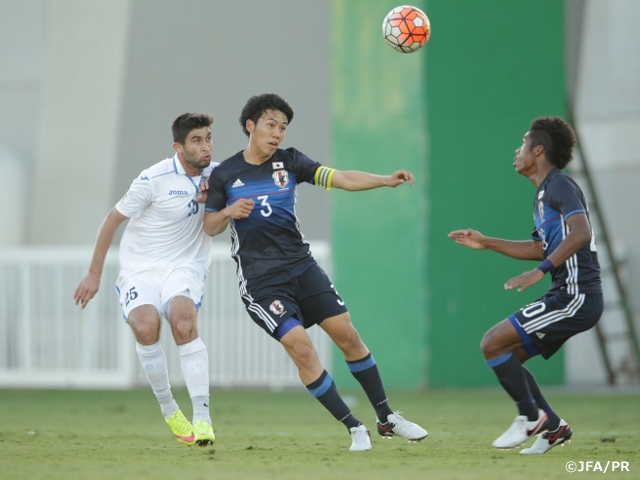 International Friendly Match vs U-22 Uzbekistan National Team
2015-12-13 (Sun.) - 16:30 Playing Time: 90min (45min.×2)
Theyab Awana Stadium (Dubai/UAE)
U-22 Japan National Team 0-0 (0-0, 0-0) U-22 Uzbekistan National Team
Line-ups
GK: NAKAMURA Kosuke
DF: MATSUBARA Ken, KAMEKAWA Masashi, IWANAMI Takuya, UEDA Naomichi
MF: OHSHIMA Ryota, ENDO Wataru, YAJIMA Shinya, NAKAJIMA Shoya
FW: SUZUKI Musashi, ONAIWU Ado
Substitutes
GK: KUSHIBIKI Masatoshi, SUGIMOTO Daichi
DF: YAMANAKA Ryosuke, NARA Tatsuki, NISHINO Takaharu, MUROYA Sei, NAKATANI Shinnosuke
MF: HARAKAWA Riki, AKINO Hiroki, MAEDA Naoki, SEKINE Takahiro, IDEGUCHI Yosuke
FW: ARANO Takuma, KANAMORI Takeshi, KAMADA Daichi
HT ONAIWU Ado → ARANO Takuma
HT MATSUBARA Ken → MUROYA Sei
59' NAKAMURA Kosuke → KUSHIBIKI Masatoshi
64' OHSHIMA Ryota → IDEGUCHI Yosuke
64' NAKAJIMA Shoya → KAMADA Daichi
81' YAJIMA Shinya → SEKINE Takahiro
81' SUZUKI Musashi → MAEDA Naoki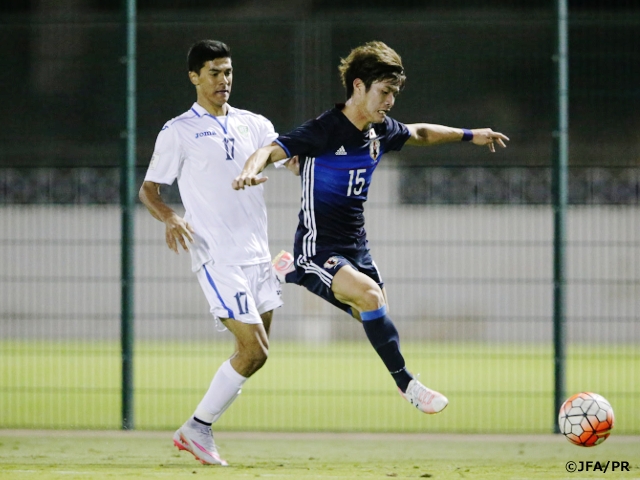 Match Report
13 December, U-22 Japan National Team had a friendly against U-22 Uzbekistan National Team and it was the last activity of the team's training camp in Qatar and UAE.
Before the match, the team's Coach TEGURAMORI said to the players, "you have to show how much you could do in this camp. This match will not be broadcast in Japan and that means we have to win the match and tell Japanese people that we won; let's take the victory home with us." In fact, Uzbek players are physically stronger but Japan's players challenged them aggressively.
Japan employed a 4-4-2 formation and tried to take control from the beginning by competing intensively against Uzbekistan. In the 23rd minute, OHSHIMA Ryota passed the ball to ONAIWU Ado and SUZUKI Musashi made a shot but it was blocked by the opponent's goalkeeper. Both teams didn't give any chances throughout the first half and it ended 0-0.
Japan kicked off the second half with high motivation to get the victory. In the 47th minute, MUROYA Sei moved the ball to the centre and Suzuki hit the shot, but it went slightly out off the post. In the 64th minute, YAJIMA Shinya got the ball from Suzuki and smashed it towards the goal but it couldn't find the net again. They kept playing very intensively against each other but the score line didn't change. The friendly ended 0-0.
The camp ended productively with good preparation for the AFC U-23 Championship Qatar 2016, which is also Rio de Janeiro Olympics Asian Qualifiers Final.
The next activity as an U-22 Japan National Team will be the training camp on Ishigaki Island from 22 December.
Coach and Players' Comments
TEGURAMORI Makoto, Coach
Uzbekistan National Team was skillful and powerful; it is what we expected. We have had very good training in intensive offence moments and in defence. To some degree, we could break through them even when we were under pressure. The players also broke through Uzbekistan defence moving the ball well especially at quieter moments.
However, like the match against Korea in the Asian Games, they tended to have too much tension in the finishing moments when you have to break intensive defence. For this type of opponent, it is important for us to find the best moment to make a calm but still accurate pass amongst ourselves. For example, when the players spread the ball wide to use the wings, they could go deeper but then they tended to take time making some combination plays. This is one thing to improve. We need to break through more simply otherwise opponent players can be familiar with defending against us.
I think the player's mentality has changed quite a lot. They played tough with fair respect to any opponent team. In that sense, now they have stronger mentality to play consistently. It is frustrating for us that we couldn't beat them, but at least we have got even stronger and decisive mentality that we -including myself- really have to play tough as a squad team.
It will be a really tough month for us. But if the players can keep the strong mentality, they can change themselves and I am looking forward to this. They have challenged very well. If they keep this level, I believe that they can get a good result in the Rio de Janeiro Olympics Asian Qualifiers Final.
DF KAMEKAWA Masashi (Avispa Fukuoka)
Today I got to understand even deeper that we have to improve our accuracy and the quality of our finishing. As a player, improving crosses especially when we start to go up to attack, is the thing I need to do. For the qualifier final, we have to get united as a team and work very seriously with a sense of danger. I know that I am not a skillful player but I want to show my strengths in any intensive moments and in the amount of running I do.
MF ENDO Wataru (Shonan Bellmare)
At the beginning, the game seemed to be messy since both teams were competing to get the second balls or trying to treat the long balls better. We tried to make rhythm of our play by competing intensively at times. When we found that it became less messy, we could make a chance through a counter attack, we couldn't find the goal; this is our challenge now. In the second half, we found that the Uzbekistan players were a bit tired but we couldn't play with enough strength.
At that time, we should have had more power to create the chance to score. However, we could make chances throughout the match. We could keep clean sheets. There aren't just negative aspects and I would like to take some aspects as positive ones.
MF SEKINE Takahiro (Urawa Reds)
Utilising the space at the side wings and creating chances was my role when I came on as a substitute. How much I could maximise my mission in such a limited time was key and it is frustrating for me since the team could not score at all. In whichever way, I have to work well to contribute to the team. It has been a very good experience to face the qualifier final.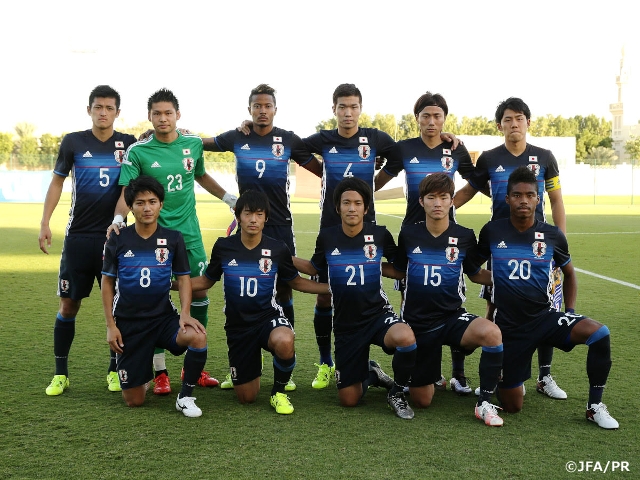 Schedule
Mon. 7 December
PM
Training
Tue. 8 December
AM
Training
Wed. 9 December
AM
Training
Thu. 10 December
0-0
International Friendly Match vs U-22 Yemen National Team
(@Grand Hamad Stadium)
Fri. 11 December
PM
Training
Sat. 12 December
AM
Training
Sun. 13 December
0-0
International Friendly Match vs U-22 Uzbekistan National Team
(@Thiyab Amana Stadium)