NEWS
U-19 Japan Women's National Team concludes USA Tour with 1 win and 1 loss
02 September 2019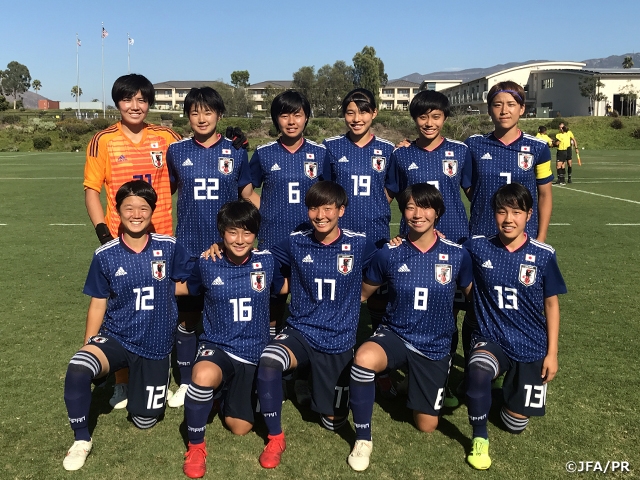 International Friendly Match vs U-19 USA Women's National Team
Sat. 30 August 2019 16:30 Match duration 90mins (45mins×2)
Chula Vista Elite Athlete Training Center (USA)
U-19 Japan Women's National Team 0-1 (0-1, 0-0) U-19 USA Women's National Team
Scores
12' goal against (U-19 USA Women's National Team)
Starting Line-up
GK: OHBA Shu
DF: FUNAKI Nodoka, TABATA Haruna, TAKAHASHI Hana, MATSUDA Shino
MF: MIURA Haruka, MORITA Misaki, KANNO Oto, ITO Sara
FW: HIROSAWA Maho, YAMAMOTO Yuzuki
Reserves
GK: TANAKA Momoko, INO Maya
DF: HARA Mina, GOTO Wakaba, TOMIOKA Chihiro, NAGAE Ibuki
MF: WATANABE Mai, MIZUNO Fukina, NAKAO Momo
FW: KOJIMA Seira, TAKEDA Nanako, OSAWA Haruka
Substitutions
36' HIROSAWA Maho → KOJIMA Seira
36' MIURA Haruka → WATANABE Mai
HT OHBA Shu → INO Maya
58' KOJIMA Seira → OSAWA Haruka
58' WATANABE Mai → GOTO Wakaba
Match Report
Following their 2-1 victory over the U-19 USA Women's National Team in the first friendly match, the U-19 Japan Women's National Team made four changes to their starting line-up. The match saw early action, as the USA showcased great intensity to start off the match and captured the opening goal in the 12th minute. Japan came close to levelling the match in the 17th minute, when ITO Sara delivered a pass to HIROSAWA Maho, who sent a cross that allowed MORITA Misaki to strike a shot, but her attempt was denied by the goalkeeper.
The second half saw the Japanese side take control of the match but struggled to capitalise on their opportunities. In the 60th minute, OSAWA Haruka responded to a through ball delivered by Morita, but fell short from striking a shot. Desperately needing a goal, Japan created numbers of chances, but failed to convert them, as the match ended with a final score of 0-1. As a result, Japan concluded the USA tour with an even record of one win and one loss.
The U-19 Japan Women's National Team is scheduled to compete at the AFC U-19 Women's Championship at Thailand in October.
Players' Comments
GK #18 INO Maya (Nittaidai FIELDS Yokohama)
Compared to the first match, the USA changed their approach in defence, and we weren't able to make the adjustments against them. As a result, we allowed our opponents to utilise their speed and conceded many opportunities. Although we managed to create many chances in the second half, we failed to convert them and loss the match. Ahead of the AFC Championship, we must work on the tasks we saw during this tour and make the necessary adjustments to make the team better.
DF #7 TAKAHASHI Hana (Urawa Red Diamonds Ladies)
Following the first match, both teams made the adjustments before entering this match. In the first half, we struggled against the changes made by the USA and conceded the opening goal. It made us realise that we needed to be more flexible in order to make the adjustments on the field and respond to the changes more quickly. As the match progressed, we managed to take control of the match and create many chances. The fact that we were able to show our dominance was great, but we still had to convert our chances to score goals. Ahead of the Asian qualifiers, we must all work hard to strive for a higher level as an individual and as a team.
Schedule
| | | |
| --- | --- | --- |
| Sun. 25 - Tue. 27 August | AM/PM | Training |
| Wed. 28 August | 2-1 | International Friendly Match vs U-19 USA Women's National Team |
| Thu. 29 & Fri. 30 August | AM/PM | Training |
| Sat. 31 August | 0-1 | International Friendly Match vs U-19 USA Women's National Team |
*Local time
*The schedule is subject to change due to the team condition, the weather, etc.
International Friendly Match - USA Tour
Dates: Sat. 24 August - Mon. 2 September