NEWS
U-19 Japan futsal squad wrap up final training of the year
09 December 2016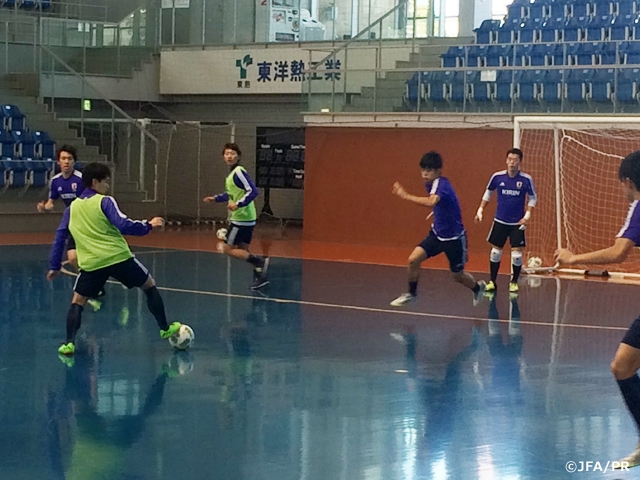 The U-19 Japan National Team short-listed squad, who are preparing for next May's AFC U-20 Futsal Championship, wrapped up their training camp in Nagoya, Aichi Prefecture on 8 December.
The national squad had a training match on the previous day against Nagoya Oceans, and before the practice session today they held a meeting in order to deepen their understanding of the common grounds to which they built this squad upon and the team tactics. Coach SUZUKI Ryuji used the video footage from the match and explained his team concept to the players.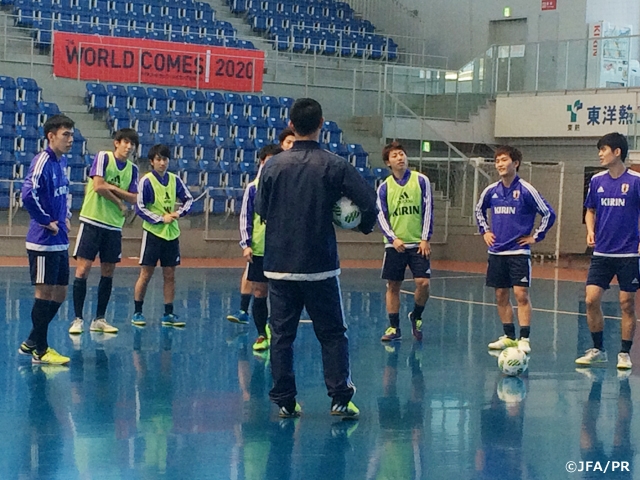 At the end of the practice, which lasted for about an hour and a half, the team played an intrasquad game. It was their fourth meeting going back to November, and through a series of these national-squad camps, their facial expressions changed depicting maturity both as individuals and as a team.
With this camp, the U-19 Japan squad, who have been practising towards the AFC U-20 Futsal Championship, finished all their national team activities of the year.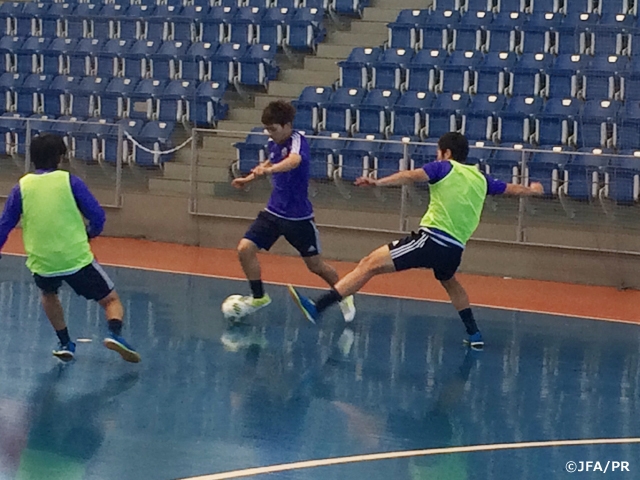 Coach's and Players' Comments
SUZUKI Ryuji, Coach
After we had a Thailand trip in August, we held four training camps through November and December. Leading up to the next May's AFC U-20 Futsal Championship, we called up new members and tried to install our team concept both in offence and defence from the beginning of these camps. We weren't able to post a win in a series of training matches, but we saw improvements in our players and our team as a whole. Also, we found clear tasks. We have to work on those before the international tournament. We appreciate those who supported these wonderful training camps and the teams who participated in the training matches.
INANO Shin (BARDRAL URAYASU SEGUNDO)
Going through a series of training camps, and as this was our final one of the year, I feel that we have deepened our understanding of the team concept, both myself personally and the team as a whole. I am not going to forget about this concept and keep working on it to improve myself further when I get back to my team. Hopefully, I will get called up again to the national squad.
MATSUBARA Tomohiro (NAGOYA OCEANS SATELLITE)
We held our final practice of the year and played an intrasquad game. As we spent more time together, we had a better understanding of each other. Being reminded that I am a member of the national squad, I will work hard and get reselected for the team participating in the AFC U-20 Futsal Championship.
OKABE Naoki (FOOTBOZE FUTSAL U-18)
In today's practice, we were taught how we attack with four men after goal clearances. During an intrasquad game, we checked on our defensive plays at set plays, which we thought it was one of our weaknesses found during the training match yesterday. I think that we were able to execute well our team tactics that we have learned throughout our training camps in the intrasquad game today. We don't have much time left until next year's AFC U-20 Futsal Championship. It will be positive for the team if each player work on his own issues and make the necessary preparation for the international competition.
Schedule
Mon. 5 December
PM
Training
Tue. 6 December
1-3
16:00
Training Match vs NAGOYA OCEANS SATELLITE
(TEVA OCEAN ARENA) * Open to the public
Training (TEVA OCEAN ARENA) * Open to the public
Wed. 7 December
1-6
17:00
Training Match vs NAGOYA OCEANS
(TEVA OCEAN ARENA) * Open to the public
Training (TEVA OCEAN ARENA) * Open to the public
Thu. 8 December
AM
Training
*The schedule is subject to change due to the team condition, the weather, etc.