NEWS
U-19 Japan Futsal squad kick off final training camp of this year
06 December 2016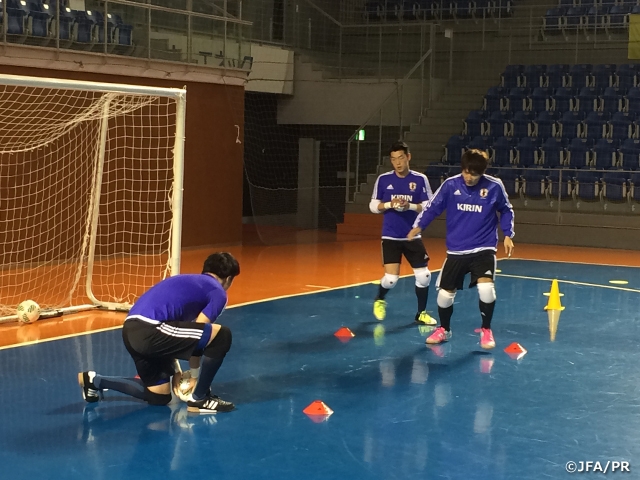 In preparation for the AFC U-20 Futsal Championship next May, the U-19 Japan National U-19 Futsal Team kicked off their training camp on Tuesday 6 December in Nagoya, Aichi Prefecture. This will be their final meeting this year.
Starting from the 8th of November, the team held three training camps. Despite the brevity of each gathering, it still has been an important occasion for the players to deepen their understanding of team tactics and coordinate their plays.
This will be their fourth training camp, and we are steadily observing improvements in the team, while the players are actively communicating with one another to understand each other better.
In training today, the team added new training programme basing on what they have already worked on so far. The practice session lasted for approximately two hours. In the meeting led by coach SUZUKI Ryuji, the team reflected on the previous training matches.
On the second day of their camp (6 December), the team are scheduled to play a test match against NAGOYA OCEANS SATELLITE from 10:30 a.m. at TEVA OCEAN ARENA.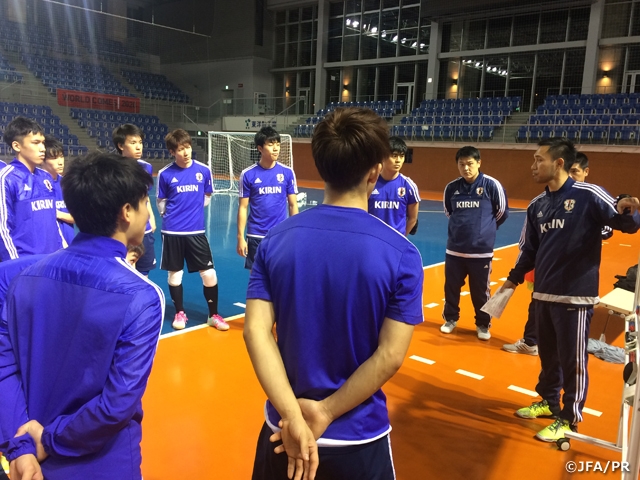 Players' Comments
ITO Keita (PESCADOLA MACHIDA ASPIRANTE)
(On this day's training) We further developed our training programme based on the 'concept' we have been working on in the previous camps. Some of them were similar to what we do at my club, and I was able to deepen my understanding of game tactics. We still have room for improvement, but I think we made progress in both offence and defence. In tomorrow's training match, I would like to put up a meaningful game for both the team and myself, while taking responsibility and pride. Since we've lost to the same opponents twice, this time we will be seeking to win the match.
KONDO Keisuke (NAGOYA OCEANS SATELLITE)
(On this day's training) We have been working on our offensive pattern, so even when we made slightly different moves, we were still able to think on our own and adjust quickly. This is a positive takeaway from recent training. In 3-on-3 exercises, we were able to check on the things that we have already practiced so far. We'd like to showcase the same in the upcoming matches. The team also share a common understanding in 'clearance of a ball' and 'kick-in patterns'. In tomorrow's game against Nagoya Oceans Satellite, we would go for a win since we've gotten beaten twice in the past weeks.
OKADA Shokei (NAGOYA OCEANS SATELLITE)
We added new things to what we've have been working on in recent weeks. While our collectivity has gotten better, I think we are going to have more offensive variation by adding new moves. We would like to take advantage of them in tomorrow's game and improve our quality, while taking better communication.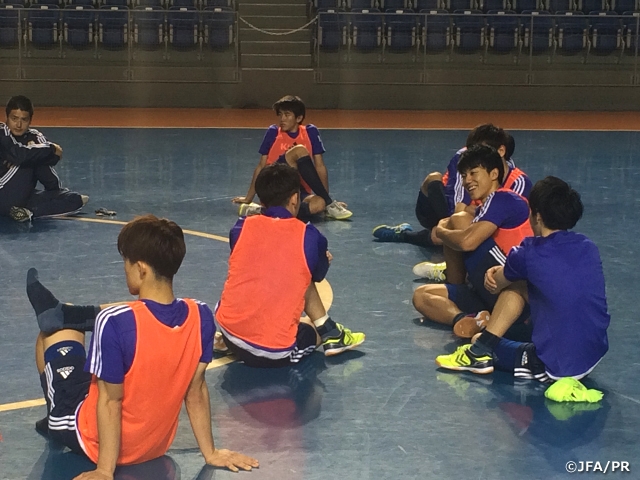 Schedule
Mon. 5 December
PM
Training
Tue. 6 December
10:00
16:00
Training Match vs NAGOYA OCEANS SATELLITE
(TEVA OCEAN ARENA) * Open to the public
Training (TEVA OCEAN ARENA) * Open to the public
Wed. 7 December
10:00
17:00
Training Match vs NAGOYA OCEANS
(TEVA OCEAN ARENA) * Open to the public
Training (TEVA OCEAN ARENA) * Open to the public
Thu. 8 December
AM
Training
*The schedule is subject to change due to the team condition, the weather, etc.