NEWS
The U-18 Japan Women's National Team short-listed squad take on Kokoku High School in training match
14 September 2016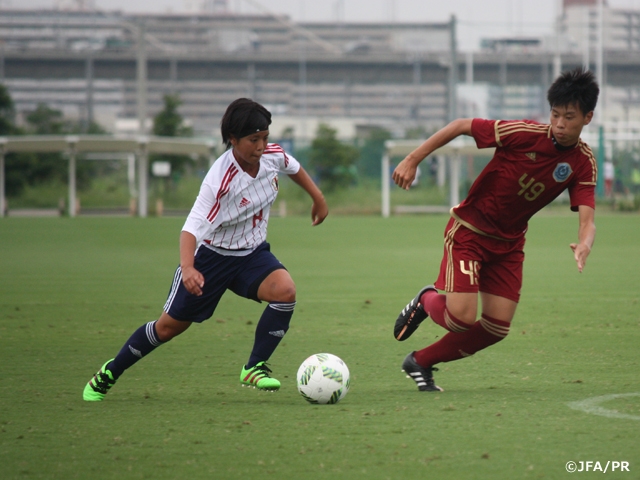 Training Match vs Kokoku High School
2016-9-13(Tue.) Kick off 14:30 Playing Time: 90min. (30min.×3)
J-GREEN Sakai(Sakai, Osaka)
U-18 Japan Women's National Team short-listed squad 0-9 (0-3, 0-4, 0-2)Kokoku High School
Scores
12' goal against(Kokoku High School)
17' goal against(Kokoku High School)
25' goal against(Kokoku High School)
35' goal against(Kokoku High School)
37' goal against(Kokoku High School)
44' goal against(Kokoku High School)
50' goal against(Kokoku High School)
71' goal against(Kokoku High School)
73' goal against(Kokoku High School)
1st Game
GK:FUKUDA Mai
DF:TSUNEDA Nana, NAGASHIMA Reina , MIYAGAWA Asato, KUMAGAI Haruna
MF:YAMADA Niina, HIRATSUKA Maki, HIRATA Mai, MURAKAMI Maho
FW:MEHARA Rina, KONO Fuka
2nd Game
GK:STAMBAUGH Hannah
DF:MIYAGAWA Asato, NAGASHIMA Reina, ISHIDA Nanami, HIRATA Mai
MF:KIZAKI Aoi, FUKUDA Yui, CHINO Nanami, KITAKATA Sae
FW:OZAWA Hiro, TAMAZAKURA Kotono
3rd Game
GK:NISHINAKA Maho
DF:TSUNEDA Nana, ISHIDA Nanami, HIRATSUKA Maki, KUMAGAI Haruna
MF:KIZAKI Aoi, FUKUDA Yui, HIRATA Mai, MURAKAMI Maho
FW:SHIMABUKURO Namie, OZAWA Hiro
Substitutions
53' HIRATA Mai → SHIMABUKURO Namie
78' TSUNEDA Nana → CHINO Nanami
78' OZAWA Hiro → MEHARA Rina
78' MURAKAMI Maho→ TAMAZAKURA Kotono
78' HIRATA Mai → YAMADA Niina
78' KIZAKI Aoi → KITAKATA Sae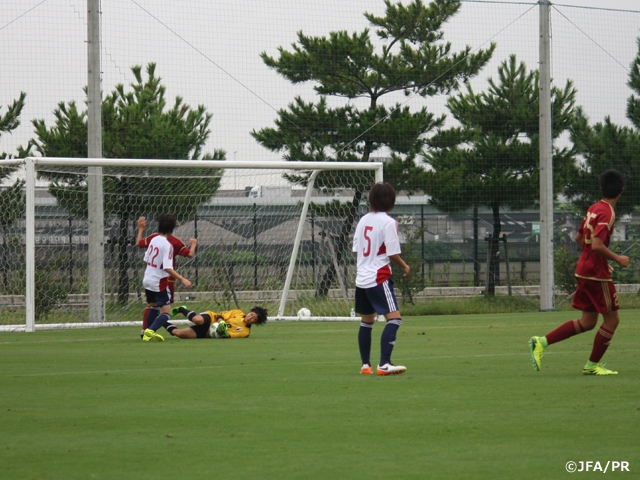 Match Report
The U-18 Japan Women's National Team short-listed squad played three 30-minute games against an Osaka Prefecture powerhouse Kokoku High School on 13 September.
With thick clouds covering the sky, the training match kicked off at 14:30. The Japanese team struggled against Kokoku's boys, who had better speed. In the 11th minute, Japan's defenders allowed the opponent to get behind them and become one-on-one with the Japan goalkeeper FUKUDA Mai, but they got away from it with her great save. But moments later, the opponent headed home from a corner to take a lead. Japan allowed subsequent goals in the 17th and 25th minutes and lost 0-3 in the first game.
Japan entered the second game making thorough member changes. After allowing a goal from a cross from the right flank in the 35th minute, making the scoreline 0-4, they conceded goals in the 37th, 44th, 50th minutes to give the opponents a 7-0 overall lead.
In the third game, trying to get one goal on the scoreboard, Japan, with a concept of playing collectively, put pressure from the front, but allowed Kokoku to score in the 71st and 73rd minutes and stretch their lead to 9-0. In the 85th minute, KONO Fuka, receiving a pass from MEHARA Rina, attempted to loop a shot beyond the reach of the opponents' goalkeeper, but it was denied. The game went scoreless in the last quarter, and Kokoku wound up winning the match with an aggregate score of 9-0.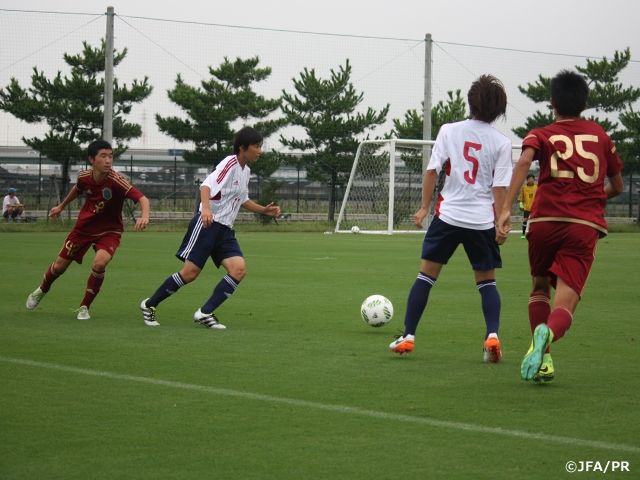 Coach's Comment
KUSUNOSE Naoki, Coach
This is a training camp for Japan Women's U-18 Team short-listed squad with the AFC U-19 Women's Championship in sight. We set our theme to share the same vision regarding the standard needed for us to win in Asia. During the four-day training, we mainly worked on the quality of passing and the intensity of approaching.
In the game we played against high school boys, we were forced to become passive against their speed and strengths, which we normally don't experience, but we eventually got used to it (in the second game). We were able to create some offensive chances occasionally. Yet our 'first defence' approach wasn't good enough and we weren't able to pressure up front or surround the opponents as well as we would like to. In order to win in Asia, we are going to have to improve the quality of our game.
Schedule
Sun. 11 September
PM
Training
Mon. 12 September
AM/PM
Training
Tue. 13 September
AM
0-9
Training
Training Match
vs Kokoku High School (J-GREEN Sakai)
Wed. 14 September
AM
Training
*The schedule is subject to change due to the team condition, the weather, etc.