NEWS
U-18 Japan Women's National Team short-listed squad begin activity in Osaka
13 September 2016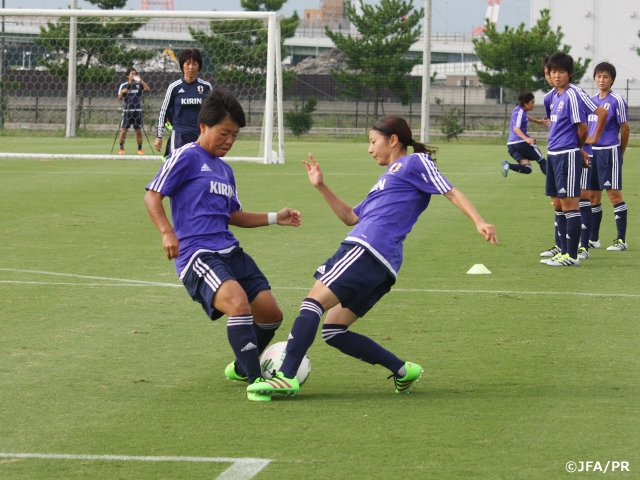 U-18 Japan Women's National Team short-listed squad assembled in Osaka and began training on Sunday 11 September. This is a team aiming to play in the AFC U-19 Women's Championship 2017.
With several players playing in the Empress's Cup and All Japan High School Women's Football Championships qualifiers, only fourteen players of the whole squad joined the training session on the day.
As there were many new faces to meet each other, the team began training with an icebreaking activity. Then, they worked on passing and controlling drills as well as possession drills before calling it a day after 4-on-4 training with goalkeepers.
The squad began practice with a physical test on Monday 12. The test included bounding, 50-meter dash, 10-meter shuttle run and Yo-Yo test that measures stamina. In the afternoon, they first had trunk training, which is important not to create physical strength but to be made use of in every aspect of football. After 1-on-1, 2-on-2 and 3-on-3 training, they had more practical training including a 10-on-10 intra-squad scrimmage.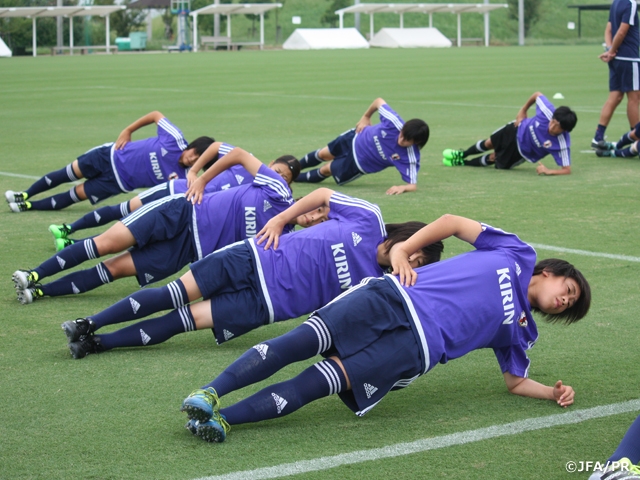 Their category consists mostly of high school students. After dinner, a study time was allocated for the players, who aim to excel in both academics and sports.
Players' Comments
GK FUKUDA Mai (Fujieda Junshin High School)
Today, we goalkeepers practised shot-stopping drills. Shot-stopping skills are fundamental for goalkeepers, but I wasn't good enough. I was able to find what to improve like body direction, moving speed and jumping timing. I will try to get and learn more out of the training in the remaining two days.
FW OZAWA Hiro (JEF UNITED ICHIHARA CHIBA LADIES U-18)
In the afternoon training, we worked on passing and controlling drills. I felt I needed to improve quality of how to use my feet in passing, passing speed and first touches. I want to finish this training camp after improving as many things as possible.
MF HIRATA Mai (JFA academy FUKUSHIMA)
Today, I got to know more names and faces of teammates and their style of play more than yesterday, so we got to be well linked when passing the ball. In yesterday's meeting, I learned that we need to understand the meaning of the words "improving quality" in a more concrete way. So during the training, I focused on a location where to first control the ball. By changing the place to the ball on the first touch depending on the specific purposes, I felt more comfortable to play and got to easily know my teammates' moves. I will try to focus on quality in this camp and learn from the strength of my teammates to take it into my skillset.
FW MEHARA Rina (Hinomoto Gakuen Senior High School)
Yesterday, we had a lecture under a theme of "Let's live your daily life by the world standard." In terms of football, I made easy mistakes and off the pitch, I was slow when doing something. I'm not good enough to be "the world standard." But it's not too late, and we've got to have a higher aspiration so as to change ourselves. I was able to rethink about my level and where I stand at this point now. I will make efforts to be a player who can boost up the current national team players.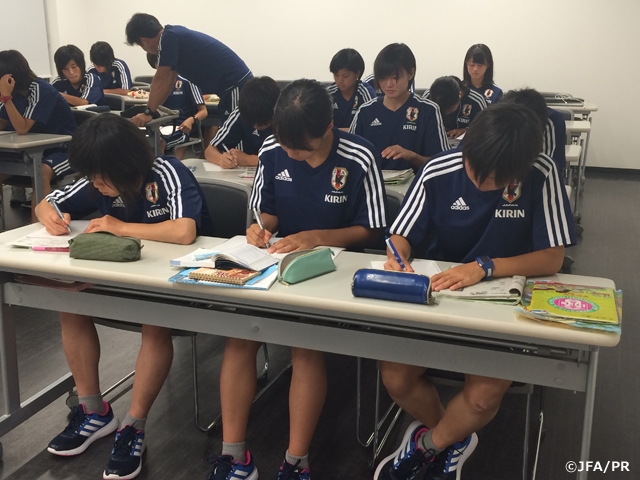 Schedule
Sun. 11 September
PM
Training
Mon. 12 September
AM/PM
Training
Tue. 13 September
AM
14:30
Training
Training Match
vs Kokoku High School (J-GREEN Sakai)
Wed. 14 September
AM
Training
*The schedule is subject to change due to the team condition, the weather, etc.