NEWS
U-18 Japan National Team win final match against Slovakia to finish in 2nd place at the Copa del Atlantico
01 February 2020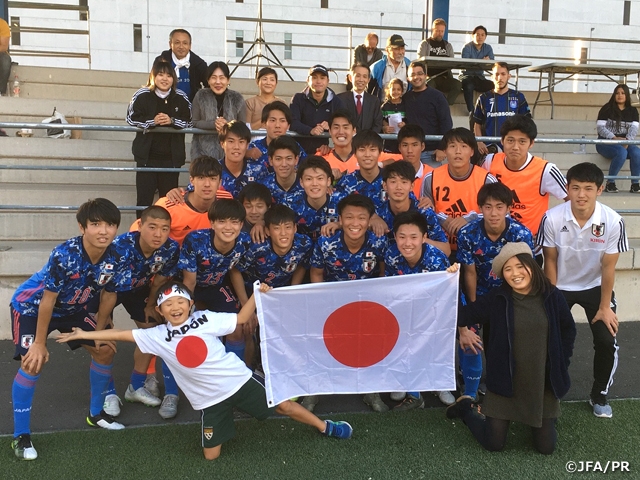 U-19 International Tournament "Copa del Atlantico"
vs U-18 Slovakia National Team
Fri. 31 January 2020 16:00 (local time) Match duration 90mins (45mins×2)
Anexo Estadio Gran Canari (Canary Islands, Spain)
U-18 Japan National Team 1-0 (1-0, 0-0) U-18 Slovakia National Team
Scores
10' SAKO Maaya (U-18 Japan National Team)
Starting Line-up
GK: SASAKI Masato
DF: TOYAMA Haruki, MURAKAMI Yosuke, SAKO Maaya, KAMIHASHI Ryota
MF: TSUKUI Takumi, FUJII Kaito, YAMAUCHI Kakeru, NARUOKA Hikaru
FW: NAKANO Keita, SUGIURA Rikito
Reserves
GK: HIGASHI John
DF: TANABE Shuto, FUJIWARA Yudai, OMORI Rio, NAKANO Shinya
MF: TANAKA Katsuyuki, MITO Shunsuke
FW: KOMI Yota, CHIBA Kanta
Substitutions
HT MURAKAMI Yosuke → OMORI Rio
HT KAMIHASHI Ryota → NAKANO Shinya
58' NAKANO Keita → MITO Shunsuke
58' SUGIURA Rikito → CHIBA Kanta
70' YAMAUCHI Kakeru → TANAKA Katsuyuki
Match Report
On Friday 31 January, the U-18 Japan National Team faced the U-18 Slovakia National Team in their third match of the Copa del Atlantico, where they concluded the tournament with a 1-0 victory.
After winning the first match against Mexico, the Japanese side was dominated by the Spanish side in their second match. Slovakia came off a similar record, as they lost their match against Spain, while winning a close match against Mexico in their second match.
The match started with both sides showing great intensity. While Slovakia applied aggressive pressure from the early minutes, Japan also showcased their aggressiveness in response. The opening goal came in the 10th minute, when a loose ball following a corner kick was picked up by TSUKUI Takumi, who delivered a cross towards the far side. The cross was met by the team captain SAKO Maaya, who struck a towering header to give Japan the lead.
With the match entering halftime with a 1-0 Japanese lead, Slovakia started the second half by showing great aggression to level the match. The Slovak players effectively utilised the width of the field to deliver early crosses to threaten the Japanese goal. A close opportunity was created in the 50th minute, when their cross was met by their striker, but the header fell short from hitting the target. As the match progressed, Japan gradually regained their composure to pick up their pace in offence. In the 59th minute, Tsukui showcased a superb individual effort to strike a shot, but his attempt was saved by the goalkeeper. With the Slovak players starting to show signs of fatigue at the end of the match, Japan took advantage of the situation to apply more pressure. Japan penetrated the right flank to create numbers of close opportunities, but their efforts fell short from scoring the goal. After both sides showcased an intense and heated battle until the final whistle, Japan took down their final match of the tournament 1-0, to finish as the runners-up for the third consecutive years.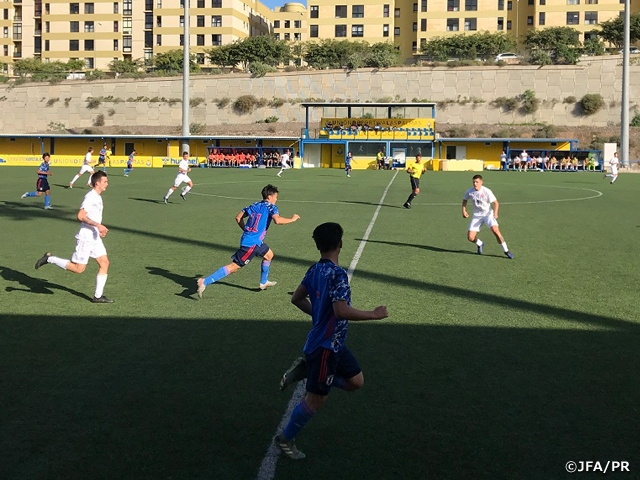 After finishing as the runners-up in back-to-back years, Japan entered this year's tournament with a strong intention to claim the title, but they were dominated by the host nation Spain. This tournament has certainly allowed the players to realise where they stand at the world level and what it takes to reach the level of the top tier teams of the world. The U-18 Japan National Team will now hold a domestic training camp in March, followed by a tournament held in Slovakia in May.
Coach and Players' Comments
KAGEYAMA Masanaga, Coach
This was our first tournament with this U-18 Japan National Team. Many of these players have participated in last year's FIFA U-17 World Cup Brazil, and we want them to gain as many international match experiences as possible ahead of this fall's AFC U-19 Championship. After winning our first match against Mexico 1-0, we faced the Spanish side, who we had no chance against last year. I personally was looking forward for this match, but it was almost like watching a replay from last year, as we were once again dominated by our opponent. We entered the match with the intention to stay aggressive, even if we can't possess the ball. We also wanted to keep a high intensity and showcase a persistent effort to compete for the ball. However, our opponent had the upper-hand in every aspect and completely lost the match 0-2. The players who participated in this tournament last year utilised the experience they gained from their loss against Spain as motivation to work hard and earn a win against the Spanish side in September. I hope this year's players will do the same and feed off of this experience to strive for a higher level as a player.
GK #1 SASAKI Masato (Kashiwa Reysol U-18)
We faced a very strong Slovak side who showed great physical strengths, and it was great to our team keep a clean sheet against such opponent. However, our defence lacked communication and allowed our opponent to create close chances, so we must do a better job in communicating and coaching each other on the pitch. If I can deliver better feeds from the goalkeeper position, our offence can create more chances, so once I return to my club, I will work hard on my goal kicks and build-ups plays.
DF #5 SAKO Maaya (Tokyo Verdy Youth)
This was our third match in four days, and with this being our first match since suffering a loss to Spain, I am glad that we were able to put up a great fight to win this match. However, we failed to extend our lead while we had the chance, and we also allowed our opponent to take control of the match for a long stint, so we saw plenty of room for improvements. The experience we gained at this tournament has allowed us to realise the huge gap between the world and ourselves in terms of fundamental techniques. We hope to utilise this experience as a motivation to work hard and reach the world level. We are grateful to be given the opportunity to play under a wonderful environment like this.
MF #8 MITO Shunsuke (JFA Academy Fukushima U18)
This match against Slovakia was our final match at this Spain tour. We entered this match with the intention to bounce back from the devastating loss we suffered against Spain. Although we were able to win the match 1-0, we missed many opportunities to score more goals, while conceding many chances to our opponent. We saw plenty of room for improvements and we also felt the huge gap between the world and ourselves. In our second match against Spain, we were completely dominated by the techniques and strengths of the Spanish players. The overall quality of each of their plays were much superior than ours. It was very disappointing to see this gap, but it also made me excited. I am now more motivated to work hard, so once I return to Japan, I will use this experience to improve myself at a daily basis.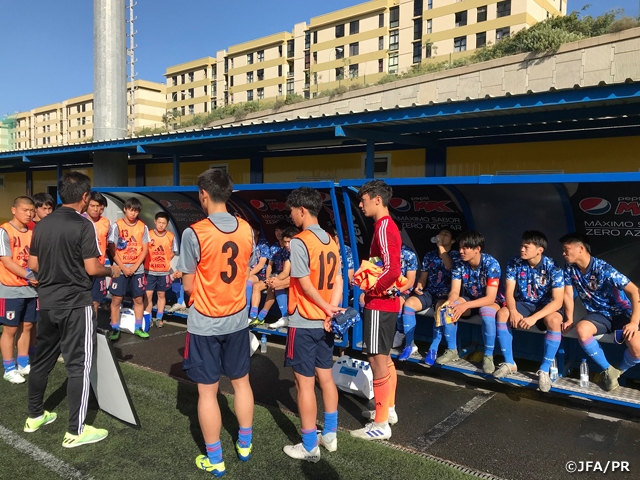 Schedule
U-19 International Tournament "Copa del Atlantico"
Tue. 28 January
1-0
1st Match vs U-18 Mexico National Team
(Municipal de Maspalomas)
Wed. 29 January
0-2
2nd Match vs U-18 Spain National Team
(Anex Gran Canaria Stadium)
Thu. 30 January
AM
Training
Fri. 31 January
1-0
3rd Match vs U-18 Slovakia National Team
(Anex Gran Canaria Stadium)
*Local time listed.
*The schedule is subject to change due to the team condition, the weather, etc.
U-19 International Tournament "Copa del Atlantico"
Tournament Dates: Tue. 28 - Fri. 31 January 2020
Tournament Venue: Municipal de Maspalomas, Anex Gran Canaria Stadium/Spain