NEWS
U-18 Japan National Team lose to Spain at the Copa del Atlantico
30 January 2020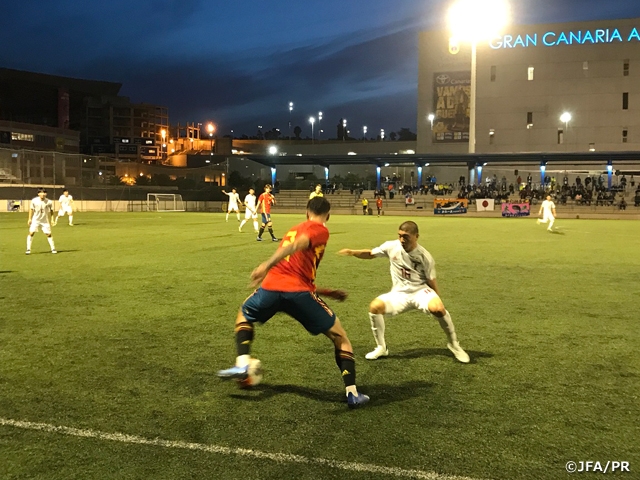 U-19 International Tournament "Copa del Atlantico"
vs U-18 Spain National Team
Wed. 29 January 2020 18:30 (local time) Match duration 90mins (45mins×2)
Anex Gran Canaria Stadium (Canary Islands, Spain)
U-18 Japan National Team 0-2 (0-1, 0-1) U-18 Spain National Team
Scores
10' goal against (U-18 Spain National Team)
60' goal against (U-18 Spain National Team)
Starting Line-up
GK: SASAKI Masato
DF: TANABE Shuto, FUJIWARA Yudai, SAKO Maaya, NAKANO Shinya
MF: TANAKA Katsuyuki, NARUOKA Hikaru, TOYAMA Haruki, MITO Shunsuke
FW: TSUKUI Takumi, KOMI Yota
Reserves
GK: HIGASHI John
DF: MURAKAMI Yosuke, KAMIHASHI Ryota, OMORI Rio
MF: YAMAUCHI Kakeru, NAKANO Keita, FUJII Kaito
FW: SUGIURA Rikito, CHIBA Kanta
Substitutions
HT TANABE Shuto → FUJII Kaito
HT KOMI Yota → CHIBA Kanta
61' TANAKA Katsuyuki → NAKANO Keita
Match Report
On Wednesday 29 January, the U-18 Japan National Team faced the local side, the U-18 Spain National Team, in their second match of the Copa del Atlantico.
With both teams coming off a victory in their first match, Japan and Spain showcased a heated battle from the early minutes of the first half. However, it was the local side who took the initiative, as the Spanish players showed great composure to keep the ball moving and effectively utilised the width of the field to break down the Japanese defence. Spain created close opportunities in the third and fifth minute, but both attempts were denied by the Japanese goalkeeper SASAKI Masato. Despite the superb saves displayed by their goalkeeper, Japan conceded the opening goal in the 10th minute from a play following a cross sent from the right side. Following this goal, Japan gradually picked up their pace and started to create more opportunities upfront. In the 26th minute, NAKANO Shinya received a pass from MITO Shunsuke before striking a shot that almost captured the target. Although Japan started to fight back, it was the Spanish side who continued to take control of the match, as the match entered halftime with Spain leading by a goal.
The second half saw Japan applying aggressive pressure to pick up the rhythm. However, the next goal came for the Spanish side, as they converted a freekick in the 60th minute to make it 2-0. In efforts to rally back, Japan's NARUOKA Hikaru broke through to face the goalkeeper one on one but failed to convert the opportunity. Spain utilised their substitutions to keep their lead intact. Japan's final effort came in the closing minutes of the match, as CHIBA Kanta struck a shot, but his attempt fell short from capturing the target. With Spain keeping a clean sheet, Japan lost the match 0-2. The U-18 Japan National Team will now face the U-18 Slovakia National Team on Friday 31 January.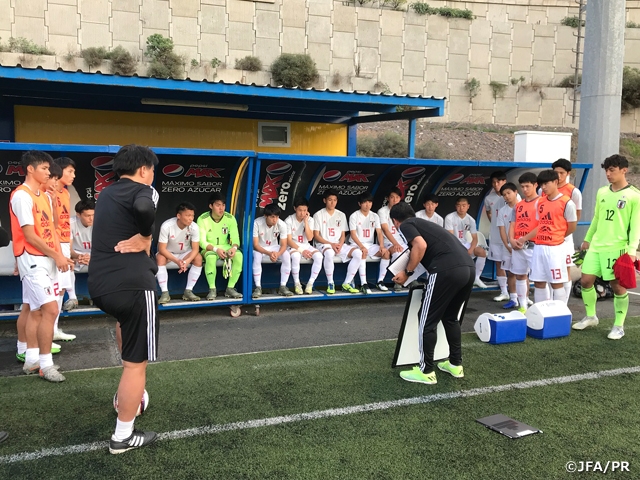 Players' Comments
DF #2 FUJIWARA Yudai (Aomori Yamada High School)
Spain had the upper hand in all aspects of today's match. It is not possible to overcome this gap in a day or two. We must work hard each day to get ourselves on the same level as the Spanish players. We have one more match to play, so we hope to work together as a team to finish this tour on a high note.
DF #4 NAKANO Shinya (Sagan Tosu U-18)
We felt the difference between our opponent in today's match. Our opponent showcased solid fundamental skills which disabled us from keeping possession of the ball. They also managed to convert their few opportunities, while we failed to convert ours. If Japan can heighten the level of our passing and ball touches like Spain, we can compete at the world level .We still have one more match at this tour, so we will reset our minds and give our utmost effort to win the match.
MF #10 NARUOKA Hikaru (Shimizu S-Pulse Youth)
We changed our line-up from our first match, and we focused on communicating with each other. This match made us realise the quality level of the Spanish players. They were able to connect the ball in a surreal pace to penetrate our defence line. We were overwhelmed by their play style at first, but we managed to get used to their speed as the match progressed. However, they were clearly the better team today. We hope to utilise the experience we gained through these two matches to finish this tour with a victory.
FW #11 TSUKUI Takumi (Yokohama F・Marinos Youth)
From this match against Spain, I was able to learn the skill level to compete at the world stage. We struggled to possess the ball against the Spanish players, and it was an overwhelming experience. We hope to utilise the experience we gained at this match to win our next match against Slovakia.
FW #16 KOMI Yota (Shohei High School)
I am very glad that I was selected into the squad of the Japan National Team. Spain showcased a very high level of skills and our ability of defence was tested in this match. We weren't able to win the fifty-fifty battles and that was an aspect we must improve on. Although we were able to create some close opportunities, we lacked the ability to convert those chances. We must reset our minds and try to showcase a better performance in our next match against Slovakia.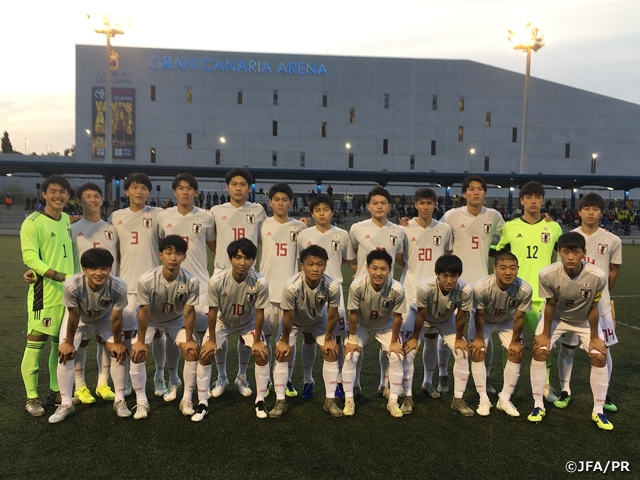 Schedule
U-19 International Tournament "Copa del Atlantico"
Tue. 28 January
1-0
1st Match vs U-18 Mexico National Team
(Municipal de Maspalomas)
Wed. 29 January
0-2
2nd Match vs U-18 Spain National Team
(Anex Gran Canaria Stadium)
Thu. 30 January
AM
Training
Fri. 31 January
16:00
3rd Match vs U-18 Slovakia National Team
(Anex Gran Canaria Stadium)
*Local time listed.
*The schedule is subject to change due to the team condition, the weather, etc.
U-19 International Tournament "Copa del Atlantico"
Tournament Dates: Tue. 28 - Fri. 31 January 2020
Tournament Venue: Municipal de Maspalomas, Anex Gran Canaria Stadium/Spain