NEWS
U-17 Japan National Team eliminated at the round of 16 with 0-2 loss to Mexico - FIFA U-17 World Cup Brazil 2019
07 November 2019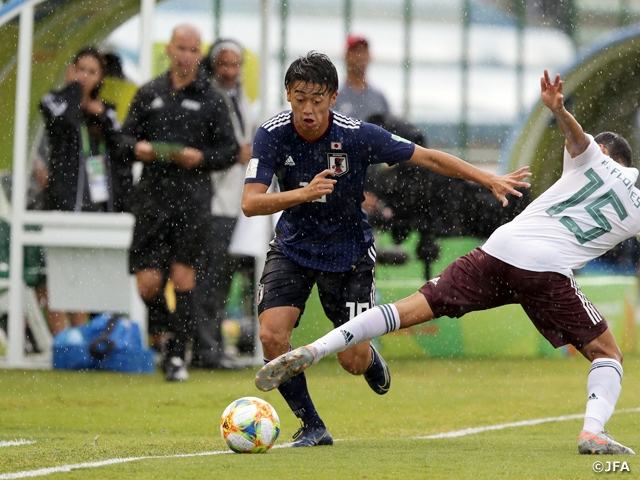 On Wednesday 6 November, the U-17 Japan National Team faced the U-17 Mexico National Team at the round of 16 of the FIFA U-17 World Cup Brazil 2019. After ending the first half scoreless, Japan conceded two goals in the second half to get eliminated from the tournament.
Following their 1-0 victory over Senegal in their third match of the group stage, Japan rotated four players from the starting line-up, as SUZUKI Zion (Urawa Reds Youth) started in goal with the defence line of HATA Taiga (Funabashi Municipal High School), SUZUKI Kaito (Jubilo Iwata U-18), MURAKAMI Yosuke (Omiya Ardija U18), and NAKANO Shinya (Sagan Tosu U-18). While YAMAUCHI Kakeru (Vissel Kobe U-18) and FUJITA Joel Chima (Tokyo Verdy Youth) played as the central midfielders, NARUOKA Hikaru (Shimizu S-Pulse Youth) and MITO Shunsuke (JFA Academy Fukushima U18) were placed in the flanks. It was NISHIKAWA Jun (Toko Gakuen High School) and WAKATSUKI Yamato (Kiryu Daiichi High School), who were named upfront as the two strikers.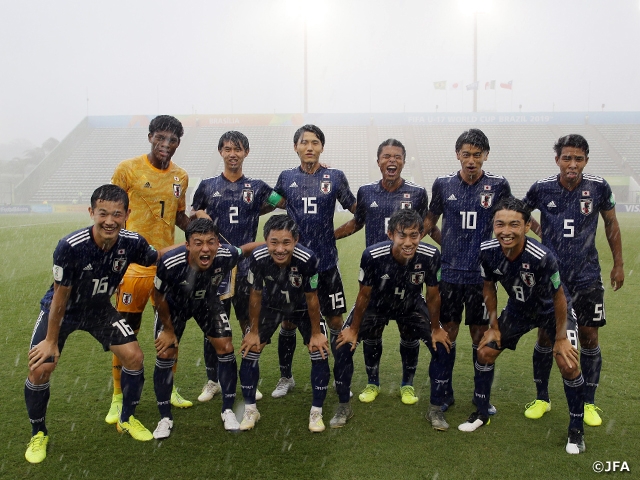 The match started with Mexico taking the initiative, as coach MORIYAMA Yoshiro later reflected, "We entered the match poorly and faced a tough stretch in the first 20 minutes." Japan struggled to move the ball effectively and it wasn't until the 32nd minute that Japan struck their first shot of the match. Their defence was shaky throughout the half, as their goalkeeper, Suzuki had to come up big in many occasions to keep the game scoreless.
Following their struggles in the first half, Japan tried to make the adjustments during halftime, but the team failed to pick up their pace in the second half as well. The opening goal was scored by Mexico in the 57th minute, when they converted an opportunity following a corner kick. Mexican striker, MUNOZ, scored the team's second goal, when he struck a superb shot that pierced the net in the 74th minute.
In efforts to rally back, Japan showcased great aggression towards the end of the match, as coach Moriyama later mentioned, "We showed great intensity and courage in the final 20 minutes of the match." However, the shots taken by Nishikawa and Wakatsuki fell short from finding the back of the net, as the match ended with a score of 0-2. The young Samurai's road to the pinnacle ended at the round of 16.
After the match, coach Moriyama shared his disappointment, "This is an unfortunate result, especially knowing that this team has the potential to make a deeper run." The Japanese general continued by stating, "I hope the players can feed off of this bitter experience and motivate themselves to become a better player. We have the AFC U-19 Championship coming up next year, followed by the U-20 World Cup in the year after. I hope to see these players back in the squad for those two tournaments."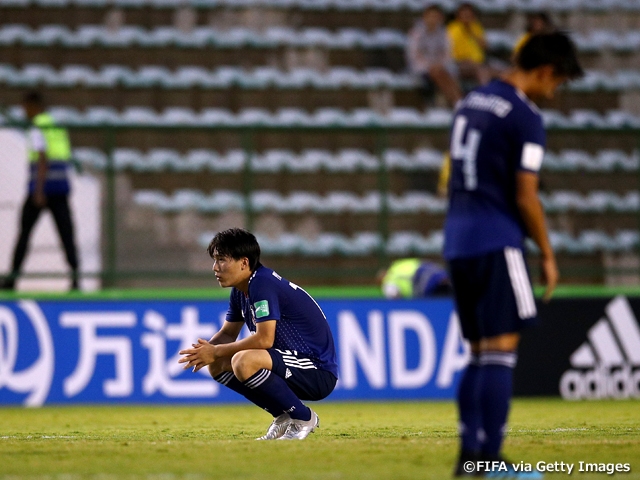 Coach and Players' Comments
MORIYAMA Yoshiro, Coach
Prior to the match, a sudden rainstorm and lightning struck the area, and it created a unique atmosphere surrounding this match. We weren't able to show our aggression towards the ball in defence, while we also couldn't create much opportunities in offence neither. We conceded the first goal from a set-play, which was an aspect we covered the most prior to this match. Our team lacked intensity and courage to threaten the opposing goal, and we didn't have the quality to convert our opportunities as well. In the recent years, I can feel that the Japanese players are developing at a faster pace. However, in order to reach a higher level, these players need to gain more experience at the world stage and set their standards to a higher level from their daily trainings.
GK #1 SUZUKI Zion (Urawa Reds Youth)
Watching our team from behind, it was obvious that we entered the match poorly today. In defence, we didn't apply enough pressure against the opposing players with the ball. The second goal we conceded came from a shot from distance, and that goal was very disappointing. I feel like I could have done a better job coaching my teammates, so that was a moment I regret a lot. However, throughout the tournament, I feel like there were certain aspects we managed to do well even at the world standards.
DF #2 SUZUKI Kaito (Jubilo Iwata U-18)
It was our responsibility as the centre halves to stop that second goal. We knew our opponent was going to utilise their number nine in their counterattack, but we ended up allowing him to face the goal easily. The hard work showcased by our opponent was enormous. They had the upper hand in terms of intensity and power. I will not forget this bitter experience and I will continue to strive to become a better player.
FW #9 WAKATSUKI Yamato (Kiryu Daiichi High School)
We weren't able to showcase our usual performance in the first half. We had to make the appropriate adjustments on the pitch, but we couldn't do so. I really wanted to win this match, and I am super disappointed for this result. It felt like my speed was effective even at the world level, so I was able to gain confidence through this tournament. I just need to be more creative in matches where I am being marked tightly by the opponents. Looking back on today's match, I wish I could have helped the team by creating more opportunities upfront and utilising my teammates in a more effective way.
Schedule
FIFA U-17 World Cup Brazil 2019
Sat. 26 October
AM
Training
Sun. 27 October
3-0
1st Group Stage Match
vs U-17 Netherlands National Team
(Estadio Klever Andrade, Vitoria)
Mon. 28 October
AM
Training
Tue. 29 October
PM
Training
Wed. 30 October
0-0
2nd Group Stage Match
vs U-17 USA National Team
(Estadio Klever Andrade, Vitoria)
Thu. 31 October
AM
Training
Fri. 1 November
PM
Training
Sat. 2 November
1-0
3rd Group Stage Match
vs U-17 Senegal National Team
(Estadio Klever Andrade, Vitoria)
Sun. 3 & Mon. 4 November
TBC
Training
Wed. 6 November
0-2
Round of 16
vs U-17 Mexico National Team
(Estadio Bezerrao, Goiania)
*JFA Technical Director SEKIZUKA Takashi will attend team from Sat. 26 October to Sun. 3 November.
*The schedule is subject to change due to the team condition, the weather, etc.
FIFA U-17 World Cup Brazil 2019
Tournament Duration: Sat. 26 October - Sun. 17 November 2019
Final Tournament:
Round of 16
Thu. 7 November 2019 4:30 (Japan time)
vs U-17 Mexico National Team