NEWS
U-17 Japan National Team will have first match on 8 October as FIFA U-17 World Cup India 2017 gets underway
07 October 2017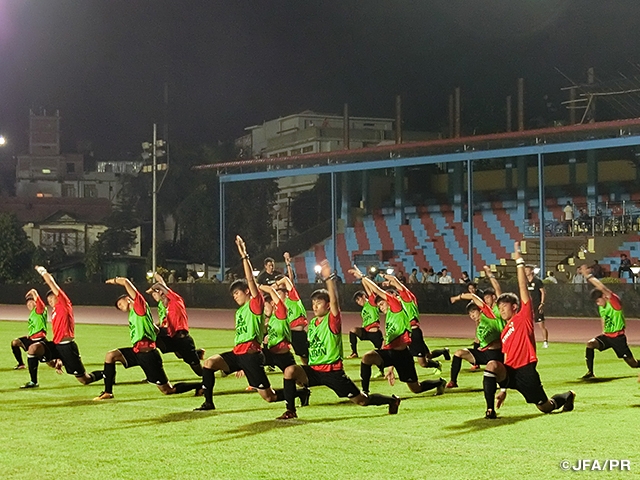 The FIFA U-17 World Cup India 2017 started on Friday 6 October, and the tournament opener between India and the United States and three other matches were played on the day. Over forty six thousand spectators came to see the India game which was held in the nation's capital New Deli, while another match in Mumbai drew over 25,000 fans, indicating that the local people showed strong interest in the youth tournament.
U-17 Japan National Team worked on circuit training and had 11-on-11 scrimmages on the 5th (Thu.), as they prepared for their first game against Honduras. Despite scorching heat with high humidity, the players went through intense training. However, they fully understood the meaning behind this practice and got through it by encouraging each other. "We will be in situations like this, so it was a good training for us," TSUBAKI Naoki said after the training. "We got pumped up by pushing ourselves," NAKAMURA Keito added.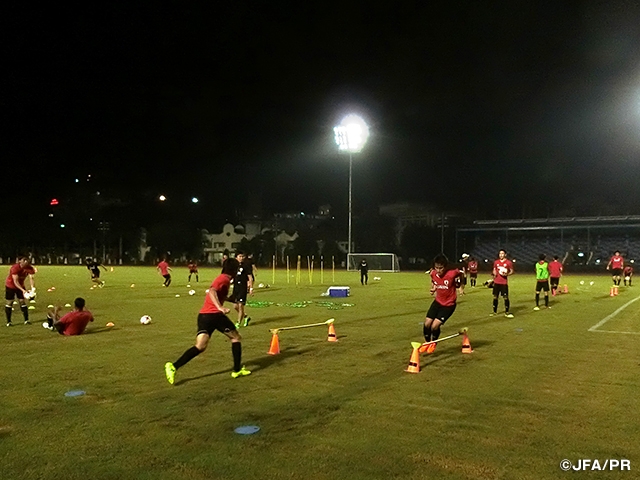 On the following day (Friday 6th), the Japanese team decreased the work load and checked on build-ups from different formations and worked on their defence and set pieces. Coach MORIYAMA Yoshiro told his players, "You have to play thinking about how to get open and maintain the right distance between your teammates. Let's change the tempo of our plays." Practicing in a crisp mood, the team worked for less than an hour and a half. Looking ahead of the first match on the 8th, KUBO Takefusa commented after the practice, "Having worked together for the last two years, I believe that we have as much unity and collectivity as regular club teams. Both as a team and individual, we would like to put up the best performance."
Also on this day, it was confirmed that SAITO Koki, who hurt himself during practice on the previous day, would have to leave the team. The team registered TANAHASHI Akito (Yokohama F・Marinos Youth) to fill the spot for Saito. Tanahashi is scheduled to arrive in India on the 7th, one day before the team's first game.
Players' Comments
MF #6 KIDA Hinata (Cerezo Osaka U-18)
It will be the compilation of what this team have done, so hopefully we will get in the tournament in a positive mood. While we will be cautious about opponents with pace, we also need to defend solidly against their attacks from the flanks as well. It is possible that our opponents play defensively given the heat we are going to play in. Thus, we will look to break through their defence from the flanks as well. As we play in a long tournament, it is better that we are prepared to play in more than one position. I'm ready to enter the pitch at any time and perform my given task.
MF #20 TSUBAKI Naoki (Yokohama F・Marinos Youth)
One of the issues I had during the pre-tournament training camp in Japan was that I only had few times when I actually got involved in the play. Ever since then, I've been working on such areas as off-the-ball movements. As we get close to the World Cup, I'm getting motivated and excited thinking about playing on the pitch. I think that I am going to get a little stiff in our first game, but I want to contribute to the team's win. We would certainly go out to win it by getting in a positive mood and working together as a whole team.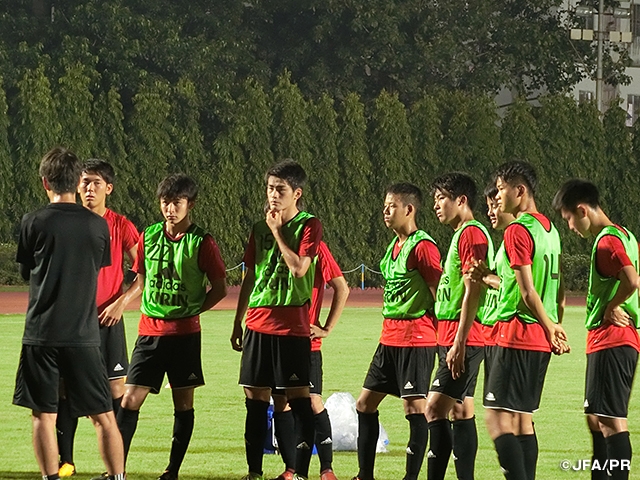 Schedule
Wed. 27 September
PM
Training
Thu. 28 September
AM/PM
Training
Fri. 29 September
AM/PM
Training
Sat. 30 September
PM
Training
Sun. 1 October
1-0
Training Match vs Hamamatsu University
(Omaezaki NEXTA FIELD)
Wed. 4 October
AM/PM
Training
Thu. 5 October
PM
Training
FIFA U-17 World Cup India 2017
Fri. 6 October
PM
Training
Sat. 7 October
PM
Official Training
Sun. 8 October
20:00
vs Honduras
(Indira Gandhi Athletic Stadium)
Mon. 9 October
PM
Training
Tue. 10 October
PM
Training
Wed. 11 October
17:00
vs France
(Indira Gandhi Athletic Stadium)
Fri. 13 October
PM
Training
Sat. 14 October
17:00
vs New Caledonia
(Vivekananda Yuba Bharati Krirangan Stadium)
Sun. 15 October
TBC
Travel or Training
Mon. 16 October
TBC
Training
Tue. 17 October
17:00/20:00
Round of 16
Wed. 18 October
17:00/20:00
Round of 16
Thu. 19 October
TBC
Training
Fri. 20 October
TBC
Training
Sat. 21 October
17:00/20:00
Quarter Finals
Sun. 22 October
17:00/20:00
Quarter Finals
Mon. 23 October
TBC
Training
Tue. 24 October
TBC
Training
Wed. 25 October
17:00/20:00
Semi Finals
Thu. 26 October
TBC
Training
Fri. 27 October
TBC
Training
Sat. 28 October
17:00/20:00
3rd place playoff/Final
*Local Time
*The schedule is subject to change due to the team condition, the weather, etc.