NEWS
U-17 Japan National Team have first training in India for FIFA U-17 World Cup India 2017
05 October 2017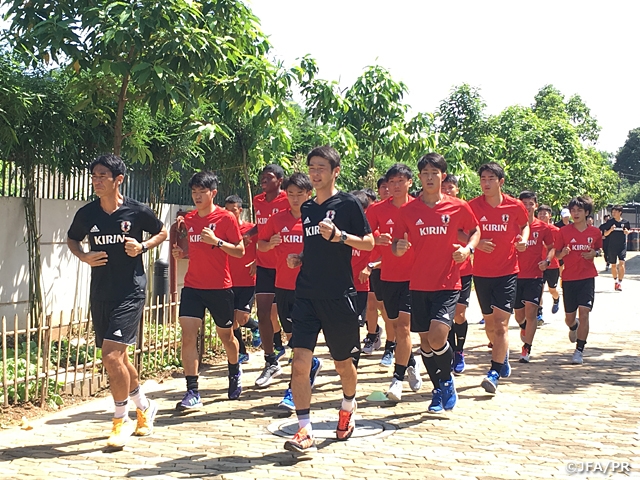 With only two days from the commencement of the FIFA U-17 World Cup India 2017, U-17 Japan National Team on Wednesday 4 October had their first training in Guwahati where their first match will take place.
The training was held after two-day rest of recovering from their long journey to India. In the morning, the players had 45 minutes of cardio exercises including running at the hotel facility to get acclimatised with the local hot weather. Under the blazing sun where the temperatures were heading above 35℃, it didn't take long for the players to start sweating. From 5 p.m., the team had another practice session at a match venue which is in the heart of the city. It wasn't dark yet when they were warming up, but it soon went darker once they started 4v2 ball-handling drills. After a ball-possession practice, they worked on build-up plays. To wrap-up the day, they had an 11v11 intrasquad scrimmage using a slightly larger than half-sized pitch.
On this day, forward SAITO Koki who were training separately after a collarbone fracture in September joined the team and displayed wonderful skills on the pitch as if he were actually playing for the coming tournament.
The city of Guwahati, where nine World Cup matches will be held, is in the state of Assam that is well-known for its Assam tea and is the biggest city in the north-east of India. New development plans are proceeding in the region and it also has one of the largest football population in the country. This can be also seen from the fact that all the group-stage match tickets, including the Japan's first and second matches, are nearly sold-out.
Japan's Coach MORIYAMA Yoshiro commented to the local media, "Both hotel and meals are of high quality. Local police assisted our travel and it is just a wonderful environment to play for us. I can feel that the public is showing strong interest in the coming tournament, and we hope that we can showcase a game that the spectators can enjoy as well."
Japan is making a final preparation for their first match against Honduras on Sunday 8 October at 8:00 p.m.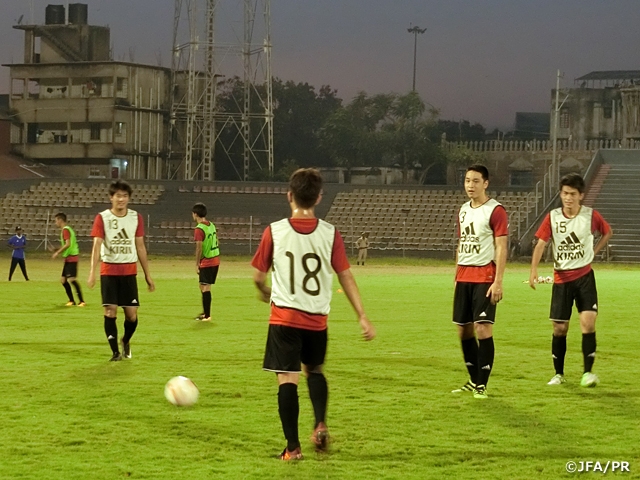 Players' Comments
FW #9 YAMADA Hiroto (Cerezo Osaka U-18)
I was training separately before coming to India, and it was a while since I had regular practice. Pitch conditions were different, and I felt that our quality of play including mine dropped slightly. The heat that we are experiencing here is totally different from what it is in Japan, and I had a difficult time running. I wasn't sharp compared to how I played in Japan as well. On the other hand, the mood within the team has been improving since we have played together from the training camp in Japan. I want to make a good preparation in the limited time we have before our first match.
FW #17 SAITO Koki (Yokohama FC Youth)
I have returned from injury which made me feel relaxed and refreshed. Now I am feeling the joy and pleasure of playing football. The first match is coming soon, and I want to pay more attention in displaying my strength. We never know where and who are watching our matches in the U-17 World Cup. We want to improve as players as well as a whole team as we work hard to win the title.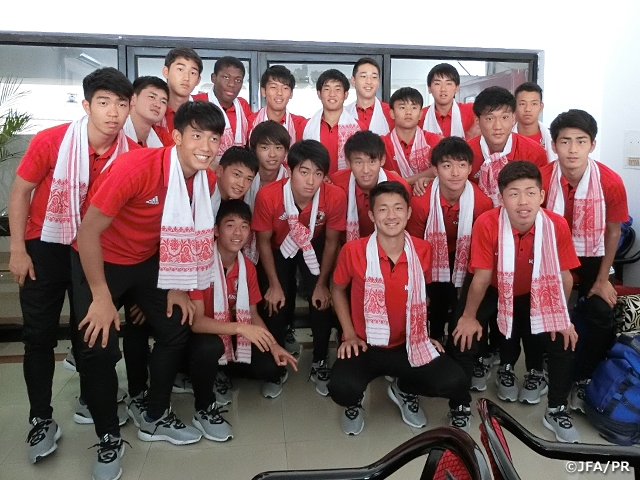 Schedule
Wed. 27 September
PM
Training
Thu. 28 September
AM/PM
Training
Fri. 29 September
AM/PM
Training
Sat. 30 September
PM
Training
Sun. 1 October
1-0
Training Match vs Hamamatsu University
(Omaezaki NEXTA FIELD)
Wed. 4 October
AM/PM
Training
Thu. 5 October
PM
Training
FIFA U-17 World Cup India 2017
Fri. 6 October
PM
Training
Sat. 7 October
PM
Official Training
Sun. 8 October
20:00
vs Honduras
(Indira Gandhi Athletic Stadium)
Mon. 9 October
PM
Training
Tue. 10 October
PM
Training
Wed. 11 October
17:00
vs France
(Indira Gandhi Athletic Stadium)
Fri. 13 October
PM
Training
Sat. 14 October
17:00
vs New Caledonia
(Vivekananda Yuba Bharati Krirangan Stadium)
Sun. 15 October
TBC
Travel or Training
Mon. 16 October
TBC
Training
Tue. 17 October
17:00/20:00
Round of 16
Wed. 18 October
17:00/20:00
Round of 16
Thu. 19 October
TBC
Training
Fri. 20 October
TBC
Training
Sat. 21 October
17:00/20:00
Quarter Finals
Sun. 22 October
17:00/20:00
Quarter Finals
Mon. 23 October
TBC
Training
Tue. 24 October
TBC
Training
Wed. 25 October
17:00/20:00
Semi Finals
Thu. 26 October
TBC
Training
Fri. 27 October
TBC
Training
Sat. 28 October
17:00/20:00
3rd place playoff/Final
*Local Time
*The schedule is subject to change due to the team condition, the weather, etc.