NEWS
U-17 Japan National Team take on U-17 Beijing Selection in 3rd match of SANIX Cup International Youth Soccer Tournament 2016
19 March 2016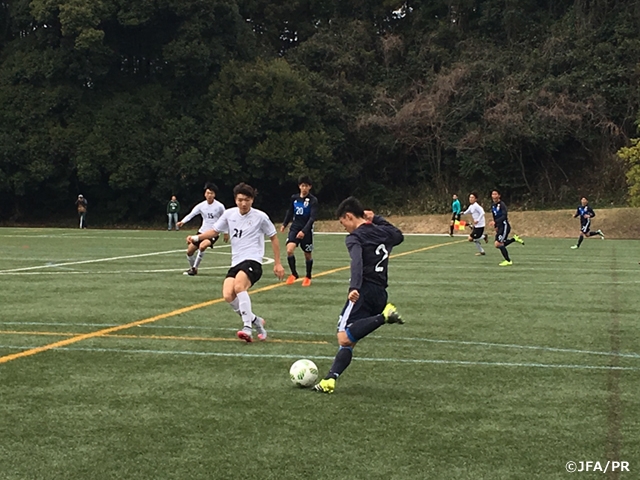 U-17 Japan National Team vs U-17 Beijing Selection
2016-3-18 (Fri.) - 11:50 Playing Time: 70min. (35min.×2)
Green Field B (Fukuoka)
U-17 Japan National Team 8-1 (2-0, 6-1) U-17 Beijing Selection
Scores
4' MIYASHIRO Taisei (U-17 Japan National Team)
7' IKOMA Jin (U-17 Japan National Team)
43' ANDO Mizuki (U-17 Japan National Team)
48' TANAKA Riku (U-17 Japan National Team)
55' HORI Kenta (U-17 Japan National Team)
58' OG (U-17 Japan National Team)
66' KUBO Takefusa (U-17 Japan National Team)
68' Goal against (U-17 Beijing Selection)
70+1' NAKAMURA Shunta (U-17 Japan National Team)
Line-ups
GK: AOKI Kokoro
DF: SUGIYAMA Danto, FUJIMATSU Kouya, IKOMA Jin, SUGAWARA Yukinari
MF: SAITO Mitsuki, HORI Kenta, NISHIYAMA Taiga, TANAKA Riku
FW: MIYASHIRO Taisei, ANDO Mizuki
Substitutes
GK: OSAKO Keisuke
DF: ISHIHARA Hirokazu, AOYAMA Yusuke, KOBAYASHI Yuki
MF: NAKAJIMA Motohiko, KUBO Takefusa, HIRAKAWA Rei, FUJIMOTO Kanya
FW: NAKAMURA Shunta, TAGAWA Kyosuke
HT SUGAWARA Yukinari → ISHIHARA Hirokazu
HT MIYASHIRO Taisei → NAKAMURA Shunta
49' TANAKA Riku → KUBO Takefusa
56' NISHIYAMA Taiga → NAKAJIMA Motohiko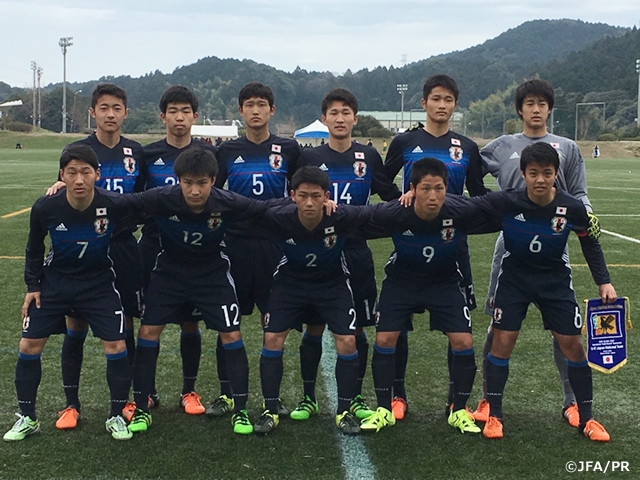 Match Report
U-17 Japan National Team beat U-17 Beijing Selection 8-1 on 18 March in the SANIX Cup International Youth Soccer Tournament 2016.
As Japan have been becoming cohesive as a team with yesterday's two wins, the young squad went out with high motivation for the final match of the qualifying round and dominated the game from the start. Just after four minutes, Japan got off to a superb start when forward MIYASHIRO Taisei ran through in front of goal and opened the scoring. Then in the 7th minute, defender IKOMA Jin met midfielder SAITO Mitsuki's perfect cross with his high header for Japan's second goal of the match.
In the 20th minute, forward ANDO Mizuki muscled his way through defenders and fired a shot, but it was denied by the goalkeeper. The Japanese side were not able to add goals afterwards. Beijing moved the ball side to side and gained a penalty kick thanks to Japanese defender's late covering in the 34th minute. But goalkeeper AOKI Kokoro made a brilliant save not to give up the rhythm to the opponents before finishing the first half 2-0.
In the second half, Japan, who were looking for an additional goal, kept controlling the game by defending at high positions and activating side attacks. Midfielder TANAKA Riku, who already created a number of chances from his side in the match, ran up the left flank and fed a cross. Forward NAKAMURA Shunta sacrificed himself for Ando, who tapped it in for his side's third goal. From then, Japan started their one-sided goal-scoring feast. In the 48th minute, defender ISHIHARA Hirokazu broke through the right side and set up a cross, which then Tanaka netted for the fourth goal.
In the 55th minute, midfielder HORI Kenta received the ball on the left and struck a left-footed blast to make it 5-0. Midfielder KUBO Takefusa's effort from the left drew an own goal for the sixth goal in the 58th minute and then he was brought down in the 66th minute before converting the spot kick to turn the score to 7-0. Although Japan conceded a goal in the 68th minute, allowing the opponents to enter space behind the defence through a small gap, the U-17s tried to get another goal to keep their momentum for tomorrow. One minute into added time, forward Nakamura got through for Kubo's header pass, composedly netting Japan's eighth goal before the match finished with Japan's 8-1 win.
As a result, Japan advanced out of the group (Group A) on top. The final tournament gets underway tomorrow as Japan will take on Kyushu International University High School in their quarterfinal match.
Players' Comments
IKOMA Jin (Kagoshima Josei High School)
We got off to a good start and scored the opening goal at a perfect timing. That's what we were trying to do. Individually, I'm happy to score, taking advantage of my strength of header. On defence, I need to take a look at myself for the positioning to cover space, which is my weakness. From tomorrow, teams are stronger and we will go all out to win it.
TANAKA Riku (Kashiwa Reysol U-18)
Today, we scored at the early stage and play the game in our favour. I myself moved around aggressively and I'm glad to not only assist a goal but score a goal. The atmosphere is getting better both on and off the pitch than the first day when we gathered. And as we played matches in the qualifying round, we came to gradually share understanding of each other. We want to advance to the final by winning tomorrow's match with everyone playing together.
ANDO Mizuki (High school attached to Nagasaki Institute of Applied Science)
Just like our coach MORIYAMA Yoshiro gave us advice before the match, we've got a fighting spirit for it. As an individual, I'm happy I was able to keep running throughout the match including defence from the front, which is my strength. In this team everyone does not hesitate to call on the ball and we can get good balls. I want to grab chances at any cost. Creating a good mood from the warm-up stretch before the match, we will work hard and take advantage of stretches when we can play on our pace. We will be focused and get a win in every single match.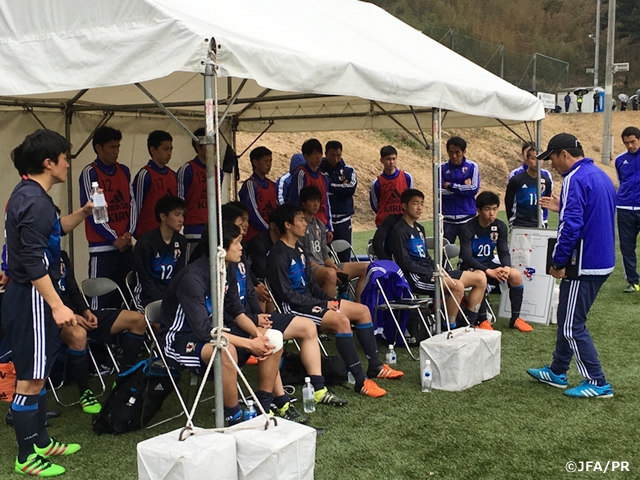 Schedule
SANIX Cup International Youth Soccer Tournament 2016
Thu. 17 March
0-0
(5-3)
vs U-17 Uzbekistan National Team (Global Stadium)
3-0
vs U-17 Korea Republic High School Federation Selection
(Green Field A)
Fri. 18 March
8-1
vs U-17 Beijing Selection (Green Field B)
Sat. 19 March
9:30
vs Kyushu International University High School
(Green Field A)

Sun. 20 March
tbc
Play off
*The schedule is subject to change due to the team condition, the weather, etc.
[SANIX Cup International Youth Soccer Tournament 2016 Participating team]
Group A: U-17 Japan National team, U-17 Uzbekistan National Team, U-17 Korea Republic High School Federation Selection, U-17 Beijing Selection
Group B: Seiryo Senior High School, Avispa Fukuoka Youth, Aomori Yamada High School, Higashi Fukuoka High School
Group C: Ichiritsu Funabashi High School, Oita Trinita Youth, Otsu High School, Kyushu International University High School
Group D: Kokugakuin Kugayama High School, Omiya Ardija Youth, High school attached to Nagasaki Institute of Applied Science, Tokai University Daigo Senior High School