NEWS
U-17 Japan National Team report on Czech trip (16 Aug)
17 August 2014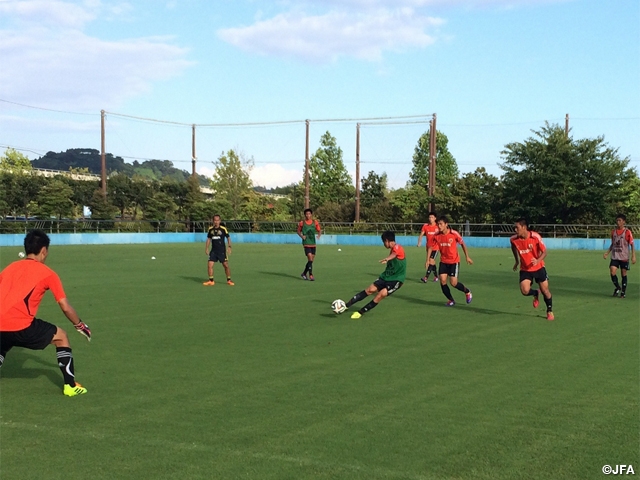 With their trip to Czech Republic from 18 August and the 21st Vaclav Jezek International Youth Tournament waiting ahead, the U-17 Japan National Team started their training camp in Shizuoka City.
The first day practice started at 15:30 with warm-up, and it moved on to a three-men passing and controlling drill and a 7-on-4 ball possessing drill involving goal keepers before the practice ended with a 5-on-5 with a neutral player in half-sized pitches.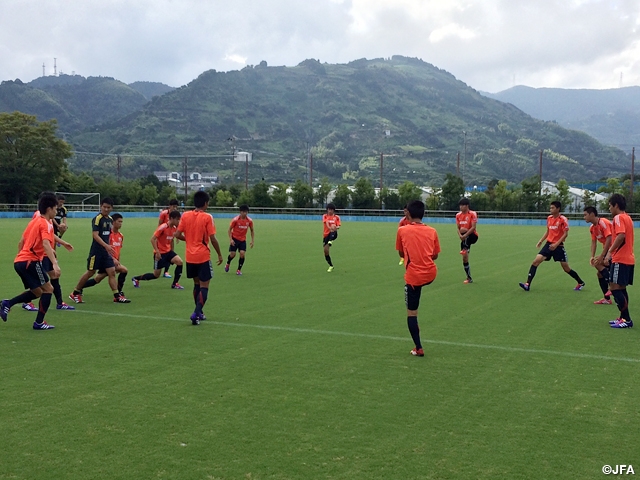 In the evening, the team had a dinner together with the U-19 National Team who are staying in the same city of Shizuoka for the SBS Cup International Youth Soccer. One of the reasons why the U-17 team have this two-day camp in Shizuoka is to attend the U-19 team's Game 3 against Korea Republic in the SBS Cup and share the visions of each generational national team. Moreover, the U-17 players will potentially be selected to the U-19 team in the near future. Therefore the dinner was designed for players on both teams to interact with each other.
After the dinner, players from both squads showed off their funny jokes. Abe from the U-17, Omotehara and Ishida from the U-19 and finally Miura brought laughter among the entire team and staff with their own tricks.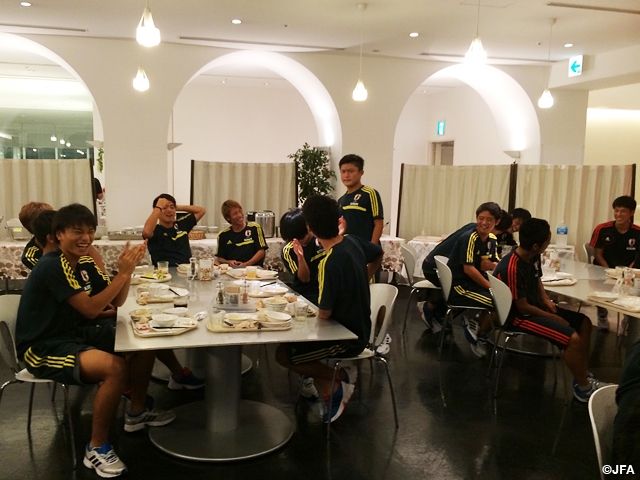 The first match in the tournament is scheduled on 20 August, only three days from today. It will be crucial for the team to get ready with their limited practice time in Shizuoka otherwise they will not have time for preparation after they arrive in Czech Republic.。
Comments
TAKAGI Akito(Gamba Osaka Youth)
I am very happy to be selected to this roster for the Czech trip. Yesterday we had training with some of the players missing, so we couldn't and I couldn't work on transitions between offense and defence and fluent ball movement. I will try to get my performance better game to game during this tournament and we all play as one team to win the championship.
MURAMATSU Kota(Shimizu S-Pulse Youth)
I am very happy to be called up to this Czech trip. It's a tournament overseas, so I will make sure to be in a good condition and be able to play with my best shape. This team is full of energy and we are in a very good mood. We will do our best to come back to Japan with the championship. I also want to learn many things from this trip and take advantage of this experience for my future career.
Schedule
The 21th Vaclav Jezek International Youth Tournament

Wed,20 August

17:00

vs U-17 Slovakia National Tema(Napajedla)

Thu,21 August

17:00

vs U-17 Ukraine National Team (kromeriz)

Say,23 August

Place Decider