NEWS
【Match Report】U-16 Japan Women's National Team finish the Montaigu Tournament in fourth place
12 April 2023
On Sunday 9 April, the U-16 Japan Women's National Team faced the U-16 Portugal Women's National Team in the third place play-off match of the Montaigu Tournament.
The match started with Japan creating close opportunities from the early minutes. In the fourth minute, KIKUCHI Hana (Hokkaido Consadole Asahikawa U-15) responded to a pass delivered by TSUJI Amiru (Mitsubishi Heavy Industries Urawa Reds Ladies Junior Youth) to strike a shot inside the penalty area, but her attempt was denied by the opposing goalkeeper. NAKAHIRA Rena (INAC Kobe Tesoro) also came close in the sixth minute, when she received a pass from SHINJO Miharu (Nippon TV Tokyo Verdy Menina), but her shot was also denied by the goalkeeper.
With momentum on their side, Japan scored the opening goal in the 10th minute, when NEZU Ririka (JEF United Ichihara Chiba Ladies U-15) delivered a cross from the right side, setting up an opportunity for Kikuchi, who dribbled past a defender before striking a shot into the net.
Although it was Japan who took the initiative in the first half, Portugal dictated the pace in the second half, as they scored the equaliser in the 54th minute. The score remained tied at 1-1 after 80 minutes of play, and the match entered a penalty shoot-out to determine the winner, in which Portugal edged Japan 4-3, as Japan finished the tournament in fourth placed.
Players' Comments
GK #18 FUKUDA Mao (JFA Academy Fukushima)
We have challenged ourselves to further develop ourselves in this competition with the goal of "controlling our own destiny." In this match against Portugal, I made conscious efforts to get myself prepared and involved in the team's build-up plays. Players from other countries showed great determination to score goals, even when they were not in good position to do so. This was a very stimulating experience for me, and I hope to make the most of this experience to become a better player.
MF #7 SHINJO Miharu (Nippon TV Tokyo Verdy Menina)
I participated in the FIFA U-17 Women's World Cup India 2022™ as the youngest player on the team, while I was the oldest player in this tournament. My position within the team changed and I was named as captain, but this tournament reminded me of my inability to lead and influence the team. Although everyone on this team, including the bench members, gave their all in today's game, we ended up losing in penalties, which is a very disappointing result. In our last game against France, we allowed our opponents to freely penetrate the flanks, while in today's game against Portugal, we were not able to win the ball in one-on-one situations. It made us realise that we need to improve our speed and strengths in order to compete at the world stage. We also need to raise the quality of our individual skills as well as our team's defensive approach. We would like to use what we have experienced in this tournament to get everyone looking in the same direction, as we work towards the World Cup.
MF #16 HAYASHI Tsubaki (JFA Academy Fukushima)
First of all, I would like to thank everyone involved in organising this tournament. Against Portugal, I was able to make a lot of challenges without being afraid to make mistakes and receive the ball between the spaces more often. However, I also found myself rushing the plays and making errant passes on many occasions. I did manage to settle down and create chances in the second half, but I wasn't able to capitalise on the opportunities I was given. This match really reminded me that I still have a lot of work to do. I think it was a very valuable experience to play in an environment different from Japan and with foreign players. I will not forget the things I learnt and the frustrations I felt at this tournament, as I will try to make the most of this whole experience to become a better player.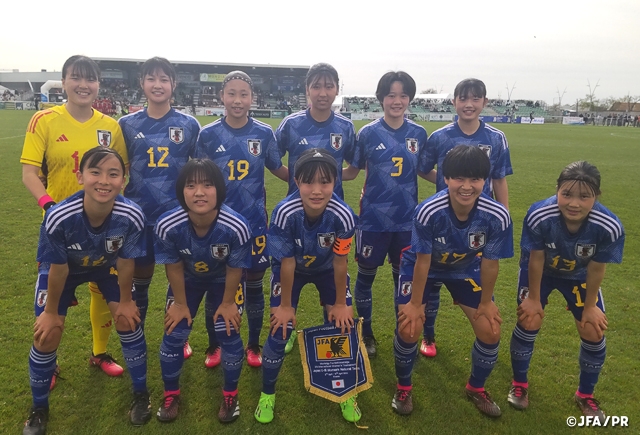 Montaigu Tournament
Tournament Dates: Mon. 3 - Sun. 9 April 2023
Tournament Information