NEWS
【Match Report】U-16 Japan Women's National Team start off Montaigu Tournament with back-to-back wins
07 April 2023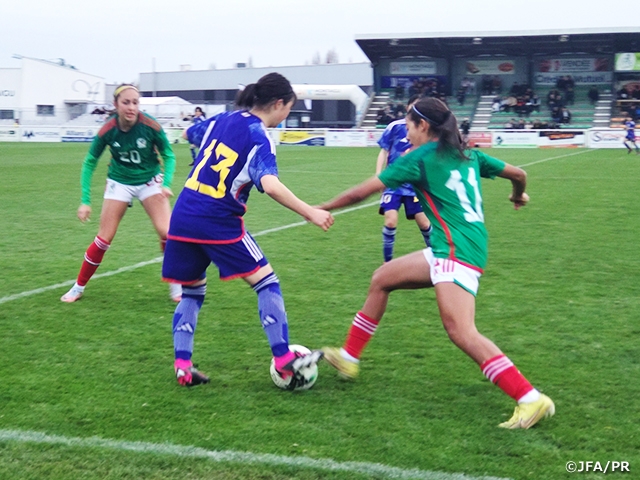 On Wednesday 5 April, the U-16 Japan Women's National Team played their second group stage match of the Montaigu Tournament against the U-16 Mexico Women's National Team.
In the match played just two days following their first group stage match against Norway, Japan took the initiative from the outset. In the sixth minute, NAKAHIRA Rena (INAC Kobe Tesoro) intercepted a pass of the opposing goalkeeper to strike a shot, but her attempt was saved by the goalkeeper. The shot taken by TSUJI Amiru (Mitsubishi Heavy Industries Urawa Reds Ladies Junior Youth) was also denied by the goalkeeper in the 24th minute, but IWAKI Kotomi (Tochigi SC Ladies) converted the ensuing corner kick with a header to give Japan the lead.
Japan attempted to extend their lead in the second half, but struggled with the speed and reach of their opponents and were unable to do so. Just before the end of the match, in the 80th minute, Mexico came close to scoring the equaliser from a corner kick but led by their goalkeeper ADACHI Kaede (JEF United Ichihara Chiba Ladies U-15), Japan managed to hold onto their lead to win the match 1-0.
With the group lead on the line, the U-16 Japan Women's National Team will now face the U-16 France Women's National Team on Friday 7 April.
Players' Comments
DF #3 ASO Tamami (Nippon TV Tokyo Verdy Menina)
In the match against the Mexican national team, I was able to experience things that I cannot experience in Japan, such as the difference in physique and speed. We had to think even harder about how to score goals and how to defend, which was a great learning experience. Following our match against Norway, we focused on increasing the passing speed and quickening the overall tempo. Personally, I wasn't able to change my approach in the build-up plays and coach my teammates, so I want to be able to take the initiative in our next match. I want to bring out the best in myself, contribute to the team's win, and make the most of this experience.
DF #17 KINGETSU Natsume (INAC Kobe Tesoro)
We were able to play with an awareness of our passing speed and forward engagement against the Mexico national team, which we were unable to do in our encounter against Norway. Our need to improve our overall quality of play was brought home by the fact that many of the plays we employ frequently in Japan failed in this game. Although we were able to possess the ball for a long time, use our defensive midfielders effectively, and penetrate the spaces behind our opponent's defence line, we were unable to breakdown and score goals when our opponents dropped deep in their territory. This match served as a reminder that we need to increase our speed and agility in order to compete against bigger and stronger opponents.
FW #19 TSUJI Amiru (Mitsubishi Heavy Industries Urawa Reds Ladies Junior Youth)
First of all, I am happy that this tournament was held, that I was selected to participate in it, and that I was able to experience the joy of football once again. I am also grateful for the opportunity to test my ability against players from all over the world. In this game against Mexico, we thought a lot about how we could break down their defence line and score goals against players with height, speed, and physical strength, and how we could defend our goal and keep a clean sheet. In offence, I feel like I was able to get involved with the ball a lot, look for open spaces, and actively demand the ball behind the opponent's defence line. Defensively, we were able to work collectively to win the ball and extend the time that we had the ball in our possession. However, I regret not being able to capitalise on the opportunities that were given to me. My duty as a forward is to score goals, so in our next game, so I'll try my best to help the team win in our next game without being afraid to make mistakes.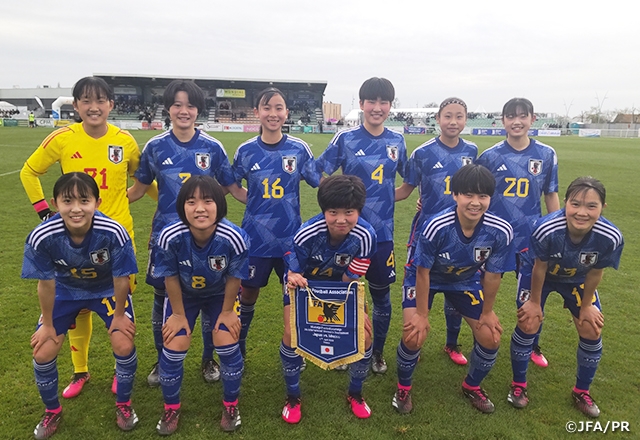 Montaigu Tournament
Tournament Dates: Mon. 3 - Sun. 9 April 2023
Tournament Information