NEWS
U-16 Japan Women's National Team edge China 1-0 and qualfy for U-17 World Cup ~ AFC U-16 Women's Championship Thailand 2017 ~
24 September 2017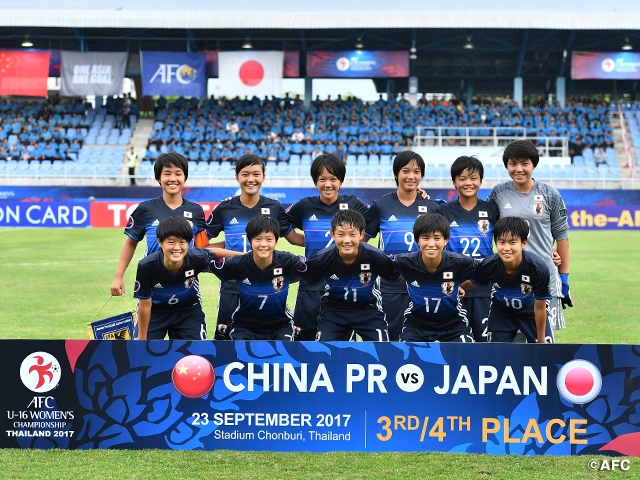 AFC U-16 Women's Championship Thailand 2017 Third Place Match vs U-16 China Women's National Team
24 September 2017 (Sun.) Kick-off 16:00(Local Time) Playing Time 90min. (45min.×2)
Chonburi Stadium(Chonburi, Thailand)
U-16 China Women's National Team 0-1 (0-0, 0-1) U-16 Japan Women's National Team
Scores
55' NAKAO Momo(U-16 Japan Women's National Team)
Starting Line-ups
GK:OHBA Shu
DF:TOMIOKA Chihiro, MATSUDA Shino, GOTO Wakaba, YOSHIZUMI Warai
MF:ITO Sara, KINOSHITA Momoka, NAKAO Momo, TAKIZAWA Chise
FW:OSAWA Haruka, TANAKA Tomoko
Reserves
GK:YAMASHITA Rina, FUKUDA Shiori
DF:SHIBUYA Hana, ARAI Miyu, NAGAE Ibuki
MF:NAKAE Moe, IWAI Ran, ISHIDA Chihiro, WATANABE Rin, YAMAMOTO Yuzuki
FW:KATO Momo, MOMONO Miyuka
Substitutions
74' OSAWA Haruka → YAMAMOTO Yuzuki
83' TAKIZAWA Chise → IWAI Ran
90+1' TANAKA Tomoko → KATO Momo
Match Report
The third-place match of the AFC U-16 Women's Championship Thailand 2017 saw U-16 Japan Women's National Team face China at Chonburi Stadium at 16:00. Over 1600 spectators came to see the important game where both sides competed for the final place in the FIFA U-17 Women's World Cup Uruguay 2018 from Asia.
The first half of the match stayed in the balance, as Japan displayed their swift passwork to orchsestrate several promising chances, but it was the resilient Chinese defence that fended off those menacing challenges and denied the Japanese counterparts to score an opening goal. After relentless and persistent attacking from the young Nadeshiko side, China started show fatigue towards the end of the first half. Then, in the 37th minute, YOSHIZUMI Warai surged up the right flank and sent a cross to OSAWA Haruka, but her effort was secured safely by the opposing goalkeeper. Just before halftime, Japan had a golden opportunity to take the lead after they earned a penalty, but failed to convert this chance by sending it wide to the right. Both sides ended scoreless in the first part of the match.
Despite missing a decisive chance just before the break, Japan came out strongly in the second half and continued to fashion scoring chances. In the 49th minute, TOMIOKA Chihiro collected the ball on left side and delivered a cross to Osawa, but the timing was slight off for the Japanese stikier to attempt a shot at goal.
The deadlock was finally broken in the 55th minutes when the Japanese side scored one into the Chinese net. After a neat give-and-go with Osawa, Tanaka carved open the Chinese defence with excellent driblling skills and despite surrounded by four opposing players, the Nadeshiko forward still found her in space to strike a shot. Even though the initial effort was blocked, the defelection was tapped in by NAKAO Momo and Japan scored a much-awaited opener to take a 1-0 lead.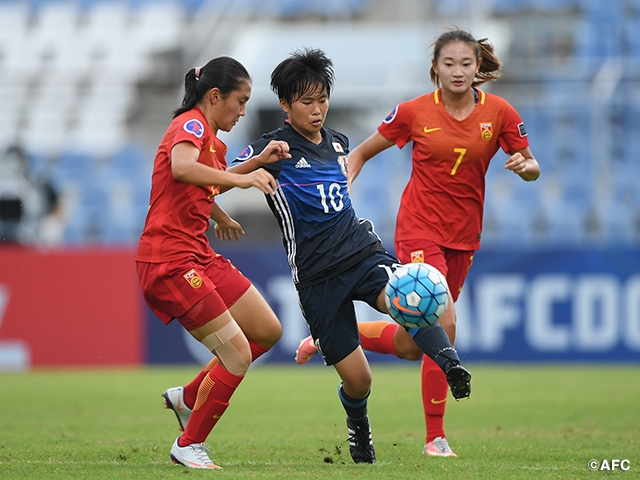 Now with momentum on their side, Japan hunted for more goals to secure the match. One such moment came in the 77th minute, when Nakano reacted to the loose ball off a corner and struck from range, but the opposing keeper parried it away from danger. The game was not still over as China had one last time to level the match in added time when they earned a corner. However, they failed to capitalise on their final scoring chance and Japan edged a close contest 1-0. As the result, Japan clinched the third-place of the tournament, but more importantly booked their place in the FIFA U-17 Women's World Cup Uruguay 2018.
Coach's and Players' Comments
KUSUNOSE Naoki, Coach (U-16 Japan Women's National Team)
The past two days until today's match against China were hard for us. I sincerely appreciated my players for doing their best in these difficult times. It was a tough match today. I believe our competitive fighting spirit was the main reason that we could come up with an important win. I praise my players for not conceding a goal and winning the match, but we failed to score any goals after the opener as well. This is one of the areas that we need to work on. The truth is that we ended up being third in Asia. We need to accept this result and capitalise on this experience to further improve the team. We will work hard and aim at winning the World Cup next year.
DF #5 MATSUDA Shino (Nippon TV Menina)
After the defeat against South Korea, we spent a difficult time feeling a lot of pressure to win this match. Therefore, we are relieved that we could secure a win today. As a captain, I kept telling my teammates that we need to come together to win the match. Today each of us played with strong dertermination. I was very happy when my teammate scored, and at the same time I braced myself and kept my focus until the end of the game. I know that there are plenty of issues that we need to sort out. I also have many areas that I need to improve as well. I will keep up my work hard and aim at winning the World Cup as well.
MF #17 KINOSHITA Momoka (Nippon TV Menina)
After losing in the semi-final, today's win should give us some confidence. I'm very happy that we came up with a win today as well. For the past two days, I struggled to take my mind off the last defeat, but we all encouraged each other and made a good preparation for the match. I am very happy and grateful that I was given the chance to play in all of the matches of the tournament. I would like to be a better player who can contribute more to the team. Accepting the result that we ended up in third place and reminding myself the disappointment I felt from losing the semi-final, I will continue to work hard and promise myself to become a better footballer.
FW #9 TANAKA Tomoko (Cerezo Osaka Sakai Ladies)
I am very happy that the team have qualified for the World Cup. We refreshed our mind and got ready for today's match. Personally, I am looking to become a player who could score in important matches. In the World Cup, I would like to be on the pitch for the full 90 minutes and by then become a better footballer who can contribute to the team's victory.
MF #10 NAKAO Momo (JEF United Ichihara Chiba Ladies U-18)
I was over the moon when I scored the goal. However, I haven't really shown my strength in the previous matches of this competition. There are plenty of areas that the team and I, personally, need to work on as well. I don't believe that right now I can make a good contribution to the team. I need to aim higher and work even harder in daily training to attain my future goals.
Schedule
AFC U-16 Women's Championship Thailand 2017
Sun. 10 September
AM/PM
Training
Mon. 11 September
5-0
1st Match vs Australia (IPE Stadium)
Tue. 12 September
AM/PM
Training
Wed. 13 September
AM/PM
Training
Thu. 14 September
3-0
2nd Match vs Bangladesh (IPE Stadium)
Fri. 15 September
AM/PM
Training
Sat. 16 September
AM/PM
Training
Sun. 17 September
2-1
3rd Match vs Korea DPR (Chonburi Stadium)
Mon. 18 September
AM/PM
Training
Tue. 19 September
AM/PM
Training
Wed. 20 September
1-1
(PK:2-4)
Semi-Final vs Korea (Chonburi Stadium)
Thu. 21 September
AM/PM
Training
Fri. 22 September
AM/PM
Training
Sat. 23 September
1-0
3rd Place Match vs China (Chonburi Stadium)
*Local Time
*The schedule is subject to change due to the team condition, the weather, etc.
AFC U-16 Women's Championship Thailand 2017
Tournament Period: 10 September 2017 (Sun.) ~ 23 September 2017(Sat.)
※Top three teams qualify for FIFA U-17 Women's World Cup Uruguay 2018
For more information on AFC Championship