NEWS
Japan National Beach Soccer Team—Activity Updates from Brazil and UAE camp (7)
26 October 2016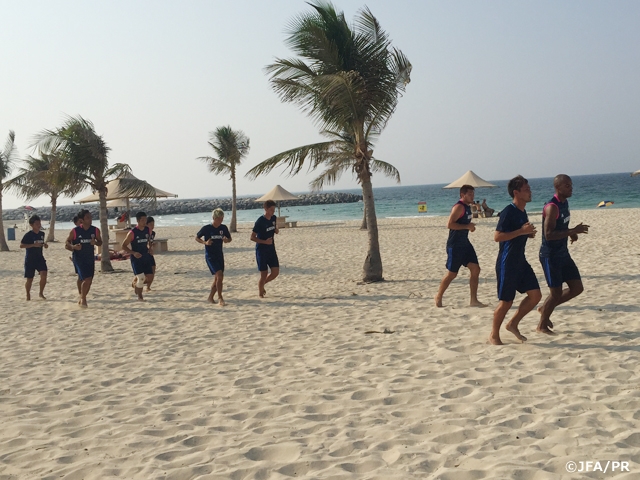 The Japan National Beach Soccer Team, who participated in the Super Cup of Nations in Santos, São Paulo (Brazil), travelled to their next camp location, Dubai in the United Arab Emirates (UAE).
In the night after playing the Mexico match on Sunday 23 October, the beach soccer squad departed from São Paulo airport and, after 14-hour flight, arrived to Dubai the following night. From this camp, two additional players, SATO Eisuke and SAKATA Jun, joined the team, and a total of 12 members participated in the training.
On the following date (October 25) of their arrival to Dubai, the team rested in their hotel in the morning and had training in the afternoon.
After the warm-up session, the squad checked on their team tactics in details to build the common understanding among the starting members of the camp and newly-added players by going through game-format training for one and a half hours.
In the Dubai camp, three training matches are scheduled: 27 Oct. (Thu.) Hungary National Team, 28 Oct. (Fri.) Al-Ahli Sports Club, and 29 Oct. (Sat.) Russia National Team.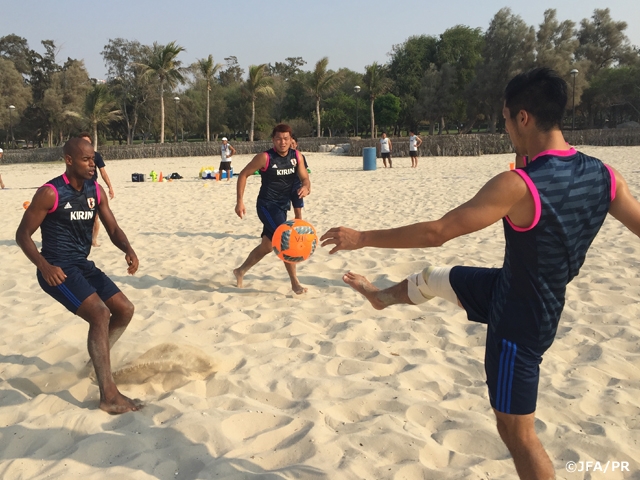 Players' Comments
FP #3 HARAGUCHI Shotaro (Inter Japan BS)
The competition in Brazil has ended, and we are going to have a camp in Dubai starting today. During this camp, we will have three training matches. Capitalising on the experience in Brazil, we will focus on getting the positive results.
FP #17 SAKATA Jun (Aveldage Kumamoto BS)
I had the first training session after the joining the squad today. In the practice, there was an emphasis on team tactics, and I found it important to understand them in order to contribute to the team. We are scheduled to play against several potent opponents, and I look forward to showcasing my strength in the upcoming training matches. I will work hard and hopefully make a positive contribution to the Japanese national team.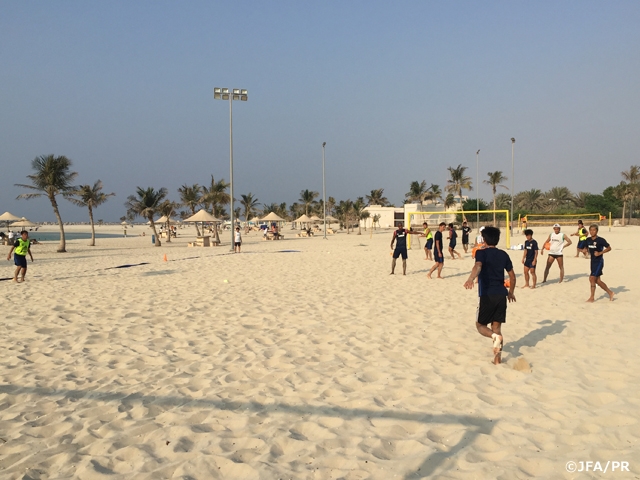 Schedule
Super Cup of Nations (Brazil)
Fri. 21 October
4-4
(1-2)
vs Brazil
Sat. 22 October
3-1
vs Italy
Sun. 23 October
8-0
vs Mexico
UAE trip
10/25-26
TBC
Training
10/27-29
TBC
Training Match *opponent (TBC)
*Local Time
*The schedule is subject to change due to the team condition, the weather, etc.