NEWS
Japan Women's Futsal National Team fall short to Thailand, finish runner-ups ~ The 5th Asian Indoor and Martial Arts Games Ashgabat 2017
26 September 2017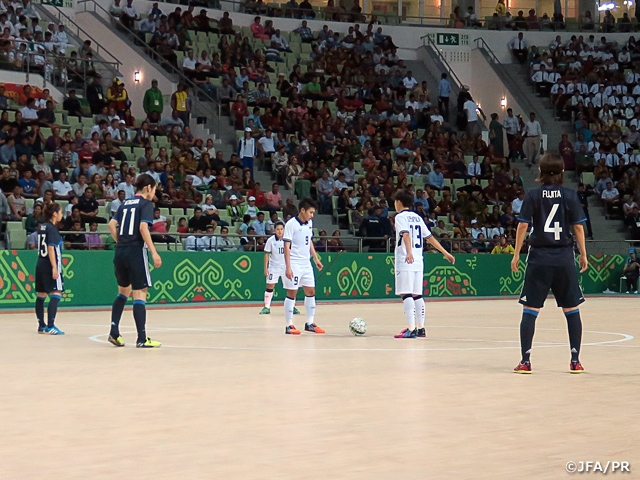 The 5th Asian Indoor and Martial Arts Games
Final vs Thailand Women's Futsal National Team
25 September 2017 (Mon.) Kick-off 19:00 (Local Time) Playing Time 40min.(20min.×2)
Multifunctional Sport Venue Hall-1 (Ashgabat, Turkmenistan)
Japan Women's Futsal National Team 1-3(0-1, 1-2)Thailand Women's Futsal National Team
Scores
14' goal against(Thailand Women's Futsal National Team)
35' TAKAO Akari(Japan Women's Futsal National Team)
36' goal against(Thailand Women's Futsal National Team)
39' goal against(Thailand Women's Futsal National Team)
Starting Line-ups
GK:YAMAMOTO Ayaka
FP:TAKEMURA Junko, FUJITA Mio, KITAGAWA Kana, TAKAO Akari
reserves
GK:MAEHARA Ringo
FP:KATO Masami, HOTTA Eriko, EGAWA Ryo, TANAKA Chihiro, SEKINADA Minako, NAKAJIMA Shiori, SAKATA Mutsumi、SAKURADA Miku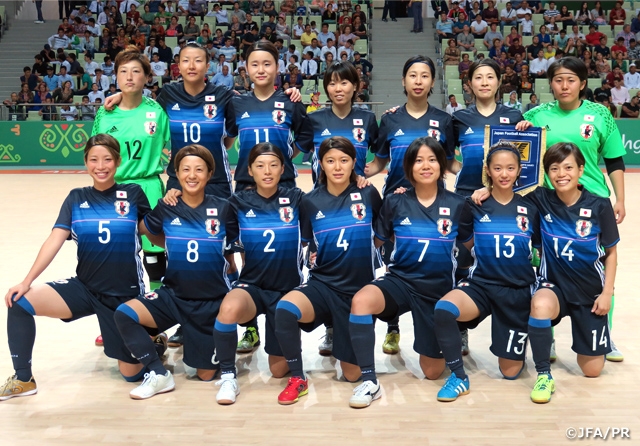 Match Report
One day after they competed in a hard-fought battle against Iran, Japan Women's Futsal National Team played against Thailand, who have been improving rapidly and had just captured the title of the ASEAN Competition (SEA Games) just prior to this tournament. Their national team were also whom Japan barely beat 3-2 at the AFC Women's Futsal Championship two years ago. In this championship, they advanced to the final, after defeating Iran 2-0 in the group stage and surpassing China 4-1 in the semi-finals. In a previous meeting, Japan coach ITO Masanori had said that Thailand might be a tougher opponent than Iran.
"Let's go home winning today's game. This is the final game that we play with this squad. Your former national team have made history overcoming pressures to win the previous championships. We played a great game yesterday, but we are going to play an even better game today. And let's showcase what a great game this is to the fans in Turkmenistan," Japanese coach Ito told his players before the game.
With the gold medal at stake, the mood inside the stadium was a little different as the crowds cheered louder. The game began with a Thailand kick-off, but it was Japan who took the game's first shot. TAKEMURA Junko fired one but the Thailand goalkeeper saved it away from danger. Right after that, Thailand got near the Japan's goal, but goalkeeper YAMAMOTO Ayaka blocked a shot as well. The contest became a seesaw game afterwards, but highly-skilled Thailand squad with the majority of members playing for more than one clubs created scoring opportunities capitalising on their fine-tuned combination plays in the 9th, 10th and 11th minutes. Yet those efforts ended up hitting the side netting or stopped by keeper Yamamoto.

After 12 minutes, Japan's Takemura took another shot but did not find the net. Then, in the 14th minute, Thailand kept pressuring their opponents and fashioned a chance from a set piece. Thai internationals connected a grounder pass from a left corner and found a player at a far post who struck a dazzling shot into the net to give her side a 1-0 lead. Japan gave up a goal from a set play, which they had been careful about, and it was the first time in the tournament that Japan allowed a lead to their opponents. Thailand gained momentum after this goal and continued to threaten the Japanese goal. However Japan barely shook off their challenge to take the game into halftime only trailing by a single goal.
Japan had a fresh start and found their rhythm in the second half. Japan attacked Thailand, firing four shots in the first four minutes of play, yet they failed to find the target.
Thailand had their chances in the 25th, 26th and 29th minutes, but Yamamoto firmly protected the Japanese goal.
Japan took the initiative of the match yet had hard time putting their shots into the net. But with five minutes left in the game, FUJITA Mio, who received the ball in the centre inside the opposing side of the court, sent a pass to SAKURADA Miku waiting to her right. Sakurada then delivered a cross to TAKAO Akari, who dashed into the area and fired home an equaliser to tie the contest for the Japanese squad.

Japan had the momentum, but failed to convert a chance that would have given them the lead. Then, one minute later, Thailand earned a free kick just to the right of the penalty arch and a set-piece delivery was met firecely with pace from the far side. Yamamoto once block their fine effort, but the Thai player slotted the deflection into the net to reclaim the one-goal advatange.
In the 36th minute, Japan came on with a power play and attempted to level the match. However, in the 39th minute, Thailand slotted their third into the open net to double their lead.
Japan kept their power play but were not able to find their second and the game finished with a 3-1 win for Thailand.
With the result, Thailand captured the championship, while Japan finished as runner-ups. Iran was third as they beat China 5-1 in the third-place match.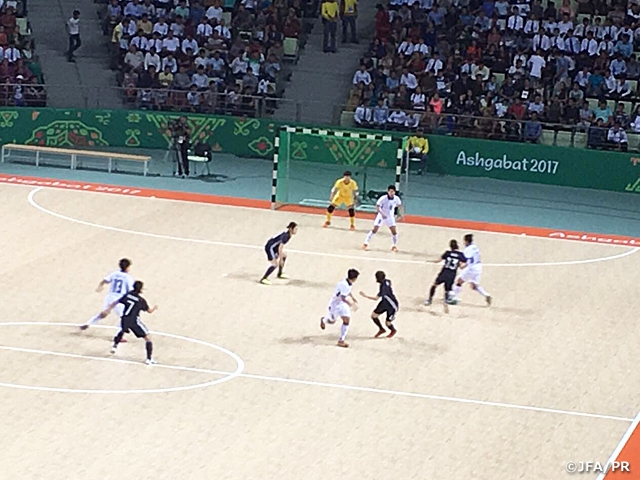 Coach's and Players' Comments
ITO Masanori, Coach (Japan Women's Futsal National Team)
First, I am simply disappointed and at the same time I am apologetic for not being able to help my players win as their coach. But I am proud of the wonderful performances our team showed throughout the tournament. We want to keep improving in areas such as working hard, showing our skills which are at a high level, and being disciplined. I believe Japan cannot win unless the team have the qualities that Japanese people uniquely possess. We want to keep aiming to build up a futsal team where Japan can take advantage of our great qualities.
The final match was a wonderful match with a great sense of urgency both offensively and defensively. We were trying to be careful not to allow the goal, but we couldn't stop it. Also in the first half, we couldn't deal with the opponents' defence. But in the second half, we were able to do it and displayed our style of futsal. If we had been able to control the match more carefully after we tied the scoring, the result could have been different. Throughout this tournament, I think we were able to show the level of Japanese women's futsal.

In Asia's futsal, Japan are one of the top-level teams. The other teams that are at the same level are Iran and Thailand. Of course, the level of Asia will go nowhere but up and there will be other countries who will put strong efforts in development of the sport than others. It's important for Japanese women's futsal to reach the next level and keep winning in Asia, which will make us competitive enough at the world level. We will share the details and takeaways of this tournament with all the coaches through technical reports and our refresh training sessions. Then, we want to move forward together to further develop Japanese women's futsal.
In conclusion, I would like to mention two more things. One is my new determination, and I would like to include it here because I believe I should share that. In this tournament, we were disappointed. The only way to come back thoroughly from this feeling is to win the AFC Tournament in 2018. We don't have much time left for the tournament, but the Japanese women's futsal as a whole would like to share this goal and work together to support our players.
The other thing I would like to mention is my words of appreciation. First, I must thank the people of Turkmenistan. We had a tremendous opportunity to play and stay in a wonderful setting. The hospitality and kindness we felt from the people in Turkmenistan were always there. Also, I would like to thank Japanese people living there. I was told that the total number of such people is smaller than 100, but we had so many people in the stands supporting our team. I would like to thank them from the bottom of my heart. I also must thank all the fans who supported our team in Japan, too. The message they sent through social media really encouraged our players. On behalf of the entire team, I would like to say to all of you 'thank you'. And lastly, I show my appreciation to all the players and the team staff. I feel sorry that I couldn't attain the result we wanted as a coach. But I am so thankful for the players and the staff who worked so hard. This time we finished in second place. We take this disappointment back home, but we should keep our chin up. I am so determined to come back from this disappointment and take Japanese women's futsal to the next level. I would like to thank so many people. Thank you.
FP #3 HOTTA Eriko (Saitama Saicolo)
We got into today's game with a competitive mind-set as we ran and played hard with each player carrying a sense of responsibility and talked to ourselves to go home with smiles in the end. We struggled to find a way to break through the opposing defence in the first half and gave up a goal instead, but we believed in ourselves that we would definitely be able to make a comeback and win it. So we regrouped as we got in the second half and found better ways to attack the Thailand's goal and worked hard with the entire squad not giving up until the end, but we fell short to secure a win at the end. Personally, not only did I give up several goals, but I also found few issues that I have to reflect on. We have trained with these members in this past three weeks, starting with a training camp before this tournament. We've worked hard and tried to win the title for the fourth consecutive time. As I look back at this tournament, we were able to compete capitalising on each member's strength and were a very good squad, including our staff as well. I must say to our former national team members, Japanese people who came to cheer us at the stadium and those who supported us from Japan that we are terribly sorry that we came up short of winning the championship. We would like to take advantage of this tournament by not forgetting this experience and disappointment as we continue to play futsal. Thank you very much for supporting us.
FP #6 TANAKA Chihiro (Bardral Urayasu Las Bonitas)
It's just very frustrating. We came to this tournament with our fourth straight titles at stake. We wish we could continue our history of winning that our former national team enjoyed. But for now, we just feel sorry that we came up short and didn't get the result we wanted. Thai national team was highly organised and we knew that they score a lot from their set plays from looking at their scouting reports, yet we gave up a goal from a set play and were forced to play catch-up. We encouraged each other that even though we couldn't play the way we would like in the first half and gave up the first goal, we could level things up if we kept believing in ourselves. So we did not look down after even when we were behind and were able to tie the game. Also, after we allowed a goal from a free kick, we continued to compete believing that we would still be able to comeback before the match ended. With this being said, it was still frustrating that we failed to stop their set plays, which we knew they were good at.
I participated as a national team player for the first time in this tournament. In our game against China PR, we allowed two goals because of my errors and made it a difficult game for us. But we wound up winning because my teammates helped me out. I've wanted to play to help my team when we are in difficult situations, but I wasn't able to live up to my own expectations. In terms of my individual skills, there were a lot of things that I felt I needed to work on going forward. I would like to become a stronger player who can help bring our team positive results. I am determined to become such player in the future as well. In order to forget about this disappointment and attain better results in tournaments such as the one we just had, I am going back to my club and work even harder. Just one last thing I would like to add. So many Japanese people who are living in Turkmenistan came to cheer for us. Despite the late hour that the game started, many Japanese fans watched our games over the internet and supported us. It has given us a lot of energy to compete until the end. Thank you very much for all your support.
FP #8 SAKURADA Miku (Leograsta)
We definitely wanted to win this final match and we got into the game with excellent mood after our win over Iran yesterday. However, we struggled showcasing our strengths both offensively and defensively. As a result, we suffered a bitter defeat. We felt responsible that we weren't able to retain the title that our former national team and their staff members had attained. We've worked hard to aim at nothing but the championship, but failed to achieve that goal. I would like to go back to my team and work hard so Japan would once again become the best in Asia and I would be a part of that team as well. Lastly, I would like to express my appreciation to those who cheered us here and from Japan. Thank you very much for all your support.
Schedule
The 5th Asian Indoor and Martial Arts Games
Sat. 16 September
5-2
Group Stage 1st Match vs China PR
Sun. 17 September
2-1
Group Stage 2nd Match vs Hong Kong
Mon. 18 September
tbc
Training
Tue. 19 September
tbc
Training
Wed. 20 September
8-0
Group Stage 3rd Match vs Turkmenistan
Thu. 21 September
tbc
Training
Fri. 22 September
tbc
Training
Sat. 23 September
tbc
Training
Sun. 24 September
2-0
Semi-final vs Iran
Mon. 25 September
1-3
Final vs Thailand
Tue. 26 September
tbc
Training
*The schedule is subject to change due to the team condition, the weather, etc.
**Indonesia and Vietnam have withdrawn their participation in the 5th Asian Indoor and Martial Arts Games Ashgabat 2017. Draw was retaken on Thursday 14 September, and the tournament fixtures and schedule were changed accordingly.