NEWS
Relay Interviews by Japan National Team Coaches Vol. 4: Japan Women's Futsal National Team/U-20 Japan Futsal National Team's Coach KOGURE Kenichiro "Persistency getting paid off with a miracle"
02 May 2020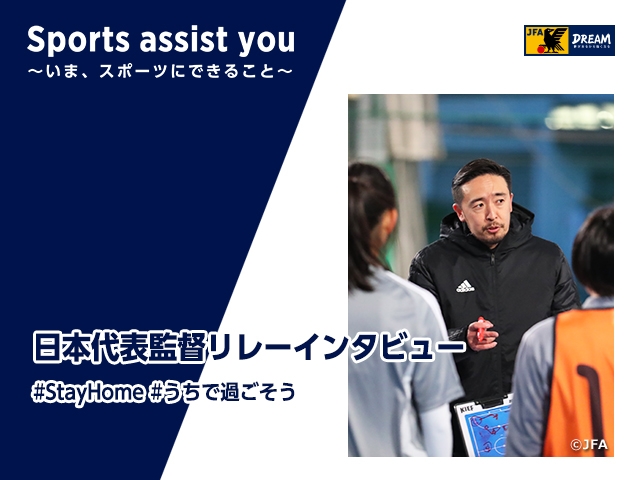 In efforts to contain the spread of the novel coronavirus, many sporting events have been cancelled over the recent period, and the activities of Japan National Team are no exception. With the players and coaches all staying at home during this quarantine period, we have conducted interviews with coaches from different categories of the Japan National Team, regarding their passion towards football, personal experiences, and the importance of chasing a dream.
As the fourth interview of the series, we will share the interview conducted with coach KOGURE Kenichiro of Japan Women's Futsal National Team/U-20 Japan Futsal National Team.
It all started with Captain Tsubasa
Captain Tsubasa was the reason I started playing football. My father did not play football but when he travelled to Brazil on a business trip, he was amazed by the football games played there and bought me a football as a souvenir. At my kindergarten, they were giving out Tsubasa stickers and trading cards depending on how many times you can juggle the ball. That got me excited enough to devote myself in playing football and also become a fan of Captain Tsubasa. When I was in third grade of primary school, I was selected through the Yomiuri FC (current Tokyo Verdy) try-out session and joined the team that won the inaugural Vermont Cup, which was called the Japan Futsal Championship at the time. Looking back, I was introduced to both football and futsal during my time at primary school.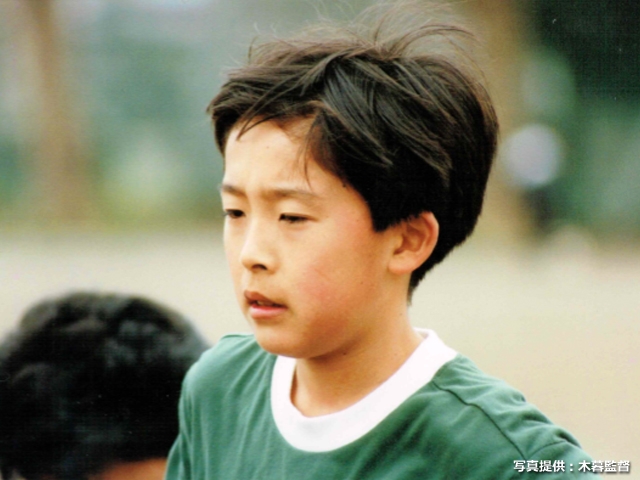 My parents' support
When looking back on my football and futsal career, my parents had a huge presence. They came to every single match I played since I was little and they supported me through the tough times I had during junior high and high school, when I was not getting much playing time in matches. When I was first selected into the Japan Futsal National Team, they came to watch and support me in all matches, including the ones played overseas. Of course, there were other people, such as teammates, teachers, coaches, and rivals that helped me build who I am today, but if I had to name the people who had the most influence, that would be my parents. I am forever grateful for their support, and without their presence, I would not be here today.
Bitter memories becoming a starting point for my coaching career
I was able to join Yomiuri FC when I was in third grade, but I was a very short player at the time. Our generation was called the "Golden Age," because there were so many talented players born in 1979. While I was surrounded by amazing players both as teammates and opponents, I was the short player who was not fast nor strong, and while everyone was showing tremendous physical growth over the final years of primary school and during junior high school, I was not getting any taller. This was a very disappointing time for me, and I did not enjoy playing football one bit. I felt like players who were less skilled than me were earning more minutes on the pitch and getting named into select teams, just because they were bigger or faster than me. During that period, I wished there were coaches that would comfort me saying, "Football is still fun," or "You have great potential." I know that is a spoiled thought, but that sense of misery did exist in my mind and that became a motive for me to become a coach that can provide positive guidance to those who need mental support. As mentioned earlier, I was surrounded by so many great players throughout primary, junior high, and high school, and their presence were always a huge inspiration for me to become a better player. I have also met so many people after I started playing futsal. Perhaps the most influential person among those people was Mr. ICHIHARA Takaaki (Cascavel/current Pescadola Machida), who was the team captain of Japan Futsal National Team. His presence gave me the opportunity to change my mentality from being an amateur to a professional. I remember getting yelled at and getting advices from him, and his words have helped me pave my way to this day.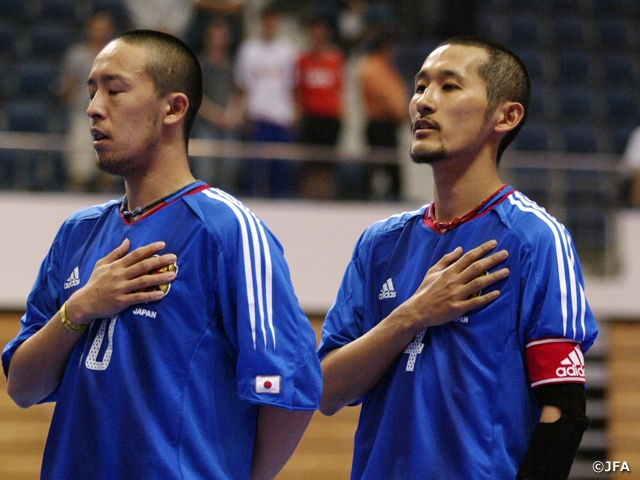 Meeting Mr. SUZUKI Masaharu
I was first selected into Japan Futsal National Team in 2001. That year, the coach was Mr. KIMURA Kazushi and many former J.Leaguers were selected for the AFC Championship. Mr. SUZUKI Masaharu was one of them, and I remember him taking great care of me. I was 20 years old at the time, full of confidence after winning the All Japan Futsal Championship. However, I was not able to perform well at all. Mr. Suzuki had already retired playing football and his knees were totally worn out. He was a football player, not a futsal player, but once he wore the national team jersey, his presence was extraordinary. I might have been the better player in terms of skills and strategical understanding of futsal, but his experience and professionalism transcended all of that and I was just overwhelmed by him. Although there were no professional leagues for futsal at the time, for a 20 year old, winning the national title and becoming a member of the national team seemed like a huge accomplishment. However, I came to realise that I have not accomplished anything yet. By meeting Mr. Suzuki, it made me want to get recognised by established football players like him and build a strong reputation for futsal players. From this point on, I was committed to winning all futsal titles. I believed that, if I can earn recognition, I can change the way futsal is being conceived by many, as if futsal is a sport for people who failed in football, or it is not a serious sport. That motivation remained unwavering even after winning multiple titles and my desire to raise the overall level of futsal has not changed since 2001.
Persistency getting paid off with a miracle
There are many kids who are dreaming to become a football or futsal player, while some just wants to have fun playing the sport with friends. We are in a difficult time, where we cannot pursue our dreams in the way we used to, and some may feel frustrated or start to have doubts about their dreams. All I can say is that, regardless of whether you can accomplish it or not, I want you to pursue your dreams as much as possible. As I have mentioned earlier, I wanted to become a professional football player, so I joined Yomiuri FC and strived to become players like Kazu, Kitazawa, and Ramos. There were times when I gave up my dreams because of my height, but I never stopped playing. There were many occasions where I thought I was not enjoying myself and wanted to quit, but I did not quit. I do regret how I conducted myself during those times, and if I can go back in time, I would work harder to achieve my dream. However, because of that regret, I was introduced to a sport called futsal. A sport that had no professional leagues at the time and I saw many talented players quit because of the uncertainty of the sport's future. I continued to play, because I did not want to repeat the same mistake I made playing football, and that is what got me to where I am today. I was not able to achieve my first dream, but my second dream happened to be a sport similar to football. There might have been something better suited for me, but I chose to pursue the dream I really liked doing. At the end of the day, what matters the most is that you give your utmost efforts towards something you believe in, and all the joy and bitterness will ultimately help you succeed down the road.
This might be off the subject, but during my final year as an active player, I was able to play with my childhood idol, Kazu, as a member of the national team. It seemed impossible, but for some miracle, it happened. During my career, I have experienced so many things and met so many people, but that month I spent with Kazu was just priceless. With me being the team captain, I was able to spend the longest amount of time with him and hear so many stories, not just limited to futsal. I treasure every single conversation we shared, and that moment was made possible only because I never gave up on my dreams. Because I continued to play football, a miracle happened, which I feel that it was definitely not something I was destined for. Through football, one can learn the importance of friends, teamwork, dedication, persistency, and so many other qualities in life. Even if you are not earning much minutes in matches or even if you cannot reach the professional level, I hope you continue to make the effort towards it.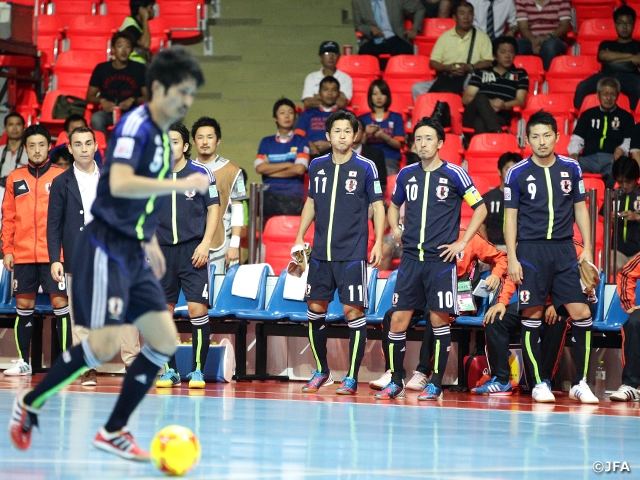 We are all facing dire times, but if you wish to become a professional football player or a futsal player in the future, or even if you just want to play football with your friends, I hope you continue to have faith in your dreams and do what you can do within the given circumstance. You can still touch the ball or watch football matches at home. If you have access to your own matches, this might be the time to watch them and analyse your own performances. We live in an era where we have access to so many matches around the world. I know you are dying to play outside, but this is a wonderful opportunity to watch how great players play and study their games to improve your own. Using your head is part of the game, so I hope you can make the most of these dire times.