NEWS
【Match Report】Japan Futsal National Team finish off tour with win over Croatia - Morocco Tour (4/10-19)
18 April 2023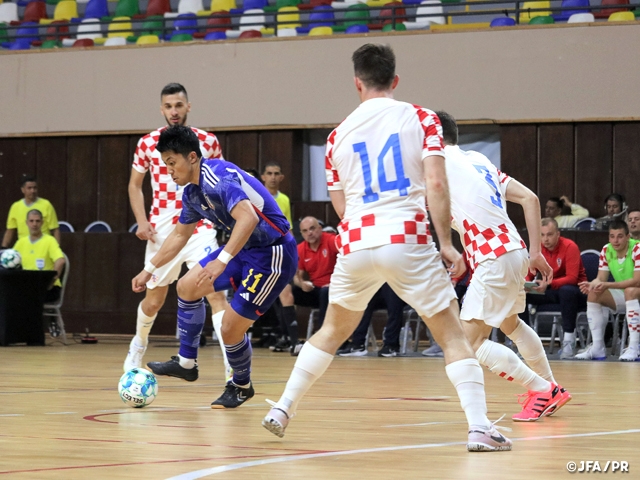 Morocco Tour
Mon. 17 April 2023, 21:00 (Local time)
Match duration 40mins (20x2 Playing-time)
Complexe Sportif Prince Moulay Abdellah (Rabat, Morocco)
Japan Futsal National Team 1-0 (1-0, 0-0) Croatia Futsal National Team
Scores
8' HENMI Katsutoshi Rafael
Starting Line-up
GK: TABUCHI Hiroshi
FP: ISHIDA Kentaro, YOSHIKAWA Tomoki, TSUTSUMI Yuta, SHIMIZU Kazuya
Reserves
FP: MIZUTANI Soma, YAMADA Kaito, KANAZAWA Sora, HIRATA Neto Antonio Massanori, HENMI Katsutoshi Rafael, HARADA Kokoro, KATO Minami, UCHIMURA Shunta, TAKAHASHI Kyo, YAMANAKA Shoto
Out of the roster
GK: KUROMOTO Guilherme (Injury)
Match Report
The Japan Futsal National Team, who are on a tour to Morocco, played their third match against the Croatia Futsal National Team on Monday 17 April. With the goal scored by HENMI Katsutoshi Rafael proving to be the decisive goal, Japan capped off the tour with a 1-0 victory.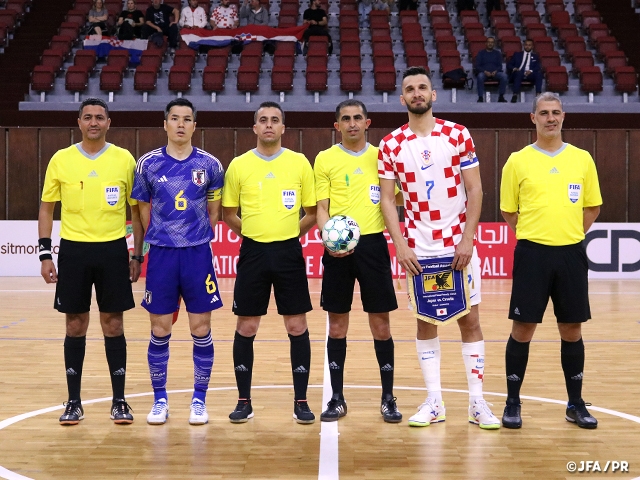 Following their back-to-back losses to Morocco and France, Japan Futsal National Team's Head coach KOGURE Kenichiro told the players that in order to compete against the world at next year's FIFA Futsal World Cup™, the team must be able to win its last match after a string of defeats and asked everyone to behave seriously on and off the pitch.
At the start of the first period, YOSHIKAWA Tomoki, who once again wore the armband, ran up the left side before striking a shot, which was blocked by the goalkeeper. SHIMIZU Kazuya quickly responded to make an attempt to convert the deflection, but his shot was also saved by the goalkeeper.
Croatia also created a close opportunity from a counterattack, but their shot was denied by the goalpost. Taking advantage of their height and physical strengths, Croatia repeatedly delivered longballs into the attacking third, but YAMADA Kaito once again made his presence felt in defence, leaving no room for them to create chances.
The deadlock was broken in the eighth minute, when Shimizu laid off a pass to Henmi, who carried the ball into the final third and calmly converted the one-on-one against the goalkeeper to put Japan ahead. With momentum on their side, Japan continued to seek for their opportunity to score the second goal but fell short from finding the back of the net, as they entered halftime with a one goal lead.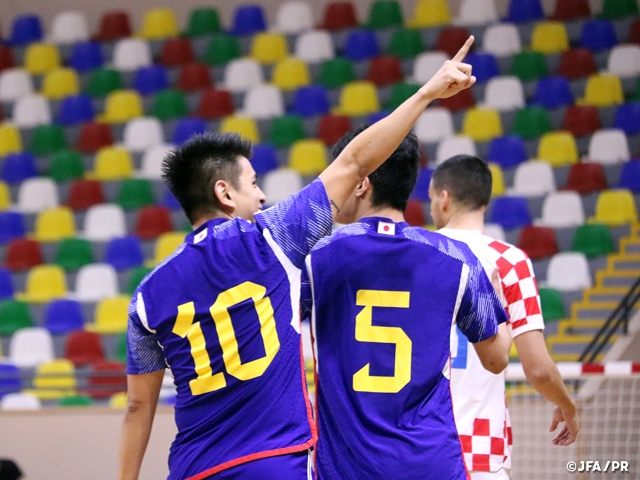 Against a Croatia side who showed signs of fatigue from the match the previous day, Japan held the ball from the start of the second period to create chances. From a fluent passing sequence, Shimizu netted a goal from a one-on-one with the goalkeeper, but the goal was disallowed due to a foul committed in the previous play.
In the 30th minute, HARADA Kokoro made a great individual effort to get past an opponent and into the penalty area for a shot, but he could not get on the scoresheet. Croatia, who had their backs against the wall, put on a power play, but the Japanese players remained focused and did not concede a goal until the end, winning 1-0.
Coach and Players' Comments
KOGURE Kenichiro, Head Coach (Japan Futsal National Team)
I am delighted to have won our final match against Croatia. I am proud of our players for their positive attitude, despite being in the middle of the off-season. The three matches allowed us to experience the football cultures of three of the four countries who reached the semi-finals of the FIFA World Cup Qatar 2022™. The young players, who were given their first opportunity to compete against non-Asian countries away from home, found enormous inspiration from this experience as well. In the world of futsal, the level of competition has improved dramatically over the recent years, but through this tour, we were able to see that we are able to compete at a high level. I hope the players will continue to work hard at their respective club. We appreciate all the support we received from Japan.
FP #6 YOSHIKAWA Tomoki (Nagoya Oceans)
It was a difficult match, but we managed to pull off a victory. The fact that we were only able to score a goal out of all the chances we created remains to be an issue for us, but it was great to see our side keep a clean sheet to win the match. It is unfortunate that we were only able to win one out of the three matches we played during this tour, but we hope to make the most of this experience to become better players, which is the most important thing.
FP #10 HENMI Katsutoshi Rafael (Real Betis/Spain)
We were able to bounce back from our loss to France and win this match against Croatia. I was very happy to beat such a strong opponent like Croatia and I was most excited that I was able to score the decisive goal in such match.
FP #11 SHIMIZU Kazuya (Nagoya Oceans)
We had a less-than-ideal result on this Morocco tour, with one win and two losses, but we'll attempt to take what we can from it and work to improve as players when we get back to our individual clubs. We will continue to make corrections and build on them to become even stronger as a group. We would want to express our gratitude to everyone who helped make this amazing tour possible as well as our appreciation for the support we received from Japan.
FP #12 HARADA Kokoro (FC Barcelona B/Spain)
Given that I was unable to play against France due to injury, I am happy that we were able to win this game. I believe we controlled the tempo of the game the entire time. We encountered a difficult period in the middle, but we overcame it as a team. Personally, I felt like I needed to take more shots. As a team, we struggled dealing with our opponent's quick restarts, but we managed to deal with it as the game progressed. It's been about a year since I was invited to play for the national team, but it wasn't until recently that I've started to get more playing time. I will continue to work hard to become a player that can contribute to the team's victory.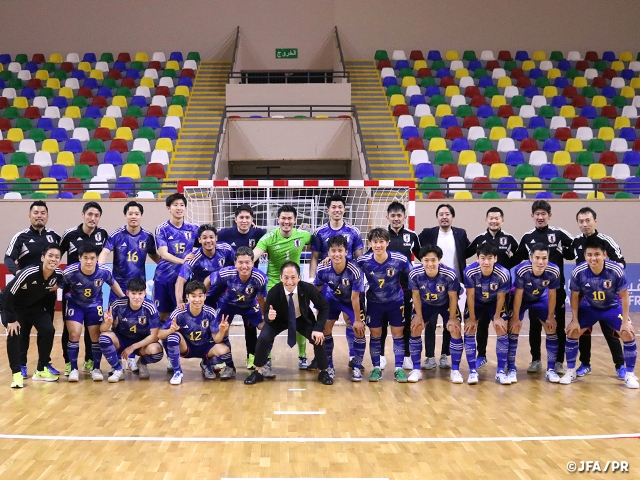 Morocco Tour
Tournament Date: Mon. 10 - Wed. 19 April 2023
Venue: Complexe Sportif Prince Moulay Abdellah, Morocco
Tournament Information