NEWS
【Match Report】Japan Futsal National Team fall short to African champions - Morocco Tour (4/10-19)
15 April 2023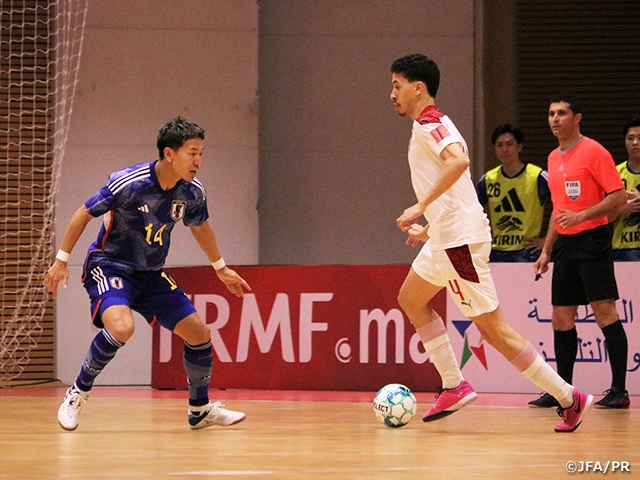 Morocco Tour
Fri. 14 April 2023, 22:00 (Local time)
Match duration 40mins (20x2 Playing-time)
Mohamed 6 (Rabat, Morocco)
Japan Futsal National Team 2-3 (1-2, 1-1) Morocco Futsal National Team
Scores
9' Goal Against
14' Goal Against
18' HIRATA Neto Antonio Massanori
29' HIRATA Neto Antonio Massanori
32' Goal Against
Starting Line-up
GK: KUROMOTO Guilherme
FP: ISHIDA Kentaro, YOSHIKAWA Tomoki, KANAZAWA Sora, TSUTSUMI Yuta
Reserves
GK: TABUCHI Hiroshi
FP: MIZUTANI Soma, YAMADA Kaito, HIRATA Neto Antonio Massanori, HENMI Katsutoshi Rafael, SHIMIZU Kazuya, HARADA Kokoro, KATO Minami, UCHIMURA Shunta, TAKAHASHI Kyo, YAMANAKA Shoto
Match Report
The Japan Futsal National Team, who are currently on tour in Morocco, faced the African champions, Morocco Futsal National Team, on Friday 14 April. After falling behind by two goals in the first period, Japan managed to come back to tie the game in the second period, only to lose 2-3 at the end.
Looking to score first, Japan started the first period by applying aggressive pressure from high position. YOSHIKAWA Tomoki, who wore the armband for the match, led the way in offence, as he responded to a teammate's shot deflection to make an attempt at goal. Morocco, on the other hand, built their attacks by moving the ball around in their own half, but Japanese goalkeeper KUROMOTO Guilherme made his presence felt in front of the goal to keep the home side from scoring a goal.
In the eighth minute, KANAZAWA Sora intercepted a pass to setup the shot of HIRATA Neto Antonio Massanori, but the striker's shot deflected off an opponent and missed the target. Japan conceded a penalty kick in the ensuing play, which was calmly converted by the opposition to put the home side in the lead.
Trailing by a goal, Japan exchanged quick passes to create chances, but the Moroccan players showed great tenacity to defend their goal. Conversely, Morocco capitalised on a mistake made by Japan to double their lead in the 14th minute. Japan managed to score back a goal in the 18th minute, when Hirata received a long feed from his own half before firing a well-placed shot to make it 1-2 at halftime.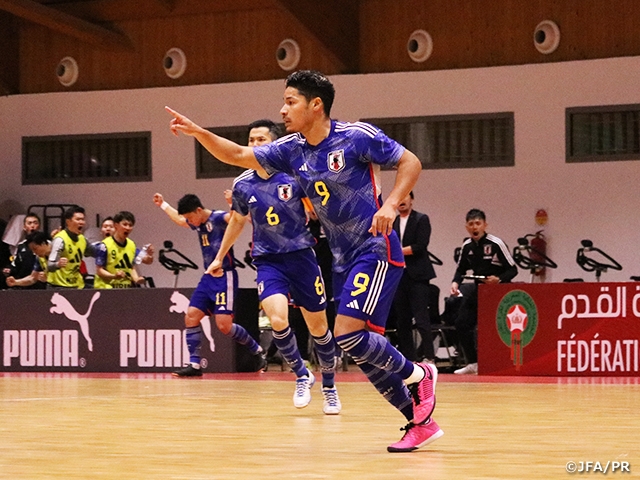 Japan started the second period with a lot of vigour after receiving a pep talk from coach Kogure at halftime. Hirata scored the equaliser with a volley shot in the 29th minute, converting a corner kick delivered by HENMI Katsutoshi Rafael.
With the score levelled at 2-2, Yoshikawa was sent-off from the match after receiving his second yellow card in the 32nd minute, giving Morocco a direct free kick without a wall. Although TABUCHI Hiroshi was able to make the save to deny this spot kick, Japan had to play with one less player for two full minutes, which led to the decisive goal scored by Morocco in the ensuing play.
Despite their final attempts to score a goal with a powerplay, Japan lost the match 2-3. The Japan Futsal National Team will now face the France Futsal National Team on the following day, Saturday 15 April.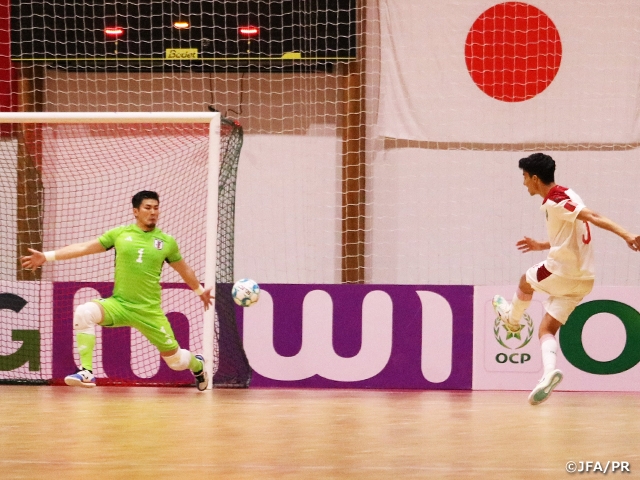 Coach and Players' Comments
KOGURE Kenichiro, Head Coach (Japan Futsal National Team)
This is a disappointing result for us, but the players fought extremely hard against Morocco, one of the quarterfinalists of the previous World Cup. I strongly believe that away matches like these will certainly help the team grow in the future. We will now play France tomorrow, so we hope to make the necessary adjustments to showcase a better performance.
GK #1 TABUCHI Hiroshi (Nagoya Oceans)
We were able to obtain priceless international experience through this game versus Morocco. Despite the fact that I came on as a substitute, I believe I was able to contribute everything I had. But this game served as a timely reminder that we still have a long way to go before we can compete successfully at the international level. We will attempt to make the most of this experience to improve as a team because we are now fully aware of what we need to do, both as a team and as individuals. We will now take some time to recover and get ready for our upcoming match against France. We are grateful to everyone who has supported us. Thankyou very much.
FP #3 MIZUTANI Soma (Nagoya Oceans)
With this being our first match of the tour, we had to deal with the long travel and time difference, but I feel like we were able to train with great intensity from day one. We knew this was a great opportunity for us to test our ability against the African champions. Although we conceded a goal from our own mistake, we were able to bounce back to equalise the match. The referees' decisions were also very different, and I could really feel the differences from what we are used to in Japan. We hope to make the most of this experience to do better in our next match.
FP #8 TSUTSUMI Yuta (Y.S.C.C.Yokohama)
Despite the fact that we fell short against Morocco, we intend to learn from this experience and build on the positives. I thought that I needed to raise the overall calibre of my plays. Please continue to support us as we give it everything we have to win the remaining two games.
FP #9 HIRATA Neto Antonio Massanori (in the process of transferring)
Although we lost to Morocco, we were able to prepare well for the match and display many good plays. Matches against strong opponents always give us a clear idea of what we need to do to get stronger, so although we lost the match, I personally think it was a very good match for us in the long run. I don't think it was a game we should have lost, but it was a game that once again brought home to us how much we still need to improve.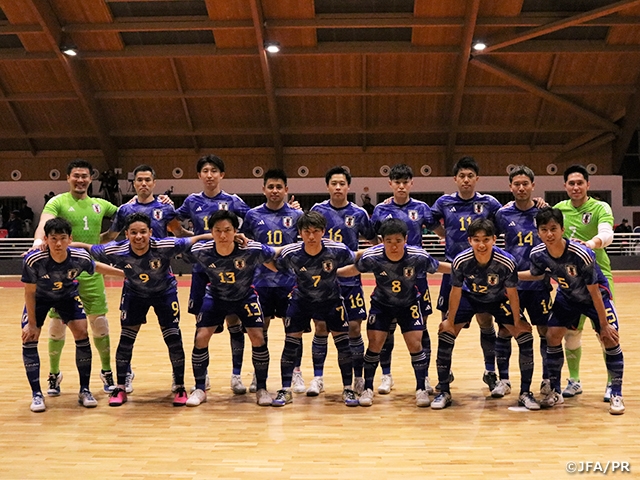 Morocco Tour
Tournament Date: Mon. 10 - Wed. 19 April 2023
Venue: Complexe Sportif Prince Moulay Abdellah, Morocco
Tournament Information