NEWS
Paraguay Futsal National Team arrive in Japan ahead of International Friendly Match@Hokkaido
17 February 2020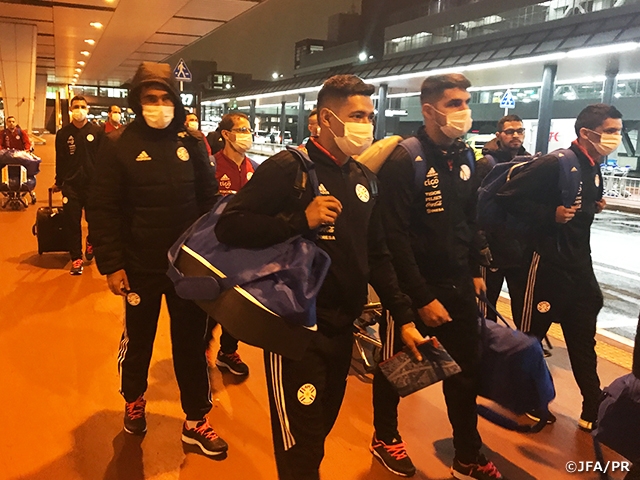 Ahead of the international friendly match against the Japan Futsal National Team, scheduled to take place at Hokkai Kitayell, Hokkaido on Wednesday 19 February, the Paraguay Futsal National Team arrived in Japan on Sunday 16 February.
Despite the long distance travel, the Paraguayan players didn't show signs of fatigue as they made their way to the hotel. The players listened to music and chatted with others on the bus, as they seemed relaxed throughout their arrival ahead of the match.
The international friendly match between the Japan Futsal National Team and the Paraguay Futsal National Team will kick off at 19:05 on Wednesday 19 February.
Coach and Player's Comments
Carlos CHILAVERT, Coach
I have been to Japan in the past, and the Japanese people have welcomed us very kindly, so I have a very positive impression. This time we are here to play a friendly match, but with this being our first match since earning our spot into the Futsal World Cup, this match will be a very important match for us. For Japan, this match will give them an opportunity to prepare for the Asian qualification round for the World Cup, so it will be an important match for them as well. We have never faced Japan before, but they consist numbers of well-known players and I have the impression that they are strong team. This fixture will be a well-balanced match in both offence and defence, and we should be able to showcase a very exciting match, so please enjoy the match.
Gabriel AYALA
This is my third time visiting Japan, and I have the impression that Japan is a very beautiful and advanced country, very different from where we are from. This friendly match will provide us with a wonderful opportunity to face a team who could be our future rival. Our strengths lie on our speed, defence, and our ability to control the ball. We hope to showcase a fantastic futsal match, so please come watch us at the arena.
Coach
Carlos CHILAVERT
Squad
GK
12 Gabriel GIMENEZ (Cerro Porteno)
1 Giovanni GONZALEZ (Afemec)
FP
2 Enmanuel AYALA (Cerro Porteno)
4 Gabriel AYALA (Cerro Porteno)
9 Rodolfo ROMAN (Cerro Porteno)
11 Francisco MARTINEZ (Cerro Porteno)
13 Alex LOPEZ (Olimpia)
6 Richard REJALA (Boca Juniors/Argentina))
3 Damian MARECO (Cerro Porteno)
7 Pedro PASCOTTINI (Olimpia)
8 Arnaldo BAEZ (Cerro Porteno)
10 Eduardo MANZANO (Cerro Porteno)
Schedule
Mon. 17 February
18:00
Training
Tue. 18 February
20:15
Official Training (Hokkai Kitayell)
Wed. 19 February
19:05
International Friendly Match
vs Japan Futsal National Team (Hokkai Kitayell)
International Friendly Match
Japan Futsal National Team vs Paraguay Futsal National Team
Match Date: Wed. 19 February 2020 19:05
Match Venue: Hokkai Kitayell, Hokkaido
TV Broadcasting: Live broadcasting on NHK-BS1